The Spice & Tea Exchange: Must-stop shop in historic Frederick
Stainless steel tea ball diffusers on display at The Spice & Tea Exchange in Frederick, Maryland. (Anthony C. Hayes)
FREDERICK, MD — All of us at one time or another have told an anxious sales clerk we were only "looking" at the merchandise on hand. But when was the last time you were approached by a relaxed sales staff and urged to "open any of our jars and enjoy the aroma."
"The great thing about this store is that it's so sensory," said Keith Campbell-Rosen – the owner of The Spice & Tea Exchange in Frederick, Maryland. "You get to open all the display jars and simply smell."
It's a curious thing to enter a store and find a dozen people with their noses in jars. Yet, the gentle whiffs were often followed by a chorus of "ooohs" and "aaahs."
"This is actually part of a franchise," explained Campell-Rosen. "I was in Florida with my family about 12 years ago, walked into one of these stores, and it just blew me away. I'd been considering opening up a business of some sort, and when I discovered this was a franchise, I did my homework and finally decided to jump on in.
"The highlight is our many spice blends, and we make all of those in-house. Blends for steak, fish, pasta – you name it. We've got all kinds of exotic teas, along with assorted salts and sugars. If you want anything in the way of teas and spices, we've got you covered.
"We get what you see here from all over the world – the spices, the peppers, the salts and the sugars are harvested both domestically and abroad."
We asked Keith if his regular customers have any particular favorites?
"Oh, certainly our Tuscany blend. That's the most popular item in the store. Perfect to mix in olive oil for dipping bread and makes amazing chicken and pasta, too. Our Northwest Salmon rub is really popular. A lot of folks tell me they have a tough time not using it on all their salmon dishes. Our Florida Sunshine is a salt blend with orange, lemon and lime zest, along with some peppercorn and rose petal. That's also great on lighter dishes, like chicken and fish, and even on salads."
What about the teas?
"Our most popular teas are Earl Grey Crème, which is Earl Grey with vanilla, which just brightens up the bergamot. Our Ginger Turmeric herbal tea has a nice ginger bite, with all of the health benefits of ginger and turmeric.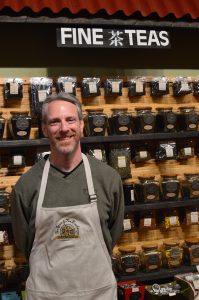 "The tea market in this country just continues to explode. Coffee is still king, but for a number of years now, there has been this steady resurgence of tea. People are just digging that you can get practically any kind of flavor of tea that you want. You want a black tea? There are all sorts of variations of simple, unblended black teas. You want some mint or fruit in your black tea? Again, you can get whatever you want.
"We have over a hundred different spices and some seventy spice blends we make here in-house. We've got forty teas, thirty sugars, and 30-40 salts – all kinds of fun stuff."
Complimenting the display area is a tea bar, so shoppers can enjoy a relaxing cup of tea while perusing the shop's manifold selections.
Continuing with our sniffing tour, we asked Campbell-Rosen where his store sources such a wide array of product?
"Our main supplier is International Distributors, so you know everything in this store is going to be fresh.
"Grocery stores are great at what they do, but for most of them, it is cheaper to buy in bulk and stock the product in warehouses. By the time their spices get to you – if it isn't already spent – it is spent pretty soon thereafter. Here, if you want a little bit of spice for a recipe, you can get that smallish quantity. Or we can sell you a whole lot of spice. Whatever you want."
How long does the glorious array of scents last in the open jars?
"We constantly rotate what's in the jars by using it in our spice blends. That way, what's first in is what's first out, and that keeps the aroma constantly flowing through the jars. If we didn't keep that rotation going, they would start to fade about six months out – especially with this climate, the ambient light and being opened all the time."
Six months seems like a very short time for the average cook – even shorter for aspiring chefs who'd like to take their skills to the next level.
"If you have spices in your cabinet for a year, it's usually time to move them out. That gets back to what I was saying before about grocery stores. You might get something reasonably fresh from a grocer, something utterly useless, or anything in between.
"That's the nice thing about purchasing your teas and spices from a specialty store," said Campbell-Rosen. "You're always getting the best stuff."
So, just how good was this "stuff"?
Since there were signs offering an extra selection for any 5 purchases, we happily indulged in purchasing sample sizes of both spices and teas.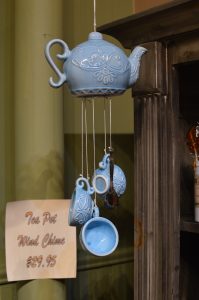 Returning to Baltimore early enough that evening to enjoy our first tea selection, we chose the Crème Brulee blend – a rich dessert tea that tastes like cozy caramel in your cup.
These are teas for steeping and brewing, not your average bag of tea. The Spice & Tea Exchange sells various accoutrements for home brewing, including teapots, single-serve mugs, and infusers. Some of these implements are as unique and artful as the teas you will be brewing.
Because the teas are so fresh, a little goes a long way. (When using other loose-tea brands, you might need a heaping teaspoon in your mug; with this brand, half a teaspoon is plenty.)
Teas tried thus far: Sencha Superior Tea – a deep earthy Japanese tea; the aforementioned Earl Grey Crème Tea (stellar mix of Earl Grey and vanilla); Mystic Dragon – a blend of Chinese and green teas (just wowza! a deep flavor blend with elegant subtle hints of strawberry and rhubarb).
As delicious as the teas have been, our first go with the spices was an equally pleasant experience.
We used a half teaspoon of Grilled Fish Spice Blend on a twelve-inch trout filet. This was a blend of black pepper, garlic, lemongrass, paprika, smoked sea salt, sea salt, and dill.
Spicing a delicate fish can be tricky, however, this blend both flavored and enhanced the trout without overwhelming it. Paired with roasted beets and a baked potato, the result was really out of this world.
We're looking forward to trying the Espresso Steak Rub Spice Blend on a New York strip. Haven't figured out what to sprinkle the "Everything Bagel" Spice Blend on yet, but guessing it would be good on – well – everything!
The Spice & Tea Exchange is located at 28 East Patrick Street, Frederick, Maryland 21701. Internet and phone orders are happily filled, but do yourself a favor and visit this shop.

The Dandy Diners are a group of feisty friends who simply love to dine out. The group features an opinionated cast with extensive experience in the entertainment, culinary arts and service industries.