I heard a dirty rumor a long time ago that D.C. was getting a Buffalo Exchange. But so much time had passed that I thought it was just that — a filthy dirty rumor until … two months ago when it proved to be true.  As of  June there is a Buffalo Exchange on 14th Street in DC! It is 1318 14th St. between N  & Rhode Island to be exact. Check out the website here. (add link)
If you haven't been yet YOU MUST GO! Buffalo Exchange is a thrift store that gives you cash for your clothes. Its not a consignment store because you don't need an appointment and you can get cash for what they want to sell or store credit. They will donate anything they don't take that you no longer want.
I just checked it out this past week and I can't believe I had waited this long. I brought some clothes to take with me to try to trade for store credit, though I wouldn't have minded the cash either. My main motivation for going was to find something to wear to a Charm event my friend Cheralee was hosting in Georgetown.
It being that time of month … time for rent!, I was trying to conserve money. Selling some things to Buffalo and adding to my store credit sounded like the perfect plan. I used to go to the Buffalo Exchange in Philadelphia all the time. Two of my best friends moved there so I have always loved the city of Brotherly Love and have an even larger circle of friends. So, I know for experience that Buffalo Exchange is a good place to find something new and interesting to wear for the right price!
Shopping can be stressful! We all know this but I was lucky to have gone at the right time. I didn't have to wait in line to have some one appraise my apparel and everyone who was working was so sweet and helpful. I had lots of time and space to look over the whole store, which is great! I of course was immediately drawn to the shoes.
I was surprised that all the cute ones were not in my size! In non-second hand stores the display shoes are always in my size, so it's an unusual disappointment for me that I can't even buy the display pair because everything for the most part is what you see, is what you can get. It's a great store to find amazing shoes that you can suddenly afford — this is if you can find your size.
Lucky for me, as I mentioned, there was a small selection of size 6 heels, so I was able to get what I had gone in there for, for once. I have come to the realization that while I have a good selection of tanks and T's it has been apparent that I have very few blouses. Cute semi dressy tops to wear with all my cute skirts and shorts are slim pickings in my closet. I especially need more tops that can be warn with high-waist things.
So my mission was to find at least one top that I could see myself wearing more than once but was cute enough to base my event outfit on. The other part of my mission was to get something in a color I have been craving but my closet is seriously lacking.  I was looking for purple, orange, yellow or teal.
After carefully looking through all the shirt racks and collecting a handful of items I thought might work, I went to try them on. Mind you, it took massive amounts of self-discipline not to look at the dresses because that's all I ever want to buy. It is so hard to want to spend money on practical articles of clothing when there are awesome crazy dresses to find and buy and probably wear only once.
Trying on clothes can be really fun or really frustrating or total waste of time. Lucky for me I was able to try them on and stay objective and get what I wanted, which is rare for me. I can be a good shopping companion and keep someone else on task when it comes to shopping for outfit finishers, just ask my mom. But it is a lot harder to do for yourself. I usually end up spending over my budget on things that seemed really crucial to get at the time.
I learned and want to share with you today that you should never trust mirrors, especially in stores. This important piece of advice came to me from the 1995 movie classic Clueless (add  IMDB link ) where Cher, the main charter, informs us that instead of trusting mirrors, taking a picture is best way to get an honest opinion. As far as I am concerned it is every girls dream to have Cher's closet, wallet and Paul Rudd of course. If you have not seen Clueless. Rent it! TODAY!  You will not regret it!
Cher took Polaroids of herself in the outfits she was considering. It is much easier and cheaper to take a picture in this digital age. Most people who own cell phones have a perfectly acceptable camera for the job.
I also use my digital reference as a way to document something I like, but am not ready to commit to buying yet. Or something I want, but would rather try to make myself, first. Taking pictures allows me to walk away from lots impulse buys that I would regret later. Deciding if you really want something is a processes, one that in most cases is better to think about first, but not if your some one who doesn't spend a cent on themselves or clothes,  people like that need more impulse buys in their life and someone to help them do it.
Having a visual reference for things keeps the memory of them without having to hold on to the physical form of it. Not only is this a way I keep myself from buying things I don't need, but its also a way of getting rid of old clothes that don't fit or I don't want or like anymore but I end up keeping because of their sentimental value. Having a picture of it is enough sometimes to just let go.  I learned that technique from my friend Lisa who is a professional organizer. I assisted her on a few jobs and taking pictures is a great way to move forward in a productive way.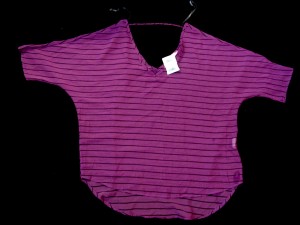 I ended up really liking three of the shirts I tried on. The challenging part for me for this trip was to really sticking to my guns. I forced myself to buy the top that I could plan an outfit around … not the top I really like, but that I had nothing to wear with.  The top I bought was a sheer purple V neck, long sleeve, loose-fitting blouse.
I would normally never buy it, but because of recent experiences I knew how useful this shirt would end up being. I already knew what I was going to wear with it. The other shirt would sit in my closet until I bought some to go with it.  I didn't have a budget to get a new outfit but I was able to make a new outfit based on a new shirt.
I am so excited to have a Buffalo Exchange in D.C. I am also so glad all the employees are nice because they are going to be seeing a lot of me. I gave them my business card and told them I wanted to do a blog post. They posed for a picture and put my business card up on their bulletin board behind the counter and near the front door.
I know I have said it before, but I love my home in D.C. It is so great to watch the fashion scene grow right in front of my eyes and I am so lucky that I get to be part of it. Having stores like  Buffalo Exchange move in is great but it is also amazing to see locally owned stores flourish and expand like Violet, Black Eyed Susie and Ginger Root just to name a few. Keep an eye out for future blog posts about these stores.

Gwynne Davis is a blogger for her Earring/Jewelry business called Ear Candie. She is a recently certified Zumba teacher. She makes earrings out of just about anything. So keep an eye out for her fun blog posts & funky earrings.