Take me out to the ball game
The song 'Take Me Out to the Ball Game' is played during the 7th inning stretch of every game, in just about every ballpark makes no mention of beer. This is sad, because I see more beer being consumed during a game than peanuts or cracker jacks. I'm not even sure you can still buy Cracker Jacks at a baseball game. And it seems that every ballpark is making a conscious effort to making craft beer a part of the game.
This past Friday I took my first trip to Oriole Park at Camden Yards in quite some time. My trip started with a visit to the Pratt Street Alehouse. PSA is always quite a hotspot prior to Orioles games, as it is only a short walk to the stadium. The sidewalk dining and drinking also help create the mood for some baseball. I made one error when going here. I sat at the bar. First of all, I don't know how I managed to get a seat, but I did. The bartenders are great, but they were also overwhelmed with patrons, and the service bar. It was not easy getting served. If you can, be a little patient, see the host and get a table. You'll thank me for it. And it might help if you get down there early too.
When at the Pratt Street Alehouse, their house beer is the way to go. Sure they'll have some guest beers on too, but their house beer is great, and it doesn't get any fresher. They also have a few beers on cask, which for you out-of-towners is a real treat. Baltimore-Washington has become the king of cask beer in the United States, and PSA does it right. I was able to get The Big D IPA on cask, which ROCKS. This is a big, full bodied IPA, made with Orange Blossom Honey, Citrus Peel, and heavily hopped with Citra. Be careful with this one. Unlike many of Oliver's selections, this isn't exactly sessionable. Before leaving I had to try their seasonal Cherry Blossom Ale. This ale is made with 200 lbs of cherries in just a 7 barrel batch. The cherries mostly come through in the tartness and color of the beer. This is one that is probably not well received by all, but I liked it. I would really like it if this was made with brettanomyces, which would add even more dryness and amplify the tartness. But Brettanomyces isn't exactly indicative of a classic British Ale, which is the signature of Brewmaster Steve Jones.
It was time to head to the game.
We entered through the north Eutaw Street Entrance near the outfield, and immediately headed to the Center Field Roof Deck Bar. I was apparently a little confused as to what this Friday's firkin was, but I couldn't go wrong with a firkin of Flying Dog's new sessionable IPA, Easy IPA. Which is not a Belgian style beer despite the bartenders best efforts to convince me otherwise.
If you haven't had Flying Dog's Easy IPA, seek it out. It is in their Brewhouse Rarities collection, for now. I have a feeling that this may become at least summer seasonal if not a year round selection. This is a beer representative of this year's hot trend of low ABV full flavor beers. Which to me is about the best thing ever. Being able to have a full flavor beer at a game without the fear of getting overly intoxicated is a joy.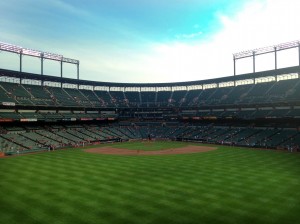 The view from the centerfield deck bar is amazing. Whether you are viewing warm-ups on the field or watching fans enter the stadium on Eutaw Street there is something interesting to see.
Compared with many  seats it is a bit far away, but it's large, comfortable area with great beer within arm's reach. Oriole Park at Camden Yards boasts beer selections from Flying Dog, Dogfish Head, Heavy Seas, Evolution, Baltimore-Washington Beer Works, Fordham Brewing, and Old Dominion Brewing. However, I only saw Flying Dog and Heavy Seas. Grant it, I didn't venture to every corner of the stadium.
A stroll down Eutaw Street is really a showcase for the best of the vendors on Oriole Park. Boog's BBQ is always a staple of Eutaw Street, which is now joined by some other great vendors, some new some not so new. Roma Sausage, Dempsey's Brewpub, and Jack Daniels just to name a few.
I felt that Jack Daniels had some of the most interesting ballpark food I have seen. For one they had Bacon on a Stick. Yes, you read that right. Bacon on a Stick. It isn't some flimsy piece of bacon you'd find awkwardly placed on a fast food burger. But a slab of bacon nearly a ½" thick! I really couldn't help myself, I had to get the bacon on a stick. And at $5 it is one of the better bargains at the ballpark. My buddy that I came to the game with had a small problem with his, it started to fall apart on him. But he certainly didn't have any complaints about it. The Jack Daniels stand also offers a full beer can chicken, which is a favorite for me to cook at home. They also sell Renaissance Fair-esqe giant turkey legs.
One thing that I find mildly disappointed is the significance that National Bohemian is featured. I get it, it is a Baltimore classic. But unfortunately it is no longer a Baltimore beer. It is brewed in North Carolina and Georgia, but still 90% of their sales are in Maryland. I understand Marylanders being excited to support a local product, but there are a lot of other genuine Maryland products for fans to be excited about. There was even a Natty Boh bar on the lower concourse, which I noticed was conspicuously absent of customers.
At our seats we had a great view of the game. Unfortunately this night was not a good one for the O's. The O's were trailing 12-4 at one point before mounting a near comeback in the 8th inning. The beer vendors in the stands were unfortunately hocking the same old macro brews that they always have. With some minor exceptions. They now offered Belgian Whites like Blue Moon and Shock Top. Which of course are examples of the macro brewers trying to trick the consumers.
In the 7th inning I ventured back to Center Field Deck Bar to meet a few friends. It was interesting that this late in the game, this part of the stadium was one of the few that still had a lot of people. However, I along with a good number of other fans, had abandoned their hope of seeing a win. So it was time to go. So we decided to walk down Eutaw Street to the Alewife for a quick night cap before heading home.
Overall I was pretty impressed with the direction the Orioles are taking with food, beer, and pure fan experience. This has been one of the best stadiums in MLB since it opened in 1992, and the improvements that have been made keep it as one of the top stadiums.
Upcoming Events
May 25th – of Montreal @ Flying Dog Brewery – Summer Sessions Concert Series
June 1st – Annual Victoria Beer Fest @ Victoria Gastropub
June 7th – Dazed & Confused @ Union Craft Brewing – School's Out Movie Series

John Thompson is a beer enthusiast who began evangelizing craft beer a few years ago on his blog thehoplocal.com. John has been homebrewing sporadically for almost 20 years, and also is a Cicerone Certified Beer Server. When not enjoying a cold malty beverage you will find John spending time with his spouse and two young children or working his day job in Financial Services Technology. Make sure to find John on Facebook, and follow him on Twitter @TheHopLocal and Untapped. at : http://untappd.com/user/thehoplocal