Summer TV: The Good, The Bad and The Ugly
Well, as we all know, summer is a desolate wasteland when it comes to TV.  But the good news is, it's not as bad as it used to be.  Instead of endless reruns,   a lot of series run exclusively in the summer with all new episodes.  Sure, they are some of the worst shows ever, but they're new and I'm bored, so what the heck right?  Here's my rundown of some of the best and worst summer TV shows on the air right now.
"Real" Women:
The Good: Push Girls
The Sundance show chronicles the lives of four women who use wheelchairs.  These women actually have real problems, and surprisingly, the wheels aren't one.  Unlike the whiney privileged women reality TV has been foisting on us for years, these women have more on their plates than party planning and tennis matches.  The best thing about this show?  The women on it actually support one another.  The positive messaging running through the show is refreshing and easy to watch compared to the usual cringe-worthy backstabbing and bitching.
The Bad: Miss Advised
I'm not embarrassed to say I watched this Bravo show once.  I'm a little embarrassed to say I watched it twice and mortified to say I will probably watch it again … and again.  The show follows three "sexperts" who each have difficulty applying their knowledge to their own personal lives.  Remind you of anything?  Let me give you another hint.  There's a romantic one, an uptight one and a slutty one. Be forewarned, these girls are no Carrie Bradshaw.
The Ugly: The Real Housewives of Vancouver
It's Canadian and part of the Real Housewives franchise so … two strikes for this show on the Canadian Slice network.  Add in the blatant scripting, the lack of action and the fact that nothing is happening in Vancouver and I'm out.
Compete to Win
The Good: So You Think You Can Dance
This FOX show has been poked fun of for being incredibly niche, (Does America really have a favorite dancer?) but this show actually has a really broad appeal.  The dancing is great.  The music is fantastic.  The athleticism is incredible and the guest judges are pretty impressive.  Last season featured Lady Gaga, Megan Mullally, Kristin Chenoweth, Carmen Electra, Jesse Tyler Ferguson, Neil Patrick Harris, Rob Marshall, Christina Appelgate and Katie Holmes.  Even if  it's not up your alley, give it a try.  Some of my most manly and muscle-bound friends are faithful viewers.
The Bad: The Glee Project
Glee creator, Ryan Murphy, unleashes the Glee machine on 12 aspiring (read desperate) young actors who are dying to win a recurring role on the real show.  The  drama on this Oxygen show is like so high school, which I understand is like intentional, but comes off a little obnoxious.  Ryan Murphy's appearance at the end of every episode is probably my favorite part because he is weird and wonderful.
The Ugly:  Design Star
A HGTV show you probably don't watch to pick the next host of a show you probably won't watch.  The upside is that it's a design show in digested form, with ten different ideas and at least three different rooms per episode.
Summer Sitcoms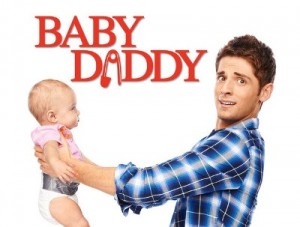 The Good: Baby Daddy
I'm going out on a limb here because this show is brand new and has a huge potential to be lame, but I like the ABC Family show so far.  The major reason to watch is Melissa Peterman.  If you're into second rate TV, you might remember her from the aptly named Reba.  Peterman is funny and fun to watch, kind of like a poor man's Jennifer Coolidge.  There's some other young eye candy on the show and besides, who doesn't love a show with a baby?
The Bad: Bunheads
Oh Bunheads, you make me so sad.  (See feature photo above of the ABC Family show) Gilmore Girls creator Amy Sherman-Palladino tries to resurrect her prior hit by using the same setting, same actress (Kelly Bishop), and same fast-paced annoyingly witty banter that we all loved back in the day.  Unfortunately, you can't bring a beloved television show back to life, especially on ABC Family summer rotation.  It is fun though, to watch and wonder about Sherman-Palladino's mommy issues.
The Ugly: The Exes
The first sign of trouble is that the TV Land series premiered in November 2011, yet it's already in its second season.  Hmmm.  The sad part is that this show has a great cast.  Donald Faison (Scrubs), Wayne Knight (Seinfeld), and Kristen Johnston (3rd Rock) all struggle against sub-par writing, bad concept and one of the worst opening credits since The Nanny.

Kathryn Powers is a native of the Oklahoma Panhandle. She received her bachelor's and master's degrees in English literature from the University of Oklahoma and Georgetown University respectively and like many English majors, is not currently utilizing any part of her education. After a brief stint as a high school English teacher, Powers married and followed her husband to Beersheva, Israel where he is studying medicine and she is struggling to buy the groceries, do the laundry and pay the bills all without a working knowledge of Hebrew. Powers is a long time crafter, sewer and general project starter. She, her mom and her two sisters have been known to sweep into each other's lives, start ten projects, finish two and then quickly disappear leaving only a trail of yarn, glue and ribbon. Powers is an avid and indiscriminate TV watcher, sometimes baker, and dog-less dog lover. She thanks her husband for his everlasting patience with her craft mess.