Let's go meatless: Vegetarian enchiladas and Zucchini bake
I was raised by carnivores but by popular demand – and the occasional dare – I have ventured into the realm of vegetarianism.  Nothing extreme, I can't make myself attempt tofu yet, but a few days going meatless never hurt anyone.  I can prove it, my husband survived, and he even liked it.
It is believed by Biblical scholars that the word "manna" comes from the phrase man hu which roughly translates to "What is it?"  This week's recipe is by no means heaven sent, merely a concoction thrown together by a mere human, though the question remains.  I have no idea what to call this first recipe.  Let's explore.
I've never worked with Swiss chard before.  Some friends with an impressive garden shared some of their bounty, and admittedly, I was pretty stoked to try something new.  There was such a quantity of it I knew I couldn't just make it a side and call it done.  I looked for some inspiration, then decided to play MacGyver with it, coming out with (as close as I can call it) a vegetarian enchilada, but not quite.
I didn't use corn tortillas, since they were not on hand, nor did I fry the tortillas.  I didn't make the sauce, although I've come to find that canned or jarred sauces are a great starting point to a good sauce (check to make sure they have no meat or meat by-products) – I've been known to start with them and add more to it to for better flavor.
My original intent was to bake them in such a way that they would make a good grab-and-go kind of meal, the kind a mom would snarf down on the freeway to a little league game, and the first steps to assembly reflect that.  Perhaps with half the vegetables, that would be doable.  What we have is an easy vegetarian meal with a surprisingly short prep time.
Swiss chard enchiladas
1 lb. Swiss chard
2 small potatoes, diced
1 small onion, diced
1 green pepper, chopped
1 clove garlic, minced
3 tbsp. vegetable oil
1 can enchilada sauce of your choosing
1 tsp. coriander
1 tsp. cumin
1 tsp. onion powder
1 tsp. garlic powder
1 cup shredded cheese of your choosing
2 medium tortillas, corn recommended
First I stripped the leaves from the stems of the Swiss chard, and chopped it, then prepped the other veggies.  In a deep skillet I heated the oil, and threw in the potatoes, cooking until browned.  With a slotted spoon, I removed them, leaving them to dry on a paper towel-lined plate.  Into the hot pan I dumped the onion, garlic, and green pepper, cooking until the onions are translucent.  Next I added to it the chard stem, cooking until soft before lastly adding the leaves, tossing until wilted.  Turning off the heat, I stirred in the potatoes, salt and peppering to taste.  With the filling set aside, I warmed up the enchilada sauce in a small saucepan, adding the cumin, coriander, onion powder and garlic powder.
By this point, with I was thinking ahead to the tortillas, which was when I remembered why I don't normally bake flour tortillas.  Normally a flour tortilla baked in a sauce will turn gummy, which is why corn tortillas are better suited for this recipe.  In each tortilla I put a teaspoon of cheese, then two heaping serving spoons of filling, an a spoonful of enchilada sauce before rolling it up and placed in a 9×13 baking dish, which fit about 6 of these "enchardladas."  Over the casserole I spread the remainder of the filling and cheese, then poured the remaining enchilada sauce.  I baked this at 325 degrees for 15 minutes.
The second recipe was inspired by something sent to me by my mother-in-law, which I find mildly ironic, considering carnivorous tendancies.  It would be really easy to make this one vegan with almond "mozzarella" or gluten-free by using rice pasta and gluten-free breadcrumbs.  I think what really surprised me about this dish is that the garlic is not overwhelming, despite the large volume of it.  At first glance, the Guinea pig seemed a bit skeptical, but when I told him how much of his favorite vegetable was in it, he relaxed some.  This one even got his seal of approval.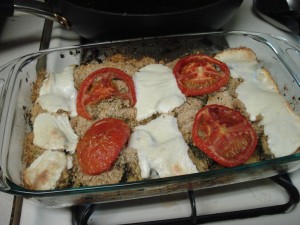 For the topping
3/4 cups breadcrumbs
2 tbsp. extra virgin olive oil
1tsp. thyme
1tsp. oregano
1 tsp. basil
1 tsp. parsley
For the veggies
3 medium zucchini, sliced in long pieces, 1/4 inch thick
5 cloves garlic, chopped
A handful of chopped green onions
4 tablespoons prepared basil pesto
2vine ripe tomatoes, sliced thick
1 tablespoon balsamic vinegar
1 pinch salt, to taste
Fresh ground black pepper, to taste
4 oz. fresh mozzarella cheese, sliced
Preheat oven to 350 degrees F.
Place the toasty crumbs in a bowl and using a fork, toss with a tablespoon of extra virgin olive oil to coat; season with Italian herbs, and set aside.  Slice the tomatoes, sprinkle with balsamic vinegar, set aside.
Heat a tablespoon of olive oil in a large skillet. Add the zucchini, garlic, and onions, and saute briskly just until the zucchini is a bit golden and still tender-crisp.
Remove from heat and pour the veggies into a bowl to cool slightly. When cooled, gently toss the zucchini mixture with the prepared basil pesto, to coat.
Layer the pesto veggies in a casserole dish. Spread a scant third of the crumbs on the squash mixture. Layer slices of mozzarella in the gratin dish and top with sliced tomatoes.  Season the mixture with salt and pepper. Sprinkle the remaining crumbs over the tomatoes.
Bake until it is bubbly and hot, about 20 to 25 minutes.
Serve on a bed of penne tossed with basil pesto.
Total Servings: 4
Tip of the week: Breakfast is the most important meal of the day.  However, if you're anything like me, the idea of getting up early enough to make it makes me want to pull the covers over my head and grab a candy bar on the way out the door.  (Chocolate has antioxidants, right?)  So if you find the time on a weekend take an hour and make up a big batch of waffles, pancakes, or french toast.  Let cool, load into your freezer, and there you have a weeks worth of home-made Eggos.  An hour is only 4 percent of your day and a worthwhile investment for filling breakfasts all week.

Sally is a wife and domestic diva in Maryland. She approaches life with gusto, humor, and a passion that is unmatched. She is a classic woman, with a modern twist and is the kind of woman who will throw back a beer and watch Star Trek with her husband, and entertain the church croquette group with homemade cheese cake. Sally offers something for everyone, and is always experimenting and cooking up a storm in her kitchen.