'Strike teams' will help nursing homes overburdened by COVID-19, Hogan says
@BryanRenbaum
Gov. Larry Hogan said Tuesday that the state has launched a series of "strike teams" composed of Maryland National Guard members and state health officials to help overburdened nursing homes deal with the spread of the coronavirus.
"Today we are launching statewide strike teams composed of members of the National Guard, representatives of local and state health departments, the Maryland Institute for Emergency Medical Services Systems, and hospital systems to bring triage emergency care supplies and equipment to overburdened nursing homes," Hogan said at a news conference held at the Baltimore Convention Center. The center is in the process of being converted into a field hospital for recovering COVID-19 patients.
Hogan said there will be three types of strike teams:
Testing Teams: They will "identify those in close contact with a confirmed case, collect and send out specimens for the fastest test available, and provide expert instruction on how to keep confirmed and suspected cases of staff separated."
Assistance Teams: They will be comprised of members of the Maryland National Guard and will "quickly assess the situation on-site, determine equipment and supply needs, and triage residents."
Clinical Teams: They will be comprised of "doctors, nurse practitioners and registered nurses from major hospital systems" and will be charged with providing "on-site medical triage and stabilizing residents in the nursing home in order to prevent unnecessary transport to hospitals."
Hogan clarified that the strike teams are meant to supplement existing nursing home care.
"The goal here is not to replace a nursing home's medical and clinical team but to provide immediate support and assistance to help protect residents of these facilities. The strike teams "will be activated in response to requests from nursing homes, local health departments" and state health agencies, Hogan said.
On Sunday Hogan issued an executive order that requires nursing home staff to wear protective gear. The order also mandates expedited testing for residents who display symptoms of the virus and requires separate observation areas for residents who either display symptoms of the virus or who have tested positive for it.
At the time, the governor said there were 81 clusters or cases of the coronavirus at nursing homes and assisted living facilities in the state, a development that he described as "of major concern."
The hardest-hit senior facility in the state is the Pleasant View Nursing Home in Mt. Airy. The Carroll County Health Department said Monday that 17 residents at the facility have succumbed to the coronavirus, while 81 residents and 31 staff members are infected.
Hogan said that while most businesses have complied with previous executive orders that mandate social-distancing practices, some have not. Consequently, he said that today he issued an additional executive order that allows local jurisdictions to crack down on businesses and establishments they deem non-compliant.
"Any local health department which determines that any business, organization, establishment, facility or construction site in their jurisdiction that is unable or unwilling to cooperate in a manner consistent with social-distancing protocols, and that in their judgment poses an unreasonable risk of exacerbating the spread of COVID-19 – then that jurisdiction shall have the power to require that unsafe facility to A) immediately modify its operations B) severely limit any movement to or from that facility or C) they can shut them down altogether."
Violating the order is punishable by up to a year in jail and/or a $5,000 fine, he said.
Hogan also said the federal government has agreed to designate 12 jurisdictions in the Baltimore-Washington corridor as priority hotspots in the fight against the virus. They are: Baltimore City and Baltimore County, as well as Howard, Frederick, Montgomery, Anne Arundel, Harford Carroll, Charles, Prince George's, Calvert and Queen Anne's counties. Hogan noted that the areas are all in close proximity to vital federal agencies that are involved in the fight against the virus.
Dr. Tom Inglesby, who is director of the Center for Health Security at the Johns Hopkins Bloomberg School of Public Health and a member of Hogan's coronavirus task force, stressed the need to maintain social-distancing practices.
"Without social distancing measures in place – on average one person can infect two to three others. And each of those two to three can infect two to three more, and so on."
But Inglesby suggested it is possible the virus may hit its peak in Maryland sooner than is projected.
"We are hopeful that the peak day of our epidemic in Maryland is sometime soon, given how early and aggressive the social-distancing measures were put in place. One model that the White House uses has our peak occurring about ten days from now. And other models have the peak coming a bit later. But models are only best estimates and models don't necessarily take into account how seriously Maryland has put social-distancing measures in place. So we do hope our peak day will be sooner."
The governor also said he has ordered the state health department's Office of Minority Health and Health Disparities to start providing demographic breakdowns on race and ethnicity for all COVID-19 case data, including hospitalization and mortality rates.
The Maryland Legislative Black Caucus has been calling for the state to break down coronavirus data by race in its reports because of concerns about racial disparities, according to the Baltimore Sun.
There were 4,371 confirmed cases of the virus in Maryland as of Tuesday morning, according to the state's Department of Health, and at least 103 people in Maryland have died from the virus. An estimated 2,326 people in Maryland will have died from the virus by Aug. 4, according to projections by the University of Washington's Institute for Health Metrics and Evaluation. The projections are updated daily and are based on assumed social-distancing practices.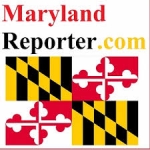 MarylandReporter.com is a daily news website produced by journalists committed to making state government as open, transparent, accountable and responsive as possible – in deed, not just in promise. We believe the people who pay for this government are entitled to have their money spent in an efficient and effective way, and that they are entitled to keep as much of their hard-earned dollars as they possibly can.