Star-Spangled Spectacular offers unique opportunities for midshipmen, cadets
Air Force and Army cadets share the top deck of a YP boat with Navy midshipmen. (Anthony C. Hayes)
Screaming jet engines shook much of the area on Thursday afternoon as a group of F/A-18 Hornets circled the skies in preparation for several shows this weekend. Yet even as the Blue Angels turned Baltimore's eyes upward, an international fleet of ships was making its way to town for the Star-Spangled Spectacular. This gala event recalls the nation-saving 1814 Battle of Baltimore and celebrates the 200th anniversary of our National Anthem.
On Wednesday coming up from Annapolis for the celebration were two U.S. Naval Academy Yard Patrol (YP) boats: YP's 705 and 707. This reporter (along with colleagues from the Maryland Reporter and Bay Weekly) had the privilege of sailing on the 705 for a stop at Fort McHenry and for an in-depth look into the training of the Navy's midshipmen.
The Yard Patrol Squadron provides midshipmen a chance to learn the nuances of seamanship in the relatively quiet waters of the Severn River and the Chesapeake Bay. For many, it serves as their first taste of command, and its attending obligations, while still wearing the anchor of a midshipman. Crews practice onboard the YP craft throughout the school year. During the summer, they travel to eastern seaboard ports from Maryland to Maine.
YP's are not, as some might guess, heirs of the legendary PT boat, but are rather indirect descendants of the unlikely fishing boat fleets which were pressed into service during WWII. (One such fishing boat actually engaged a German submarine off of Cape Hatteras in June 1942.)
The older wood-hulled ships in the modern squadron can travel up to 1800 nautical miles without refueling, while the newer steel-hulled ships of the 703 class can sail almost 1900 miles at a top speed of 12.6 nautical miles per hour.
The crew for Wednesday's three hour tour consisted of two officers, six enlisted men and women and some 20 academy midshipmen. Also on board was Lt. Commander Ryan Rogers, a thirteen year Navy veteran, and two cadets from the U.S. Army and the Air Force Academies.
An Army cadet at the helm
For more than hour, Army Cadet Michael Auten manned the helm of YP 705. Cadet Auten, who hails from Hickory, North Carolina, is spending this current semester at the Naval Academy. The tall, softspoken Tarheel told the Baltimore Post-Examiner he hopes to add the experience he will gain at Annapolis to what he is learning at West Point.
"Being a joint service, it's very important to understand how our allies work. We're all on the same team. I've been to the Army airborne school already, so I hope to get a really good appreciation of how the Navy operates in general. When we're down range from them in Afghanistan or Iraq, it's important to understand how their systems work as well."
Auten said Army cadets start to branch out with their training right after their freshman year.
"After freshman year, you can go to airborne school, air assault school; beyond that you can go to other advance schools. But airborne is the first school. You do airborne and that opens up a wide range of possibilities."
Auten smiled broadly when asked about his previous sea-going experiences, noting there isn't much of a chance to go sailing in the mountains of North Carolina.
A Marine in the making?
For the first part of the voyage Princeton, New Jersey Midshipman 3rd class Katherine Reynolds joined Cadet Auten on the starboard side deck of the 705. Reynolds, who, like her shipmates, looked sharp in her summer white Navy uniform, may someday exchange that attire for the timeless manner of the U.S. Marines.
"There are certain screeners for applications you put in during your freshman year," Reynolds explained.
"You sign up for airborne school, Marine air/ground task force training; NOLS (National Outdoor Leadership School) programs; there's a ton of different things you can do to go get experience. It's mostly background. After your second class year, that summer if you want to go to the Marine Leatherneck course at Quantico, you do a month there just to see if you like it. And then you'll put in for your preference.
Reynolds acknowledged that she hasn't decided what career path she will pursue, saying, "I'd like to go Marines, but I haven't put in for that yet."
Flying from Anchorage to Annapolis
Air Force Cadet Roni Morthrope grew up near Anchorage, Alaska. The exuberant junior told the Baltimore Post-Examiner she always wanted to fly big airplanes, adding, "I guess that's a stereotype."
"I've always wanted to be in the military, so I went to the Air Force Academy because I wanted to fly and be a pilot. An opportunity arose for me to come to Annapolis for a semester to live the life of a midshipman for four and a half months. I jumped on that opportunity and so far I've been loving it. I get to do interesting things like what we're doing today. I've been on a boat exactly three times in my life; one was a canoe and one was a kayak. The other time I was on an actual ship, but that's my entire boating experience. There's not exactly a big body of water near the Air Force Academy, so getting to come here is just so cool."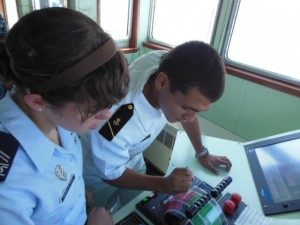 "When I applied to this program, I had no idea what the heck I was doing or what I would get out of it, but I just applied, thinking it could be fun. I've only been here a month but I have already gotten a ridiculous amount of experience with the Navy, seeing everything they do. Granted, because it's the Naval Academy it's a bit different than the Air Force, but coming here has given me the opportunity to see what they do; what their priorities are in general."
"It's also been a good experience to just step into a situation where I don't know what is going on; where I don't know anybody and I'm just listening and observing. I think that will help me when I am commissioned as a second lieutenant."
Morthrope added, "I had a year of Army ROTC before I came to the Air Force academy, so I'm getting that whole spectrum. Hopefully, before I graduate I will also have a chance to see the Coast Guard and Merchant Marines."
In the meantime, Morthrope was able to take part of a watch on bridge where she adroitly manned the YP 705's throttle.
Invaluable lessons at sea
Class of '15 Midshipman Chris Kent has put his time on the YP's to excellent use. The Lynnfield, Massachusetts native is currently the Commodore of the Annapolis YP fleet.
"After my plebe year, I worked on YP's for a month, and then again the following summer. I worked on the qualification which is known as the Craftsmaster on the 676's which are the older, wood-hulled boats. I earned the same qualification that the officers have. Right now, I'm the only midshipman in the brigade who has that qualification for YP's."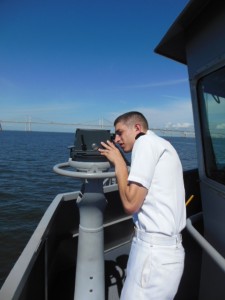 "Lt. Walker (the squadron's officer representative) asked me how I felt about being the Commodore, which is a midshipman rank within the brigade of midshipmen. I have a certain authority not only here but also back in Bancroft Hall. I said, 'I'd be honored, sir, to do it.'"
"My basic job today is not to play a huge role in what is going on right now (on the bridge.) I can go in there and be the navigator, the guy driving the boat; the officer of the deck; any of those watches. What I'm supposed to do is train, man, equip and get everyone else ready. That's what I'm doing today. It's not a bad job."
While Kent was on the port side of the ship, warning the bridge of an oncoming pleasure boat, second year Midshipman James Denofrio of Ohio was busy on the starboard bow manning his station as a lookout and a bearing taker.
"My job is to make sure there are no ships coming too close to us and no hazards such as buoys or crab pots. If we were to lose our electronic navigation, I would take visual fixes so that we could apply our position on a chart."
Remembering the Battle of Baltimore
For many of the cadets, the short trip up the bay from Annapolis to Baltimore offered them their first chance to view Ft. McHenry the way British warships would have seen it on the morning of September 13, 1814.
It was also from that vantage point that Francis Scott Key – a Washington lawyer who was being detained by the British aboard HMS Tonnant – saw the giant battle flag of the beleaguered fort steadily fly throughout the night. The vision of that flag inspired Key to pen a poem, "The Defense of Baltimore," which is better known today as The Star Spangled Banner.
Approaching Ft. McHenry, the YP 705 slowed its engines while two rows of midshipmen stood at attention along the port side rails. Facing the ramparts as the fort struck its colors, the midshipmen solemnly saluted the fifteen-starred flag and the memory of McHenry's stalwart defenders.
Once our ship reached the inner harbor, Newport Beach, California native Jacob Garrett reflected on the august moment.
"It's always a fantastic privilege to be present for a time like this where we get to remember a crucial piece of our nation's history. To come along side of Ft. McHenry where our national anthem was conceived, and to able to render honors is just another exciting part of attending the Naval Academy. I could not be more proud and humbled than I am to be here today."
* * * * *
The Star-Spangled Spectacular takes place this week from Sept 10-15 with activities at various sites around the city of Baltimore. Information about the gala happenings may be found by visiting the Star-Spangled Spectacular online. YP 705 and 707 are moored at the lighthouse near the National Aquarium. For more information about the YP Squadron, visit the U.S. Naval Academy Public Affairs Office.

Anthony C. Hayes is an actor, author, raconteur, rapscallion and bon vivant. A one-time newsboy for the Evening Sun and professional presence at the Washington Herald, Tony's poetry, photography, humor, and prose have also been featured in Smile, Hon, You're in Baltimore!, Destination Maryland, Magic Octopus Magazine, Los Angeles Post-Examiner, Voice of Baltimore, SmartCEO, Alvarez Fiction, and Tales of Blood and Roses. If you notice that his work has been purloined, please let him know. As the Good Book says, "Thou shalt not steal."