Sports: Random thoughts to consider
Super Bowl:  The best offense is a great defense. Not since Baltimore won a Super Bowl with Trent Dilfer as their quarterback has a team won a Super Bowl without an offense. It is sad to watch Peyton Manning play quarterback and contribute nothing more than just staying out of the way. Thanks to Denver's defense and Carolina's mistakes, all Manning had to do was just not turn the ball over. The Denver Broncos may well have the worst offense in Super Bowl history, but none of that matters because they are Super Bowl champions and that's all that matters.
President Obama was amazed at NFL Commissioner Roger Goodall's compensation, which is at least $35 million per year. He is pictured here at his press conference on Friday before Super Bowl 50.

Editor's note: As testament to the Denver defense winning the game, Broncos outside linebacker Von Miller was named MVP of Super Bowl 50.
Johnny Manziel:  There is no more hiding it. Manziel is a train wreck and shows all  of us the end result of years of enabling, all because others saw the chance to use him to win. It always amazes me how so many people will turn a blind eye toward an athlete with exceptional talent all because they are more consumed with winning than they are with human behavior. It's why you see talented high school athletes allowed to skate by in the classroom and be given second chance after second chance with behavior issues. Everyone loves to be a winner so they enable a talented player hoping to ride their coattails when they really should be setting him straight early in life.
When Manziel's dad tells people he fears his son won't live to see his next birthday, he means it. Unfortunately, when former Dallas Cowboy Michael Irvin says the Cowboys are the one franchise that can save Manziel, it goes to show you not everyone learns life's lessons. The Cowboys are the organization that practiced right across the street from a known brothel that catered to guys like Irvin. Jerry Jones is the worst enabler in the NFL and should be suspended for all the criminals and perpetually screwed up players he has employed.
UCLA Hoops: Lets face it, the program is going no where under coach Steve Alford. Forget about this year's NCAA tournament. They'll be lucky to get an invitation to the NIT. I said it before and I will say it again. UCLA should hire Kobe Bryant as their next head coach. His name alone would attract the top flight talent the program lacks. Over a 20-year career, he knows the X's and O's well enough to coach. One thing for sure, as long as they continue down their current path, UCLA will be known as a football school and not a basketball school, something no one thought would ever be the case in Westwood.
Golden State Warriors: This team is down right sick. They are far more than the Stephen Curry show and should have a very good shot at finishing the season with the best regular season record ever. If they remain healthy, there is no team out there that can stifle their offense to the point of winning a best of seven series so they should repeat as champions. Now word comes out they are the odds on favorite to sign Kevin Durant when he becomes an unrestricted free agent this summer.  The rich just keep getting richer.
Pitchers and Catchers:  Anyone excited about pitchers and catchers getting set to report to spring training? I didn't think so. Tell me when the All Star break is over. Until then, baseball doesn't matter. In fact, I'm not sure it matters at all anymore.
Pro Bowl: How long will the NFL stick with this game? Players do not want to play in it. It is the most meaningless sporting event on the planet. My suggestion is they name the pro bowl team and then see how many players from each team are on it. Then take an equal number of cheerleaders from those teams and have them where a team jersey with the pro bowl players numbers and names on them. Finally, you pit these women against one another in a flag football game. It can't be any worse than what the NFL does now.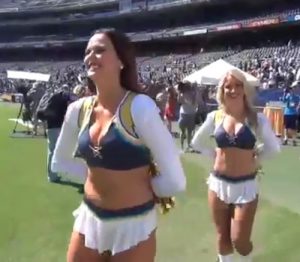 Cheerleaders: Speaking of NFL cheerleaders, who cares about their class action suit against the NFL for sub-standard pay? The Buffalo Bills did the right thing by getting rid of cheerleaders. No one has ever turned on an NFL game because they wanted to watch the cheerleaders. The only time in my life I was ever interested in NFL cheerleaders was when I was in seventh grade and I had a paper route. One of my customers was a cheerleader for the Oakland Raiders. This never interested me until one day when my best friend and I opened up his dad's Playboy and saw her posing in it. She suddenly became a valued customer to an impressionable young teen.
Football's Future: To read what Joe Montana had to say about his failing body has only reinforced in me just how horrific football is. Players should be happy if they escape the game without any brain damage. The fact they might not be able to negotiate a flight of stairs in their house or play ball in the yard with their kids is now a given. You might also want to read about Jim McMahon, the former Chicago Bears Super Bowl winning quarterback. Maybe read what Antwaan Randle El is experiencing at the ripe old age of 36. If you really love your kid, you would never allow him to play football. Unfortunately, for too many of our youth, it is seen as a ticket out of the inner city or poverty and well worth the risk, something the NCAA and NFL don't mind cashing in on.
And if the NFL finds itself lacking in home grown talent, don't worry. The primary intent for them wanting to grow their game overseas is survival. The NFL is no different than any other major industry. You either grow or perish. By gaining a foothold in Europe, Asia, and South America, not only does the NFL expand to new markets, it will cash in on a new pool of talent, one where moms and dads are less likely to worry about brain injuries and more likely to see the game as a way out of an impoverished life. While technology may or may not make playing the game safer, the NFL will inevitably rely on outsourcing its talent to other parts of the world. Instead of asking ourselves whether or not blacks can play quarterback, there will come a time we ask whether or not a German, Brazilian, or Mexican can lead a team.
So long as the NFL keeps its tax exempt status and remains immune to the oversight of OSHA, they will have to turn to other parts of the world to provide us with players who are willing to sacrifice their brains and major joints all so we can get our weekly fix.
Where Is The Outrage?: Is there a planned boycott for this year's NBA All-Star game since white players have been excluded? I didn't think so. Why can't we get to a point in our culture where we see awards shows and all star games as nothing more than another form of entertainment designed to make rich people richer while the rest of us take a break from the lives we lead?
NCAA Basketball: I used to love the college game and follow it from start to finish, but like all other sports, it has become a game where the regular season is irrelevant thanks to expanding their annual tournament. Right now, UCLA sits at 13-10 and has no business being in the tournament. And yet, if they win the PAC 12 Conference tournament, they will take part in March Madness.  There was a time in the 1970s when the second-ranked team in the nation was USC and they did not go to the NCAA tournament all because the number one ranked team, UCLA, won the PAC 8 title and was their conference's lone representative. I miss those days.
HGH Report: Will the NFL find any wrong doing by Peyton Manning over the alleged use of HGH? Don't bet on it. The last thing Roger Goodell and the owners want is another long drawn out controversy involving one of its biggest stars. Still, just because the league will try to sweep it under the rug, don't think Peyton is Mr. Clean. It just takes a dogged investigative reporter and one pissed off person to make this a very messy problem. Already there is word of Manning being notified five days before the story broke of the allegation. There is also a 9-1-1 call in which two men posed as police but later stated they were private investigators, and who were linked to Manning, showing up at the parents home of Charlie Sly, the man who is recorded as linking Manning to HGH.
I am not pointing the finger of guilt at Manning. In fact, I am one person who believes HGH should be allowed in professional sports. Why? Well, if you have ever struggled to get out of bed the morning after doing a bunch of yard work, imagine what it is like for an athlete to do the same the morning after a game. Go watch the best movie ever made about pro football, North Dallas Forty. You might not be so quick to judge what players do to recover from the game.
Still, if the Lance Armstrong case teaches us anything, the image we see of professional athletes is not always the real deal. Who is going to follow a sport if we know its participants are a bunch of unruly assholes? Scratch that. The NFL is our most popular sport and is littered with a bunch of unruly assholes.
Best Sports Season: With the Super Bowl now concluded, we can get on to the best season in all of sports, the NFL off-season. How big is the NFL? More Americans care about the NFL off season deals and draft than they do the opening of Major League Baseball or the NBA playoffs. As for me, I actually find it more compelling than the regular season.
All photos by Claudia Gestro.
Top photo: Super Bowl 50 MVP Von Miller of the Denver Broncos.

James Moore is a life long resident of California and retired school teacher with 30 years in public education. Jim earned his BA in History from CSU Chico in 1981 and his MA in Education from Azusa Pacific University in 1994. He is the author of Teaching The Teacher: Lessons Learned From Teaching and currently runs his own personal training business, In Home Jim, in Hemet, CA. Jim's writings are often the end result of his thoughts mulled over while riding his bike for hours on end.