Soupstravaganza! (All gluten free!)
One of my favorite things about cooking in the fall is the return of soups.  They're warming, they're hearty, and they come in every flavor under the sun.  This is my second year trying to make at least one soup every week in the fall and winter.  This year is off to quite a start, with tasty success so far.  I've attempted restaurant favorites, threw one together based on what's in the fridge, and pinned on that I'll probably make for the rest of my life.  I hope they bring as much happiness to your home.
Cheesy potato soup is by far my favorite ever – I rarely miss an opportunity for it if I see it on a menu.  I've made it from cans and powders, but they've never measured up.  Then I found a recipe from Mr. Food, and I took that as a starting point to attempt my own.  The original recipe I found takes a lot of short cuts, and skimps on flavor, so jumping at the opportunity to my stick blender, I decided to try my own formula.  I managed to burn the bottom, but I managed not to ruin the soup; it added a slightly smoky flavor, a few more minutes would have been a disaster.  Next time I'll be more attentive, and not leave it to simmer without keeping an eye on it.  Also next time, I'll leave a bit more texture to it.  It was a little strange tasting bacon and jalapeno, but not seeing it.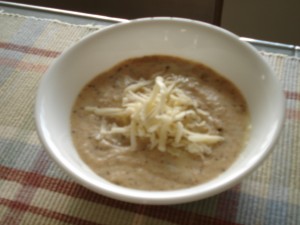 Cheesy Bacon and Potato Soup
6 large potatoes, diced
1 quart half and half
3 Cups milk
1 unseeded jalapeno, diced
2 Cups shredded cheddar
8 slices bacon, chopped
1 small onion, diced
1 clove garlic, minced
2 tsp. Paprika
Salt and pepper to taste
In the bottom of your soup pot, fry your bacon, then reduce head, add onion, garlic, and jalapeno.  Cook until soft, about three to five minutes.  Stir in potatoes, milk half and half, and paprika.  Boil until potatoes are done, stirring occasionally.  When potatoes are done, blend soup in batches to desired smoothness.  Put all of it back into the pot and stir in cheese.  Let simmer five minutes, then serve.
The great thing about vegetable soups is how plastic they are.  You can compose them of pretty much anything you want, so long as you keep a particular flavor theme in mind when you begin.  The contents of this kettle is the result of raiding the refrigerator and pantry.  Normally I would chop up two stalks of celery to throw in, but since that wasn't in our inventory, celery seed made a decent replacement.  I love the flavor celery adds to veggie soup.  I had originally intended to add noodles to it, but as chunky as this turned out, I felt they'd get lost in everything else.  In the spirit of adventure, I encourage you to only take this as a guideline, and create a new favorite.
Chicken Veggie Soup
2 Chicken breasts
1 large onion, chopped
2 medium carrots, chopped
3 large potatoes, diced
2 cloves garlic, minced
1 can whole kernel corn
1 can peas
1 can green beans
6 Cups chicken or vegetable broth
1 tsp. Parsley
1/2 tsp. Basil
1/4 tsp. Sage
1/2 tsp. Celery seed
1 tsp. Thyme
1/2 tsp. Crushed Red Pepper
In the bottom of your soup pot, cook the chicken breasts.  When done, remove, shred, and set aside.
Add to the pot your pot onion, garlic, turn the heat to medium, let cook while chopping carrots and potatoes, adding them and the rest of your ingredients, including shredded chicken, to the pot.  Bring to a boil for ten minutes, then reduce to medium-low heat until potatoes and carrots are cooked through.
This one was a Pinterest find – are you surprised?  Thank you Homemade by Holman  for this amazing soup.  It really is an enchilada in liquid form.  So good, I couldn't not share it with you.
Enchilada Soup
3 cups chicken stock
2 skinless, chicken breasts
2 tsp ground cumin
2 tsp chili powder
1/2 tsp cayenne pepper
1 28 oz can diced tomatoes
4 jalapeno peppers, minced
1 green bell pepper, diced
1 large onion, diced
4 cloves garlic, minced
1 15 oz can black beans, rinsed and drained
2 cups frozen corn
1/2 cup tomato paste
8 oz cotija cheese, crumbled
8 oz pepperjack cheese, divided
Tortilla chips
In a large Dutch oven or stockpot, add chicken stock and heat over medium heat. Add chicken breasts, cumin, chili powder, and cayenne pepper. Simmer about 20-25 minutes until chicken is cooked through. Remove chicken and set aside. Add tomatoes, jalapenos, bell pepper, onion, and garlic to the pot. Simmer about 30 minutes, covered until tomatoes have begun to break down. Add black beans, corn, and tomato paste and stir to incorporate. Add cotija cheese and half of the pepperjack cheese and stir to melt. Return chicken to soup and cook about 20 more minutes until desired consistency.
If soup isn't as thick as desired, you can add strips of flour tortillas. They will dissolve into the soup to thicken the broth.  (At most, I would add about the equivalent of half a large tortilla, as anything more doesn't dissolve as easily.)  Add cilantro, reserving some to top individual bowls if desired. Ladle into serving bowls and top with crushed tortilla chips, reserved pepperjack cheese and cilantro if desired.
Tip of the week: Make sure to taste your soups as you cook them, as leaving them on to simmer for extended periods of time may change the effectiveness of the seasonings.

Sally is a wife and domestic diva in Maryland. She approaches life with gusto, humor, and a passion that is unmatched. She is a classic woman, with a modern twist and is the kind of woman who will throw back a beer and watch Star Trek with her husband, and entertain the church croquette group with homemade cheese cake. Sally offers something for everyone, and is always experimenting and cooking up a storm in her kitchen.