Soundgarden frontman Chris Cornell's death hits local nonprofit personally
Fans around the world are mourning the loss of Soundgarden frontman, singer Chris Cornell. For local nonprofit RAACE (Race Against Abuse of Children Everywhere), the news has been particularly stunning, as the 501c3 was midway through a fundraiser in partnership with the Grammy® Award-winning rock band.
RAACE Executive Director Brad Brickel, an avid, longtime fan of Chris and the band, took the news particularly hard.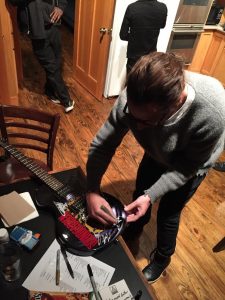 "Like everyone else, I awoke to the shocking and saddening news that Chris Cornell has passed. I just couldn't believe it. It's because of Chris and Soundgarden that I started playing bass guitar," recalled Brad.
Cornell took his own life Friday.
Brickel tells the story of attending his first Soundgarden concert at the 9:30 club in Washington, DC in 1989.
"Chris jumped from the stage and stepped on my head. It REALLY hurt, but after carrying him around on my shoulders in the mosh pit and seeing how much fun the band was having, I knew I wanted to do that too," says Brad.
So it was almost surreal when over two decades later, RAACE had the opportunity to partner with the band for a fundraiser, raffling off a custom, hand-painted guitar signed by all band members and other Soundgarden prizes.
"When we heard the band would do a fundraiser for RAACE when they reunited for their 2017 spring tour, the excitement here had no bounds. In my wildest dreams I never imagined we would be able to bring RAACE's message to millions of Soundgarden fans," said Brad. "It was an amazing opportunity to make awareness happen with a band that defined a generation and helped spark a musical revolution."
For now, the fundraiser is continuing as planned, with donations and raffle entries being accepted until the May 30th midnight deadline. The organization will decide in the coming days what, if any, adjustments will be made.
Brad expressed the nonprofits' condolences with a nod to the song that Cornell had penned for a close friend who had passed.
"The RAACE family offers our deepest condolences to the family, bandmates, friends and fans of Chris Cornell. It is with our deepest sympathy that we say thank you and farewell, 'Say Hello 2 Heaven', Chris."