Slipknot is back and Baltimore fans go 'insane'
Thousands of fans invaded Baltimore's Royal Farm Arena Wednesday night for the return of Slipknot accompanied by King 810 and Korn.
This North American tour, appropriately titled the 'Prepare for  Hell Tour' gives  Slipknot fans a taste of every era of Slipknot they have grown to love or hate. It also welcomes in the new era of Slipknot. With the newest release, the bands fifth studio album  – '.5: The Gray Chapter' – fans eagerly awaited to hear the band perform the songs live. The band did not let them down.
The concert began with dimly lit lights where fans could see a shimmering blue-silver curtain.
That's all it took. The crowd went  insane.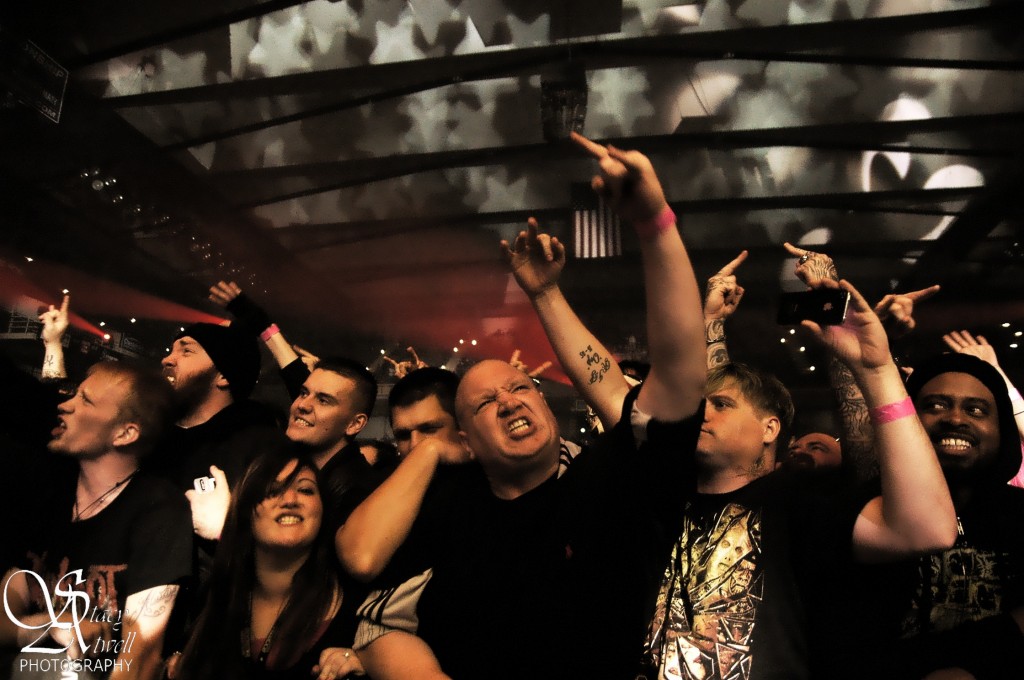 They got what they came for and waited to experience. From the "pit", where I have stationed myself to capture moments of the night forever on film, I couldn't  help but smile and give devil horns to the masses of fans adorning their Slipknot masks and makeup. At this point I also realize this will be a night to remember.
And then the music began.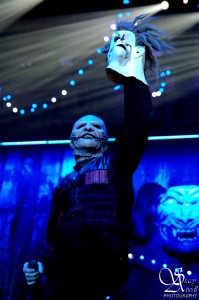 Boom the lights came up and the band immediately immersed it's full on attack of the crowd with 'Sarcastrophe' off the new album. Lead vocalist, Corey Taylor took immediate control of the crowd. Almost just as quickly as the song started so did the crowd surfing and mosh pits.
It's a grand gesture to a band when even  a wheelchair and it's occupant are raised high in the air and escorted over the heads of loyal fans to surf. I am a seasoned rock and roll chick and I found myself being beaten and banged into even in the safety of the "pit." For this night, I was OK with that.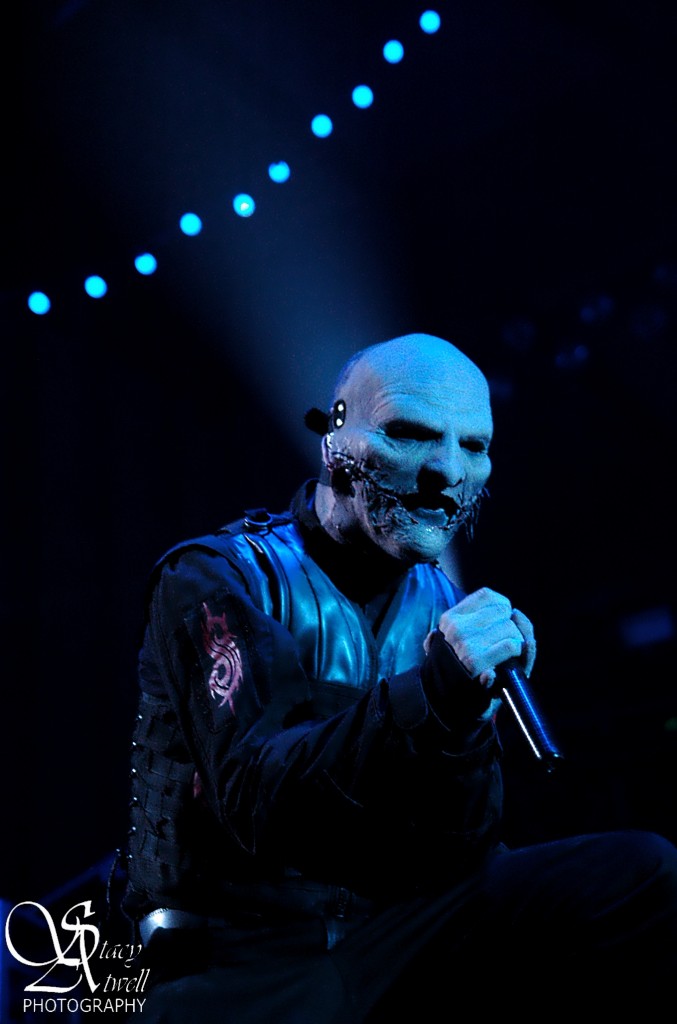 During 'AOV', percussionist Chris Fehn, also  known as, #3, made his way into the "pit" slapping the hands of fans he encountered as Corey Taylor screamed –  "Slipknot is back!"
This show honestly had it all, energy, theatrics, amazing lights and pyro, masked men and devil props. But the best part was watching the crowd never tire. The crowd sang along to songs, including the new material. It was most apparent when the band sank into to their huge mainstream radio hit, 'Before I Forget' and the fans didn't miss a beat. This was everything a heavy metal show was supposed to be.
If you weren't a Slipknot fan before coming to this show, and you came  to see one of the other awesome bands on the bill, I can almost guarantee you left loving this band and perhaps have gained a new musical appreciation for what they brought to the stage and their fans.

Stacy Atwell is a third generation photographer, but she did things her way… She preferred the excitement of live entertainment photography to studio portrait photography. Stacy has been a photographer for most of the big Baltimore and DC festivals including the M3 Rock Festival, DC101 Chili Cook Off, Casey Cares Benefit shows, and PRS: One Show, One Night, One Cause to name a few. She also has been published in several publications including Vintage Guitar Magazine, Tom Tom Magazine, Voices UK, Heavy Magazine, Ripleys Believe It or Not: Dare To Look Volume 10 and most recently University of Marylands UB Post. Her work has appeared in CD's and for posters. She recently added her love of Burlesque to her photography career and is doing well in that field as well. In her personal life, Stacy is a wife and mother of four amazing children and getting ready to become a g'ma. Stacy is a social butterfly and loves to meet and get to know people. So look for her and say "hi"!
Website: https://www.facebook.com/SAtwellPhotography