Shakemore unites seminal band Half Japanese with fans for Carroll County music festival
Half Japanese may be the most famous band you've never heard of. Founded in the mid-seventies by Ann Arbor, Michigan brothers Jad and David Fair, the art punk rockers have released some 35 singles and albums over the course of their careers, while influencing the likes of Kurt Cobain and Smashing Pumpkins. A family relocation brought the Fairs to placid Union Mills, Maryland more than two decades ago, but the serenity of Carroll County didn't stop them from continuing to set the underground world of music on fire. This weekend, that fire will manifest itself with smoke from a pool-side grill and sixteen hours of music at the semi-private event, lovingly christened by David Fair as Shakemore.
Though perhaps the worst kept secret on social media, the semi-private part of Shakemore has evolved from what once was a somewhat modest party. Originally, the guys just wanted to say "Thank You" to family and fans with a music-themed picnic. But over the years, the event has grown to include some spoken-word performance, the addition of a few solo acts, and 25-30 more bands playing tight half-hour sets. An appreciative crowd of upwards of 400 people join in for all of the fun.
"I've been a fan of Half Japanese for a long time." said poet/emcee Barbara DeCesare. "David had left the band, joined the Carroll County Public Library and raised his family. After he retired, he was sorta looking to rock again. (Shakemore) was a really great way for him to get back into the band without losing his roots. It was a great idea, but we didn't expect it to be a really great idea."
Shakemore allows the Fairs and their fans an intimacy most rockers forsake when they become living legends. But it also gives smaller, lesser-known artists and bands a chance to shine – and in some cases intermingle. A good case in point was Friday night's opening rehearsal/sound-check/warmup performance, where local percussionist Chris "Batworth" Ciattei, of the band Batworth Stone, provided the beat for Half Japanese.
"I'm not their regular drummer," explained Batworth, "but it's fun sitting in with this band. On Saturday, I'll actually be playing with four different groups!"
Batworth may be one of the many performers working overtime at Shakemore, but Jon – another Baltimore-based musician – said he'd be spending the day chilling with his girlfriend Emily and enjoying the music.
"The music here is hard to describe," said Jon, "but everyone really gets into it. And with these mountains in the background, it doesn't get much better than this."
The soothing surroundings of the open field in Union Mills where Shakemore happens are also part of the attraction for Thomas White.
"I guess my mother first brought me here when I was about six or seven years old. So for me, returning every year to Shakemore is like coming home," said White.
Taking a break from the appreciative handshakes and hugs of dozens of devoted fans, David Fair recalled Half Japanese's unusual beginnings in Michigan – and a funny story about the time Shakemore took the burgeoning event on the road in rural Carroll County.
"My brother and I started in 1974, I think. The idea at the beginning, and I guess it's still the idea, is that enthusiasm is more important than talent. Now, talent's a bonus, and we wouldn't not have someone in the band because they are talented. But we like the idea of just being excited about it.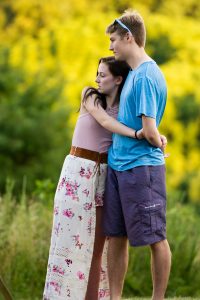 "This is our twelfth year. Nine of the twelve years it's been right here at this location. We went to a fire hall in Pleasant Valley four or five years ago, and the lady we had to talk to, to try to get in there, said, 'Well what kind of music do you play – Country or Bluegrass?'
"That was the end of the list! 'Country or Bluegrass.'
"We said, 'Well, we try to have something for everybody,' because that's the idea. Every half hour – if you don't like something, just be patient."
Shakemore – like the band that started it – may not exactly be a household name. But for those willing to weather the July heat, the ever-present possibility of rain, and the rolling back roads of Carroll County, the payoff can be tremendous.
"The music at Shakemore is eclectic, it's wide-ranging, sophisticated, it's noise music," said DeCesare. "There is something here for everyone. But ideally, everything is for everyone. It's all joyful and sincere – earnest and beautiful.
"Everybody in here comes to this show with an open mind and an open heart. The music sorta edifies the mood. They bring love and they receive love and they express love. It's one of the best things I've ever been a part of."

Anthony C. Hayes is an actor, author, raconteur, rapscallion and bon vivant. A one-time newsboy for the Evening Sun and professional presence at the Washington Herald, Tony's poetry, photography, humor, and prose have also been featured in Smile, Hon, You're in Baltimore!, Destination Maryland, Magic Octopus Magazine, Los Angeles Post-Examiner, Voice of Baltimore, SmartCEO, Alvarez Fiction, and Tales of Blood and Roses. If you notice that his work has been purloined, please let him know. As the Good Book says, "Thou shalt not steal."