San Andreas: Dwayne Johnson rock solid 
3.5 out of 4 stars
Let's make this clear: Dwayne Johnson, a muscle-bound freak who's known as "The Rock" as much as his birth name, no longer needs anyone's help to carry a movie.
In about a dozen years, he's gone from dominating the World Wrestling Entertainment ring to  doing the same at the box office, becoming an unstoppable force that not even Mother Nature can deny in San Andreas, what could very well end up being summer's biggest surprise hit.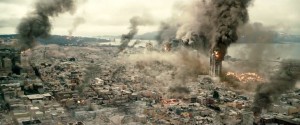 In San Andreas, a natural disaster movie named after the famous fault line, Johnson plays Ray Gaines, a Los Angeles rescue helicopter pilot caught up in a massive California earthquake and tsunami that showcases perhaps the best computer generated imagery in movie history – seriously. The cinematography of buildings crashing to the ground like falling dominoes and a tidal wave tearing through downtown grabs the audience's attention and doesn't relinquish it throughout the 114-minute film.
But Johnson doesn't care about the masses as he's whizzing across the sky while the world below is being sucked into the earth. He's focused on saving two people caught in the heart of the devastation: his soon-to-be ex-wife Emma (Carla Gugino) and their San Francisco-based daughter Blake (Alexandra Daddario).
Johnson, 43, is complemented well by Paul Giamatti, who plays earthquake expert Dr. Lawrence Hayes, and Archie Panjabi, who comes off as a believable TV news reporter. But Johnson drives the movie, which can't be understated since in recent years, Johnson's star has ascended by him landing roles in already established franchises.
Let's look at his most recent work. In 2013, he returned to the star-studded casts for Furious 6 and joined and G.I. Joe: Retaliation, which grossed $789 million and $375 million worldwide, respectively. But his two other films that year – Snitch and Pain & Gain – collectively made $140 million worldwide, bringing his box office total for the year to $1.3 billion, tops in the industry, just ahead of Robert Downey Jr. whose sole film, Iron Man 3, raked in $1.2 billion.
Johnson's lone film in 2014 was Hercules, which was panned by critics, but the $100-million budget picture grossed more than $243 million worldwide, proving there's nothing fake about the clout the former eight-time WWE champion carries internationally.
Oh, and let's not forget: Johnson's first film of 2015, Furious 7, has already made around $1.5 billion, which brings us to San Andreas, where Johnson shows how far he's come as an actor since letting his muscles basically do all his talking in The Mummy Returns in 2001.
In San Andreas, Johnson shows an emotional side when he and Emma discuss the tragedy that ripped their family apart; he shows authority as he tries to save lives; and of course, he's got the body and athleticism that enable him to pull off scenes that his counterparts simply couldn't.
So was it risky for Warner Bros. to spend $100 million to produce yet another action movie when Avengers: Age of Ultron, Furious 7, The Divergent Series: Insurgent, Kingsmen: The Secret Service and Mad Max: Fury Road have saturated the marked? Nope, especially considering director Brad Peyton's and Johnson's history.
In 2012, Peyton cast Johnson as the star in Journey 2: Mysterious Island and the next thing you know, a picture that took about $79 million to make took home more than $335 million worldwide.
Two years later, Peyton has a bigger budget and an even bigger star to create a force that could surpass 1996's Twister ($241.7 million) as the highest-grossing natural disaster movie in history.
It could easily happen because Johnson is that appealing. His great looks and charisma make women open their pursues, while his physique and butt-kicking background also make him popular with males, creating the perfect box office storm that could thrust Johnson into becoming Hollywood's most sought-after star.
Johnson will be as ubiquitous in Hollywood as his trademark raised eyebrow was during his professional wrestling days. In the next two years, expect Johnson to be featured in no fewer than three films, including Journey to the Center of the Earth 4, Central Intelligence (alongside Kevin Hart) and Furious 8, in addition to starring in the HBO series Ballers, where he plays a retired football player.
But for now, San Andreas, without Johnson, would have been a disaster – literally and figuratively.
But with him, it just may be the most fun you'll have in the theater all summer.

Jon Gallo is an award-winning journalist and editor with 19 years of experience, including stints as a staff writer at The Washington Post and sports editor at The Baltimore Examiner. He also believes the government should declare federal holidays in honor of the following: the Round of 64 of the NCAA men's basketball tournament; the Friday of the Sweet 16; the Monday after the Super Bowl; and of course, the day after the release of the latest Madden NFL video game.