Salamander Resort & Spa has it all – even a zip line
It was someone in the hospitality industry that first told me about a wonderful resort called Salamander Resort & Spa located in Virginia horse-country, Middleburg to be exact.
Up to that time I had never heard of this place.  It was not long after that conversation I found myself at their front desk checking in.  One reason for my visit, other than his strong recommendation, was that Middleburg is only about 90 miles from Baltimore.  With fairly easy traffic, route 70 west to 15 (toward Leesburg at Frederick), and then to 50, indeed it was about 90 minutes and the drive down is quite pretty.  I can imagine how it is in fall.
The resort is privately owned by Sheila Johnson, founder of BET and currently co-owner of the Washington Wizards and Capitals.  Obviously an extremely good business women.  The name is derived from a Bruce Sundlun, a war hero and later in life Governor of Rhode Island..  His plane crashed in Nazi occupied territory and for months he evaded capture.  A resistance group gave him that nickname after the amphibian that can mythically walk through fire.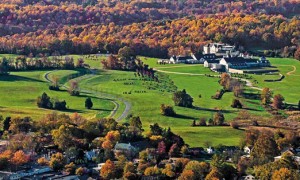 Johnson re-opened the resort in August of 2013. It is situated on 340 lovely acres with 168 rooms and 14 suites.  In my opinion this is an ideal location for that getaway you've been wanting to take.  Whether single or married, it doesn't matter.  All the amenities are available to you regardless of marital status.  During my visit I met a couple on their honeymoon, a family celebrating a reunion and a group of giggly young ladies obviously enjoying themselves.
When you arrive you'll have to decide what you want to do.  But sometime during your visit you have to do what I did for three hours one night.  I placed myself in a chair in the Living Room next to the fireplace and read old magazines, papers and at one point dozed off.   If you want to be a bit more active, that's okay with me.  Just don't complain if you go home without enjoying more peace and quiet.  A few examples of activities include an equestrian center, for rides or lessons, a pool table, a pool (this time of year I strongly recommend the one inside), nearby golf, an outside chess game with pieces as big as a child, a stop in the fitness center, or if you're really, really brave a tree top ziptour.  The zip lines vary in length from 90 to 670 feet.  Perfect for me!   Or a walking tour of Middleburg, with about 100 shops.
The Center did look enticing, but I was strong and fought off the urge to exercise.  I figured finding that chair was exercise enough.  The center offers, along with weights, yoga, pilates, sauna, zumba and a pool here too.  Classes are available, just check with the concierge.  Oh yes, I have to mention the concierge conveniently placed near check in.  At times there are two people there to answer any questions about the resort, perhaps take you on a tour and to tell you about the town of Middleburg, less than a mile away.  Back to that book for a moment.  There's another room perfect for reading.  They call it the Library, and yes it has books, about 2,500.  It also has games.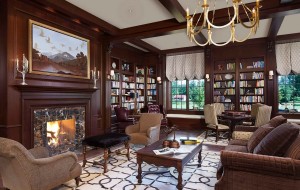 If you're really ambitious you can hop back to your car and tour one of many wineries.  I was told about 50 exist in the surrounding area.
Sitting in that chair for so long stimulated my appetite.  For this you have three choices.  First I'll mention Harrimans Grill, this is the formal dining room, open for breakfast and dinner.  It is surrounded by windows so the room always has natural light (during the day of course) and great views of the grounds.  More informal is the Gold Cup Wine Bar, open for lunch and dinner, and offering small plates.  For a truly different dining experience try the Cooking Studio for dinner.  It is a small area with a direct visual into the kitchen.  The chef works basically close by so you can watch and ask questions.  Television monitors are provided so you wont miss one ingredient.
You'll pay a little more here, but it's definitely worth it.  The personal attention alone is worth it.
What really impressed me was upon entering my room there was a greeting on the tv welcoming me to Salamander.  It also asked me not to stay too long, but that's another story.  As a little game I strolled the hall of all four floors and would you believe I didn't see one burnt out light bulb.  Someone is attentive to details.  And speaking of the floors, each one is themed for a season.  It's done by wallpaper and pictures,  I stayed in autumn.
Now it's time to really relax.  For that I'll direct your attention to the beautiful spa.  It has 14-treatment rooms, some with outdoor terraces, a couples suite, about 45 treatments, yet another pool, whirlpools, steam room and a variety of health, wellness and fitness classes.  I asked about a facial, but one of the spa people told me it wouldn't help.
OK, this final paragraph is for all the things I couldn't squeeze in up to this point.  Above all, I found the staff to be genuinely friendly.  From the guy who parked my car to the general manager.  Packages, like Spa and Couples are available; general rates start at about $350.00, and vary depending on time of year to location of room; there's a Camp Salamander for ages 4 to 10 (year round); in the back is a culinary garden which the chef uses in the kitchen; a boutique shop and I can without hesitation recommend the resort.
 The exact address, for all you GPS fans, is 500 North Pendleton Street, Middleburg Virginia. Give them a call at 540-687-3600.

Eddie Applefeld is a Baltimore native and a graduate of Towson University. He has been in the broadcasting profession for over 30 years. Currently he is the Promotions Director of WCBM radio. Before that, he was part of the Rouse & Company show on WQSR, host of a cable TV show called Dining Out and adjunct instructor at Towson.
His past accomplishments include being named a finalist in Baltimore Tourism's Employee of the Year Program and winner of Toastmaster's Speaker of the Year contest. He was also twice a heartthrob for the American Heart Association's gala fund raiser.