Mallo Cups, the combination of milk chocolate with crunchy bits of infused coconut covering a soft, gooey marshmallow center – a childhood favorite that I have rarely seen anymore.  In past visits to Ollie's Bargain Outlet, I found Mallo Cups and scooped up these delicious denizens of the confectionery world. That first bite took me back to my childhood in the '50s and hanging out at the corner drug store, we called it Docs, where Walbash and Sequoia Avenues converge and met up with Rosedale Road.  Those were days of nickel candies and fountain cokes.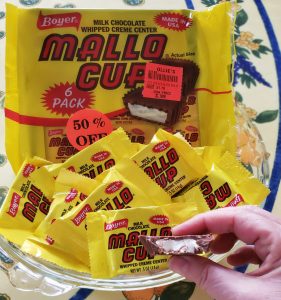 I scored yesterday on my trip to Ollie's – "Get Good Stuff Cheap", with my holiday 15% off my entire purchase coupon. I had a couple of things I needed.  POW, as I walked in the door there was a sale bin of candies, 50% off their 99 cent price. Yes, I scooped up all the 6 pack mini's of the Mallo Cups  – which brought them to the 1950's price of about a nickel a piece.
Breakfast today was a Mallo Cup because I had to show you the inside of the Mallow Cup. Yes, I know I could have cut it in half, but the artist in me felt you should see it where there was a bite taken.
The manufacturer, Boyer Brothers is in Altoona, Pennsylvania and was founded in 1936.  I'm not sure how available the candies are in local stores, but Mallo Cups can be ordered online at Boyer.  Meanwhile, I will relish these childhood favorites for a while, well, maybe a couple of weeks, hmmm, well maybe a couple of days.
What is your favorite childhood candy/memory ?

For Dara Bunjon if it is food, Dara Does It, in fact, that is the name of her company which offers creative solutions for the food industry the likes of public relations, marketing, social media, cookbook compilations, food styling, culinary events, networking and freelance writing. You will now find Dara applying her broad range of culinary skills as a food stylist for television chefs/cookbook authors the likes of Steven Raichlen, Sara Moulton, Nick Malgieri, and Nathalie Dupree. Dara Bunjon lives, eats, dreams and writes about food and isn't hesitant to share her views and experiences about restaurants, culinary trends, recipes, cookbooks or even her childhood food memories. She has been on the food scene for too many years to mention. Known both in Baltimore and nationally, Dara Bunjon is a former member of Women Chefs and Restaurateurs' national public relations committee.
In the past, she has written for Style Magazine, Foodservice Monthly, Mid-Atlantic Restaurant Digest, Urbanite and other sundry publications. Since 2004 she has maintained an award-winning food-related blog called Dining Dish. She co-authored her first cookbook Yum! Tasty Recipes from Culinary Greats in association with Studio Spear. And has written Baltimore restaurant reviews for Gayot.com
Dara believes food is subjective; everyone's taste is different and she enjoys bringing you to her table to commiserate and enjoy lively discourse.
Considered one of Baltimore's food influencers, you can follow her on Twitter and Instagram @daracooks.