Mallo Cups, the combination of milk chocolate with crunchy bits of infused coconut covering a soft, gooey marshmallow center – a childhood favorite that I have rarely seen anymore.  In past visits to Ollie's Bargain Outlet, I found Mallo Cups and scooped up these delicious denizens of the confectionery world. That first bite took me back to my childhood in the '50s and hanging out at the corner drug store, we called it Docs, where Walbash and Sequoia Avenues converge and met up with Rosedale Road.  Those were days of nickel candies and fountain cokes.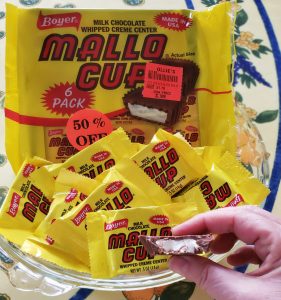 I scored yesterday on my trip to Ollie's – "Get Good Stuff Cheap", with my holiday 15% off my entire purchase coupon. I had a couple of things I needed.  POW, as I walked in the door there was a sale bin of candies, 50% off their 99 cent price. Yes, I scooped up all the 6 pack mini's of the Mallo Cups  – which brought them to the 1950's price of about a nickel a piece.
Breakfast today was a Mallo Cup because I had to show you the inside of the Mallow Cup. Yes, I know I could have cut it in half, but the artist in me felt you should see it where there was a bite taken.
The manufacturer, Boyer Brothers is in Altoona, Pennsylvania and was founded in 1936.  I'm not sure how available the candies are in local stores, but Mallo Cups can be ordered online at Boyer.  Meanwhile, I will relish these childhood favorites for a while, well, maybe a couple of weeks, hmmm, well maybe a couple of days.
What is your favorite childhood candy/memory ?