Rally 'Remembering Juneteenth' & Supporting Black Live Matter: Held by the BFSA at Charles & 33rd Street 
"It takes a village: the courage to act." Motto of Black Faculty and Staff Association.
Thanks to a community notice posted by 14th District Councilwoman, Mary Pat Clarke, I was able to cover a rally held on the late afternoon of June 18th. It was convened at Charles & 33rd Street, on the west side of the intersection.
The demonstration, which started at 5 p.m, under a hot sun, had a dual purpose: remembering the holiday of "Juneteenth," and supporting the cause of "Black Lives Matter." I would estimate that close to a hundred, very vocal activists participated.
Sponsoring the lively event was the "Black Faculty and Staff Association" (BFSA). Membership, according to its brochure, "is open to all faculty and staff (full or p/t) employed at Johns Hopkins or Hopkins affiliations." The group is now twenty-five years old.
(Historical Note) The Juneteenth holiday commemorates the end of the crime of Black slavery on June 19, 1865, in Texas. This is the date when African-Americans were freed more than two years after President Abraham Lincoln signed the Emancipation Proclamation.
In order to fully implement Lincoln's decree, it was necessary for a Union Army General, Gordon Granger, with a large presence of his troops, to read the federal order in the city of Galveston, Texas. By the 21st century, Juneteenth is now celebrated across the country. (1)
Getting back to the demonstration, I talked with Ms. Lorraine Smith at the rally. She is the spokesperson for the BFSA.
Ms. Smith said the "Juneteenth" holiday is very special to her organization because it marks, "Black Independence Day." She continued: "Black people weren't freed on July 4, 1776. We weren't freed until June 19, 1865." She added,  "We want changes. We want management (at JHU) to listen to us. And, we are ready for some big changes."
Meanwhile, at the same time as the BFSA rally, in downtown, Baltimore, Everyman Theatre was extending a hand of friendship to all activists participating in this weekend's Juneteenth celebrations. It requested demonstrators to "stop by for a safe and welcoming respite." This might include a "bathroom break, a cold drink of water, a phone recharge, or just to say hello." They also had "sign-making supplies available to help create messages of support" for posting purposes.
At Urban Reads Bookstore, at 3008 Greenmount Avenue, a Juneteenth Celebration was also being held with a starting time, on June 18th, of 5 p.m. Besides music and food, that event was lucky to secure the Democratic Party's Mayoralty nominee, Brandon Scott, as its "special guest."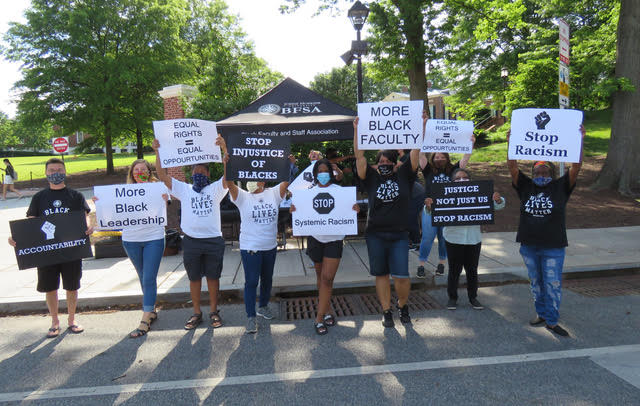 It's worth noting that on June 7th, in Hampden, a neighborhood very close to this site, another BLM rally was also held. The host for that demonstration was "The Church of the Avenue."
Finally, with respect to the above demonstration, the BFSA is advocating for, inter alia, the "employment of a more representative number of Black faculty members and staff at Johns Hopkins University." To learn more about its progressive agenda, check out: http://bfsa.jhu.edu.
More photos from this demonstration can be found on my Facebook Page. The Museum of Black History and Culture can be reached at: https://nmaahc.si.edu/visit/passes
All Photos ©Bill Hughes, 2020

Bill Hughes is an attorney, author, actor and photographer. His latest book is "Byline Baltimore." It can be found at: https://www.amazon.com/William-Hughes/e/B00N7MGPXO/ref=dp_byline_cont_book_1