Pride and Prejudice: Braving the elements with a little blood, sweat and tears
"You're bleeding," Lizzy Bennet told Lydia.  We were playing the background to Mr. and Mrs. Bennet quarreling over whether Mr. Bennet would visit Mr. Bingley at Netherfield.
It was the final run-through of Pride and Prejudice and the show had literally experienced every possible road block, renavigating and taking every detour in hopes of persevering to the ultimate destination: opening night at the Patapsco Female Institute Historic Park in Ellicott City, Md. At this point we were so close, having withstood rehearsals in the elements (and BWI's flight path if you recall), the loss of our director to a family emergency, and the result of having too many (admittedly knowledgeable) cooks in the kitchen – including directors, cast and crew.  Thanks to Lydia's bleeding chin, it was safe to say we were literally shedding blood, sweat, and tears to make this show happen.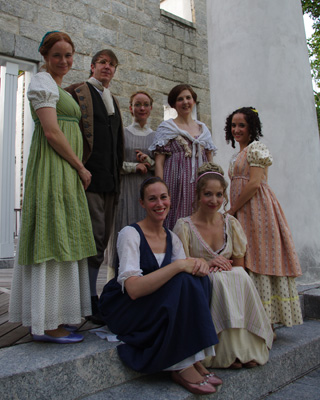 "And you're bleeding, too!" Lizzy exclaimed to me.
As Kitty, I glance down at my chest and, sure enough, a droplet of blood is running toward my cream colored costume.
Looking up I see the glob of blood solidifying on Lydia's chin.  Not sure how we're both bleeding and starting to wonder if zombies actually have invaded Pride and Prejudice, I frantically flit through my mind for what to do.
The Regency English would never dare to bleed in the sitting rooms of their own homes and, if they did, they'd probably faint at the sight of the blood and have to be gracefully removed.  I couldn't exactly start wiping the blood with my bare hands … but in the midst of transitions between scenes and with my back to the audience, that's exactly what I did, sparing the potentially ruined state of my costume.
Blood: Check.
A few runs earlier, it was a Sunday afternoon and the high was 98 degrees.  Out in the heat of the day, the bonnets weren't doing our eyes protected justice, so we donned our sunglasses, bringing the 21st century to Regency splendor.  I couldn't move on the stage without a bullet of sweat shooting out of my face.  You can imagine the back to back dance scenes looked like a sprinkler system on the stage as all of the cast members twirled in synchronization.  I couldn't decide what was worse: sweating through my underwear so it felt like I'd been swimming or catching sweaty sunscreen in the rims of my eyes as it rolled down my face.  Stinging sunscreen in the eyes!  Ding ding ding!
Sweat: Check.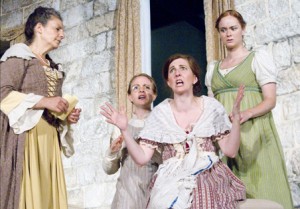 Now with every road block comes a decision: Go big or go home.  If it hadn't been for the go big attitudes determining to stay the course in this rehearsal process again and again, we never would have found ourselves on opening night underneath a rain cloud in a thunderstorm.  The perseverance and positive attitudes brought us to our destination and the lightning and thunder took us away from it – for another 24 hours.
Thunderstorm and cancelled opening = Tears (both from the sky and my face): Check.
Now I know I've (not so) subtly plugged my show on this blog.  And it isn't fair for me to review the show I'm in and tell you how incredible the cast is, or how talented our crew members are, or how dedicated the director(s) are, or how generous the producer is – because all of those things would be true. …
But if there's one thing I can say about this show from having experienced it is that there's something enchanting about watching a piece of theater.  Period.  But there's something miraculous about watching a group of artists overcome seemingly impossible tasks to create something beautiful.  And that's what Pride and Prejudice is: beautiful.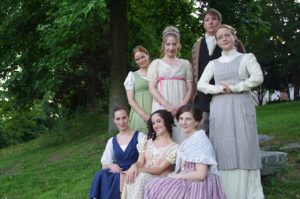 It's beautiful to watch the audience of 275 picnic with wine and cheese before the show to live musical entertainment.  It's beautiful to play on an outdoor stage as it grows dark and the stars come out.  It's beautiful to discover that when we're not speaking dialogue in the scene, we're flitting around through the ball, in character, speaking about the dances, how Bingley is still talking to Jane, how Mamma is so loud, and Mr. Darcy is so proud. … We laugh when we see Mr. Collins bow in all the wrong ways and we scold Mary for bringing her book to the party. … We wonder when we'll get to see more of the officers in town. …  It's beautiful to invent a character that lives and breathes so fully on the stage – whether the audience is noticing or not – and we hope you'll notice that we are the Bennet family – blood, sweat, and tears created – through and through.
So if you like theater as theater – you'll like this show.  But if you like theater as an experience, you'll love this show.  (Just make sure you leave your own blood and zombies at home – thanks).
For ticket information contact Chesapeake Shakespeare Company.
(Feature photo by Teresa Castracane)

Jana (it rhymes with "banana" or "anna") is an artist from Clarksville, Maryland. Growing up her parents always told her to "be whatever you want to be." Seeing as she has come from three generations of doctors, she obviously became an artist. As an actor, she has performed internationally Off-Broadway, and locally to the Baltimore/DC area. Favorite roles include Juliet, Ariel, and Caliban. Jana is the Founder of Red Connect Online, a social media marketing company that creates customized advertising campaigns for small businesses. You can listen to her podcast, Confessions of a Closet Christian, on the E-Squared Media Network. You can also follow her on Twitter (@Jana_Stambaugh) and friend her on Facebook.