Pride and Prejudice and a few mosquitoes play in a romantic setting
(Blythe Coons, Kathryn Elizabeth Kelly, Lizzi Albert, Jana Stambaugh and Rachael Jacobs in Pride and Prejudice.)
Chesapeake Shakespeare Company has given up the summer to romance with its current productions running in repertory, Shakespeare's immortal "Romeo and Juliet" and an adaption of Jane Austen's beloved "Pride and Prejudice" by playwright Christina Calvit.
Add in the glint of twinkling stars from the performance space – the Ruins in Ellicott City, in Patapasco Female Institute Historic Park – and you have the makings for romance. (And yes, they do award a "cutest couple" moniker during intermission.) Minus the mosquitoes, of course.
Calvit undertook no small feat by adapting such a favorite, and a tale also notable for its 300 minute mini-series produced by the BBC.  To take such an intricate novel and try to reduce it and present it in a format suitable for the stage is a most ambitious undertaking. Hollywood has churned out movies far shorter than the BBC version, but they had the advantage of both omitting big chunks of material as well as the more visual storytelling that the silver screen affords.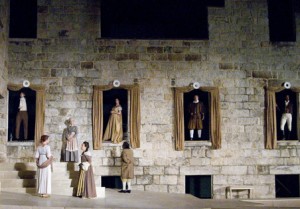 Calvit stayed remarkably true to the novel, but the result was something of a mismatched hodge podge in the first half of the play, which at times itself made the production on par with community theatre and not up to professional standards.
Scenes sped by most expeditiously, many without much or any of the dramatic tension that makes a play a story that must be told in the theater. Rather the scenes included either solely to advance the greater plot or simply because they occurred in the book.
The disappointment of the first act was surprisingly cured during the second, and what the first act lacked, the second more than compensated, being a much more fast-paced and cohesive narrative.
A few stand-out performances stood out from the cast as well. (Full disclosure: Baltimore Post-Examiner's More than 140 Characters' blogger Jana Stambaugh played Kitty Bennett, and was admirably whiny as the annoying younger sister.)  Blythe Coons gave a strong performance as Lizzie Bennett, capturing the wit and passion of Austen's heroine perfectly.
Julian Elijah Martinez's Mr. Wickham unfortunately failed to capture the charm and charisma of his character, leaving one to speculate if he was ever a real romantic foe to Mr. Darcy (played by Adam Sheaffer.)
But Jose Guzman stole the show as the excessively ingratiating Mr. Collins. Mr. Collins is frequently cast as a portly character, as unaware as he is dull. However, Guzman's Collins – not portly at all, by the way – had an ironic depth and self-awareness that brought an extra layer of meaning to the words and actions of one of the literary world's biggest embodiments of a suck-up.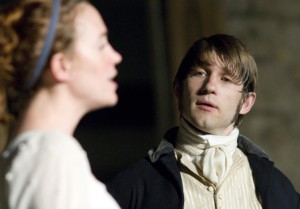 Outdoor theater is never simply about the show, though, it's about the experience. Chesapeake is committed to helping their patrons enjoy their nights out, providing live entertainment such as musicians, spoken word poets, costume booths, period games and dances, and stage combat demonstrations prior to the start of the show. Gates open 90 minutes before the show to allow time for picnicking, and Chesapeake is kind enough to provide a free bottle of water for the audience as well.
Again, "Pride and Prejudice" was an ambitious undertaking and not one without its flaws. However, at the end of the night, it's a fun production of an old favorite. Just remember: a single man with a fortune may be in want of a wife, but you will definitely be in want of a little bug spray for the great outdoors.
"Pride and Prejudice" is playing at Patapasco Female Institute Historic Park in Ellicott City through July 29 in repertory. Performances are 8 p.m. Thursday to Saturday and 6 p.m. Sunday. $15-$36. 410.313.8661.

Stephanie Taylor moved to the Washington/Baltimore area straight out of journalism school more than a decade ago. Originally drawn to the bright lights and murky glamor of politics, she quickly discovered she'd rather be writing about stage lights. Theater became her first and most beloved beat. Throughout her career, she's covered everything from international affairs to pop culture for outlets such as The Washington Times, the Online NewsHour with Jim Lehrer, the Scotsman.com, the DCist, the LAist, and more.