"My fifth grade teacher turned off all the lights and read us 'The Raven,'" said Pat Lavell.
… someone gently rapping, tapping, at my chamber door
"He made it pretty dramatic, knocking on the desk.  It was intriguing for a fifth grader," Lavell added, visiting the Poe grave at the Westminster Hall and Burying Ground on the corner of Fayette and Greene streets.  He'd made the pilgrimage from Pittsfield, N.Y., with his wife, Sarah.
"Poe was very dark, a great American writer who mystifies us," Sarah Lavell said.
And so faintly you come tapping, tapping at my chamber door
After a gloomy, stormy day, Poe's white stone monument had dried in the sun and visitor after visitor walked around it.  Poe's wife, who married him in 1836 when she was 14 years old, is buried beside him.  Her name is carved on the south wall: Virginia Clemm Poe, born August 15, 1822, died January 30, 1847.
Carved on the north wall of the monument is Poe's mother-in-law's name (she was also his aunt, Poe married his first cousin): Maria Poe Clemm, born March 17, 1790, died February 16, 1871.
Poe lived with his Aunt Maria and his grandparents, Elizabeth Cairnes and William Henry Poe at what was then 3 Amity Street (now numbered 203 Amity and known as the Poe House).  It was 1831 and he had been court marshaled; dismissed from West Point.  He'd also just published his third collection of poems, Poems with Elam Bliss, New York.
"We read about the mysterious Poe toaster,"  Pat Lavell said.  A mysterious toaster would place three red roses at the monument; one for Poe, his wife and his mother-in-law.  "It was in our newspaper, The Rochester Democrat and Chronicle."  The toaster had appeared for 60 years at the Poe grave on the anniversary of his birth, January 19th.  He would drink a toast of cognac, leaving the bottle.  In 2010 and 2011 the Poe toaster failed to show.
In another section of the cemetery, David Poe, Sr. rests.  His tombstone reads: "Patriot and grandfather of Edgar Allan Poe, born in Londonderry, Ireland in 1743, died in Baltimore, October 17, 1816."  Poe Sr. lies near the original site of his grandson's grave.  Samantha McCray came from Rutland, Vt., to see it.
"I knew there was another gravesite," McCray said, triumphant that she had located the original spot.  It is down the brick path that runs beside the church and winds behind it to the left and then the right.  A raven is etched into the arch on top of the stone, with the words: Quoth the Raven Nevermore.  The tombstone is actually a marker that says: "The original burying place of Edgar Allan Poe, from October 9, 1849 to November 17, 1875."
Poe was placed in an unmarked grave when he died.  His monument was dedicated 25 years later and it was paid for, in part, by school children who collected pennies for Poe.
The pennies for Poe has been revived to save the Poe House, the victim of Baltimore City budget cuts.  Checks are also welcome and should be made payable to: DIRECTOR OF FINANCE, with the words "Poe House" in the memo line of the check.  They can be mailed to: Jeff Jerome, c/o Baltimore City Department of Planning, 417 E. Fayette St., Baltimore, MD 21202.
Back at the Poe Monument, which is near the entrance to the Westminster Burying Ground, Samantha McCray said, "My mother used to read me Poe's stories.  By the time I had graduated from high school, I had read all of his works."  A teacher's assistant in Vermont, McCray planned Poe's stories and poems around her lessons.  "Murder and death have been going on forever and it's a great way to introduce the kids to classic literature."
Her favorite Poe story was "The Masque of the Red Death."
Blood was its Avatar and its seal – the redness and the horror of blood. 
McCray believed the story showed how the rich dealt with the plague:
The external world could take care of itself.  In the meantime it was folly to grieve, or to think.  The prince had provided all the appliances of pleasure … there was Beauty, there was wine.  All these and security were within.  Without was the 'Red Death.'
"I liked it because everybody dies," she said.
And Darkness and Decay and the Red Death held illimitable dominion over all.
Kelly Ayers, of Martinsburg, W.Va., favored Poe's "The Tell Tale Heart."  She said, "Poe was a master horror writer.  Really advanced for his time."
I heard many things in hell.  How, then, am I mad?  Hearken! and observe how healthily – how calmly I can tell you the whole story.
Ayers admired the way Poe "could paint a picture with his words.  He imagined everything so perfectly, we don't have to work too hard to see it."
It was a low, dull, quick sound – much such a sound as a watch makes when enveloped in cotton.
Standing under the new buds on the branches of an ancient tree that had captured a couple of plastic shopping bags, too high up to remove, Ayers concluded, "I always liked Poe and I knew that they found him on a street not far from here [when he was near death]."  She did not know where Poe was buried until she researched it and found the Westminster Burying Ground.
Ayers' friend, Amanda Hagan from Brunswick, liked that "Poe had the guts to write about craziness."  She was also a "Tell Tale Heart" fan.  An advocate for cemeteries, too, she said, "There is nothing to fear in a cemetery.  It is relaxing, peaceful.  There is sadness, it's a tragic beauty."
Beyond her were three old tombstones that leaned together.  They appeared to guard the brick arches under the porch of the Westminster Hall.   Black wrought iron filled the arches and more ancient tombstones are visible under the Hall's porch.
Hagan added that Poe was an influence in her own short story writing.  "I can get really dark, like Poe."
Presently I heard a slight groan and I knew it was the groan of mortal terror.  It wasn't a groan of pain or of grief – oh, no! – it was the low stifled sound that arises from the bottom of the soul when overcharged with awe.  I knew the sound well.  "The Tell Tale Heart"
There was one "please keep off grass" sign.  Most of the Westminster Burying Ground is brick or granite or marble the length and width of a grave.  The path throughout the cemetery is the width of nine bricks, placed length-wise, side by side.
Beside Poe's monument is a tomb of Watsons: Robert, William Price, Robert, Jr., Rachel Price Watson, Leah Bond Price, Henry Watson and Caroline Price.  The deaths range from 1821 to 1890.  The roof of the tomb, made of dark gray granite, is just the right height on which to sit and watch the visitors who walk through the open wrought iron gates.
Lauren Russell and Thomas Dunklin, newly transplanted to Baltimore from the West Coast, were visiting the Poe grave for the first time.  "I've always loved reading his poems and short stories," said Russell.  Her favorite was "Annabel Lee," published in the New York Tribune on the day Poe was laid to rest in the Westminster Burying Ground, October 9, 1849.
But we loved with a love that was more than love
I and my Annabel Lee
Russell admired Poe's "disturbed loneliness."  She said, "He was a beautiful writer.  Then you realize how disturbed he was."
And neither the angels in heaven above
Nor the demons down under the sea,
Can ever dissever my soul from the soul
Of the beautiful Annabel Lee
Russell also believed that "Poe was more human because of his fragility."
There are many theories — from Sigmund Freud to Alfred Adler — that say one's personality is shaped as early as the fifth or sixth year of life.  When he was two years old, Edgar Allan Poe's father disappeared.  His mother died a month before his third birthday.  Poe was never legally adopted by the Allans, who took him in and though Edgar Allan Poe had a brother and a sister, neither was raised with him.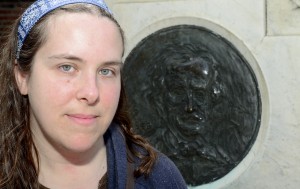 Kristy Hoffman, who journeyed to Baltimore on vacation from Bridgeport, Connecticut, made a stop at Poe's grave a priority.  She cited "Ligeia," as her favorite story.
… it is by that sweet word alone – by Ligeia – that I bring before mine eyes in fancy the image of her who is no more.
Hoffman began reading Poe in elementary school.  She said, "His stories were exciting and scary.  But I felt more excited than scared."
… time after time, until near the period of the gray dawn, this hideous drama of revification was repeated, how each terrific relapse was only into a sterner and apparently more irredeemable death; how each agony wore the aspect of a struggle with some invisible foe;
Poe has rested at the corner of Fayette and Greene Streets, in the shade of what is now the University of Maryland Baltimore City Campus, for more than one hundred and sixty years.  Yet, he is still enthralling us, almost two centuries after he first put pen to paper. 
(Photos by Philip Laubner; feature photo  shows Pat and Sarah Lavell at Poe's tombstone.)

Caryn Coyle writes about arts, culture and food for the websites CBS Baltimore and Welcome to Baltimore, Hon. Her fiction has been published in a dozen literary journals including Gargoyle, JMWW, The Little Patuxent Review, Loch Raven Review, Midway Journal, The Journal (Santa Fe) and the anthology City Sages: Baltimore from City Lit Press. She won the 2009 Maryland Writers Association Short Fiction Award, third prize in the first Delmarva Review Short Story Contest, 2011 and honorable mentions for her fiction from the Missouri Writer's Guild (2011) and the St. Louis Writer's Guild (2012).