Pilobolus: Avant-garde dance group delights at Columbia Festival of the Arts
Few arts can be as misunderstood as modern dance, but for the near sellout crowd who crammed into the James Rouse Theatre last Thursday night, the mix of frivolity and fluid movement presented by avant-garde group Pilobolus left nothing but knowing nods and plenty of laughter.
Pilobolus was on hand as one of the featured attractions of this summer's Columbia Festival of the Arts (CFA). Founded in 1987, CFA is Howard County's largest ongoing arts event. A lakefront fixture for 27 years, the festival is comprised of both free and ticketed events with an ever expanding slate of concerts, exhibitions, community dialogues, workshops and family outings.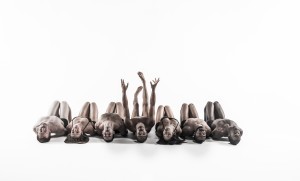 For those unfamiliar with the agile group, Pilobolus has gained an international following; showcasing the human body in what it terms as, "the most expressive, universal, and magical of media."
The group performed four different pieces on Thursday night; all quite different but decidedly delightful.
"On The Nature Of Things" featured Shawn Fitzgerald Ahern, Jordan Kriston and Mike Tyus in an every-changing tableau of sex and sensuality. In "The Transformation", Krystal Butler (in silhouette) appeared to morph from frightened ingénue into playful animal in the hands of master magician, Benjamin Coalter.
The highlight of the show for this reporter was "The Inconsistent Pedaler" – a wacky tale of exuberant animation set in the circus like atmosphere of one man's 99th birthday celebration. The piece featured an infections rendition of the instrumental Peanut Vendor by Perez Prado, along with hot swing moves by Butler and Antoine Banks-Sullivan, and a very Tim Conwayesque turn by Ahern as the senile birthday boy.
The company concluded the program with what was perhaps the most placeable modern dance number of the night – a captivating piece called "Sweet Purgatory". Butler, Coalter, Kriston and Tyus were joined in this sweeping number by Derion Lemon and Teo Spencer.
Along with the aforementioned song Peanut Vendor, musical selections included works by Vivaldi, Dimitri Shostakovich, David Poe, and Michelle DiBucci and Edward Bilous.
The Columbia Festival of the Arts wrapped up its summer series this weekend with the provocative appearance of Pilobolus on Thursday; Baltimore's whimsical Stoop Storytelling Series on Friday; and a side-splitting performance on Saturday by legendary improv group Second City. But not-to-worry: with the expansion of the popular festival to a quarterly affair, arts lovers will have an array of intriguing options to look forward to each season of the year. And keep in mind, Columbia's cental location makes the festival convenient to patrons from both Baltimore and DC. More information about upcoming events may found by bookmarking Columbia Festival of the Arts.

Anthony C. Hayes is an actor, author, raconteur, rapscallion and bon vivant. A one-time newsboy for the Evening Sun and professional presence at the Washington Herald, Tony's poetry, photography, humor, and prose have also been featured in Smile, Hon, You're in Baltimore!, Destination Maryland, Magic Octopus Magazine, Los Angeles Post-Examiner, Voice of Baltimore, SmartCEO, Alvarez Fiction, and Tales of Blood and Roses. If you notice that his work has been purloined, please let him know. As the Good Book says, "Thou shalt not steal."