Pennsylvania Daytripping: Pit stops at Miller's Smorgasbord and Strasburg Railroad
Someone asked me recently if I had a bucket list of places I'd like to see. Without hesitation I said I would really like to visit as many national monuments as I could. About five years ago I did visit the Grand Canyon but there is so much more to see in America's west, that three weeks out there would be great.
In the meantime, there is indeed so much to see in the east and so many places worth a return visit. So the other day off to Lancaster Pennsylvania was I after not being there for at least four years. Life on the Lancaster farmland does not change much over the years, but the area offers many attractions and dining  options that do on occasion change.
So I found I83 north and took it to 30 east in Pennsylvania and that lead me directly to Miller's Smorgasbord, 2811 Lincoln Highway East.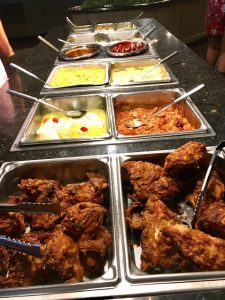 To be totally correct, Miller's isn't actually in Lancaster, it's in Ronks. But I don't think one tourist knows that or really cares. I will add a trip that would normally take me about a hour and 45 minutes took me two and a half. But the fault my friends lies within. I made two wrong turns and thanks to a Pennsylvania trooper I did find my way back to Lincoln Highway. Next time I promise to use my GPS.
Miller's has been in business since 1929. It's open seven days serving the same buffet both for lunch and dinner. There's plenty of free parking and it needs all there is. During the high seasons, like summer and fall, it's busy all the time. You can see buses with license plates from many states. I saw one from Ohio and another as far away as Missouri. By the way, the original family was named Miller.
So for that reason reservations are highly suggested. You might be able to get away without one in January and February. Yes it is crowded even though there are about 400 seats. Two of the favorite items, and there are many from which to choose, are the chicken and waffles and the fried chicken. I did try the fried chicken, well actually three pieces.
Just about all the food is made on premise. There is a wide variety of bread and desserts made there, writers tip, don't leave without trying a dessert. I decided on the apple and cherry pie. You can have as much as you want. I wanted more but just couldn't eat another thing.
A full buffet for adults is $25.49. Or you can order the soup, salad and bread for $11.99 before 4 or $14.99 after. On weekends the cost is $14.99 all day. Just a few steps outside the main dining room you'll find a quilt shop and the Locally Made Food Shop.
While dining be sure to look at the historic pictures on the walls. It depicts the area many years ago and is provided by the local Historical Society. And also be sure to glance out the window. You'll see what looks like a giant post card, the Lancaster farmland with animals grazing.
Reach Miller's Smorgasbord at 717-687-6621 or go to millers1929.com.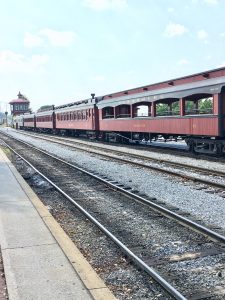 After such a hardy meal, a little exercise was in order. So I walked to the car, drove to the Strasburg Railroad (also in Ronks) and had a seat on one of the railroad cars. OK not much of a walk, but I would have walked further if necessary. The exact address is 301 Gap road. Trains run daily from April through October and then weekends November and December and from mid February through March.
There are several choices of train cars, with varying prices. Categories include coach, open air, dining, 1st class parlor, First class lounge and the President's car. The prices run from $15.50 to $26.00. The trip is a 45 narrated excursion that will take you through farmland (about 2500 acres) and across intersections mainly occupied by horse and buggy. The trip is 45 minutes and travels four and a half miles (round trip). You'll learn a little of the history of the area.
The Railroad has a total of 20 passenger cars. When they need maintenance, it's done right there. Accomplished engineers are on staff to handle any and all emergency repairs. All locomotives are steam. On site you'll find the ticket office, and reservations are highly recommended, two souvenir shops and a café. The Strasburg Railroad is a privately held corporation.
Special events and trains in the next few months include a Great Train Robbery October 20, a Wine & Cheese Train Saturday evenings and select dates through November, a Day Out with Thomas November 16-18, the Christmas Trains November 23 through December 22 and the Spooktacular October 26-27.
Reach them at 866-725-9666 or go to strasburgrailroad.com.
It was a delightful day in Lancaster, excuse me, Ronks. There is much more to see and do. One day soon make a daytrip up. Spending the night is not a bad idea either. The Amish are delightful people, but remember, they do not like their picture taken. So respect that.

Eddie Applefeld is a Baltimore native and a graduate of Towson University. He has been in the broadcasting profession for over 30 years. Currently he is the Promotions Director of WCBM radio. Before that, he was part of the Rouse & Company show on WQSR, host of a cable TV show called Dining Out and adjunct instructor at Towson.
His past accomplishments include being named a finalist in Baltimore Tourism's Employee of the Year Program and winner of Toastmaster's Speaker of the Year contest. He was also twice a heartthrob for the American Heart Association's gala fund raiser.