Parents urge Japan to return abducted children
Imagine getting a phone call stating that your children have been kidnapped. Your spouse has taken your kids to Japan, using the country's laws to maintain custody. Every day becomes an exhausting task of contacting government officials to help, but little is accomplished.
This scenario is very real to Patrick McPike and the parents of nearly 400 abducted U.S. children living in Japan. Including Japanese children, an estimated 10,000 have been abducted by parents within Japan.
Japan has never returned any of them.
McPike traveled with his family to Japan to complete an assignment for his company. His marriage strained and his wife did the unthinkable.
"It seemed like a good opportunity to provide my wife's family with an opportunity to spend some time with their grandchildren while they were still young," McPike said. "When my assignment was up and it was time to come home, my wife abducted the children."
McPike's wife cut him off from communication with his two sons, Kai and Koh. The children became victims of Japanese law, which treats child abduction as a custody dispute rather than a felony crime. His wife is living in Japan, but could not be reached or found for comment.
Japan's view of child abduction is different from the rest of the world. They are not a member of The Hague Convention – a treaty designed to return internationally abducted children to their home nations – and their courts favor one parent having sole custody. In 90 percent of cases, the rights go to the mother.
Japan is revising laws to open the possibility ratifying The Hague, but these changes may not be a total acceptance of The Hague in its current form.
"If we look at the domestic laws submitted by the government in order to execute the Convention, changes have been made with current Japanese public opinion and family court practices in mind, and it is questionable whether the intent of the Hague Convention has been incorporated," said Takao Tanase, a professor who specializes in Japanese law.
During a U.S. Department of State briefing on U.S. child abductions to Japan, Assistant Secretary of State Kurt Campbell spoke about persuading Japan to join The Hague.
"The President also very strongly affirmed the Japanese decision to enter into The Hague Convention," Campbell said. "He asked that these steps be taken clearly and that the necessary implementing legislation would be addressed.
"This is a human tragedy, that unless you get to experience and get to know these brave parents, it's just impossible to imagine," Campbell said.
Getting Japan to join The Hague would be helpful, but McPike says it will not be enough, by itself, to bring back all the missing children.
"The Hague is not enforceable," McPike said. "The decision to comply with a Hague return is determined by the courts of the abducting country. To solve the problem requires reform of the Japanese system.  They need to hold courts and judges responsible for following the law.  They need to enforce kidnapping laws consistently and they need to provide for joint-custody."
There have also been concerns about the lack of action from the U.S. per policy, the U.S. Department of State has not formally requested from Japan the return of any abducted U.S. children.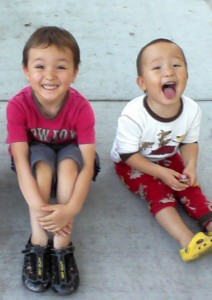 Susan Jacobs, a special adviser for children's issues for the U.S. Department of State, said that individual cases are raised with the permission of parents and the parents are updated on these discussions. However, most parents say they have not been told of their personal cases being discussed with Japanese government officials.
Ironically, Japan refuses to return U.S. children but they want their own citizens who are abducted to be returned. From 1978-1981, about 16 Japanese teenagers were abducted by North Korea. Five of those children were returned and about six have died. The others are still missing. Japan has come to the U.S. and the U.N. asking for help to get North Korea to return these children.
U.S. Secretary of State Hillary Clinton and President Barack Obama have met with Japanese families and assured they would provide help. Yet they have not met with any U.S. parents about their children being abducted to Japan, giving the appearance that they are more concerned with helping Japan.
Parents also question efforts by the U.S. Department of State because of the Mary Lake case.
In 2005, William Lake's daughter was abducted by his ex-wife and taken to Japan. No one in the Lake family was Japanese, but William's ex-wife knew of Japan's custody laws.
On August 24, 2011, Mary Lake went to the U.S. Consulate in Japan and spoke with an official who told her to return home to her abductor since she did not have the money for a plane ticket to the states. Pressure was put on the U.S. Consulate and they aided Mary Lake's effort to go home to her father the second time.
The return of Mary Lake gave parents of abducted children a small glimmer of hope for their own cases. For McPike and others like Jeffrey Morehouse and Randy Collins, getting their children back has become a daily job.
Morehouse and Collins serve as regional directors for Bring Abducted Children Home (BACHome), an organization established in 2010 to raise awareness of the missing U.S. citizen children kidnapped to in Japan.
Both men testified before the California State Senate Judiciary Committee for Senate Bill 1206 – Child Abduction Prevention. This is just one of many hearings they have attended to gather support.
During his testimony, Morehouse explained that he dropped his son Mochi off with his ex-wife for a parental visit in 2010. His ex-wife had threatened to kidnap Mochi before but the passport policy stated "when both parents have custody of the child, and the child is taken out of the country by one of the parents without consent of the other parent, it is punishable by criminal law."
The Portland consulate violated the policy and provided his ex-wife with the passport for Mochi. Six days later he received a phone call from the police telling him his wife and child were missing. His wife kidnapped their son to Japan.
"In that moment, my life was shattered," Morehouse said. "My days became consumed with dealing with local law enforcement, the U.S. Department of State, Japanese consular officials and anything I could think of to find my little boy.
"Every morning I wake up twice. The first time, I rush out of bed and prepare to get him ready for school. I can hear his voice in my head and my heart skips a beat. And then I really wake up and realize he's still missing. The ongoing nightmare continues. The last time I held his hand, the last time I heard his voice was on Father's Day 2010 and I'm still spending every day trying to locate my son."
Morehouse, Collins and the other members of BacHome continue to exhaust their resources to locate their children.
They recently wrote a letter in advance of Clinton's July 8 trip to Japan. Urging officials to help return their children, it was addressed to the Prime Minister to the Los Angeles consulate, four other Japanese consulates, members of the media, the Department of State, White House Office staff, all U.S. Senate offices, and members of the House of Representatives.
During Clinton's visit about 40 parents of abducted children in Japan participated in a rally attempting to secure her help in pressuring Japan to address the issue of child custody.
Parents will continue to fight and hope that those in charge take notice and urge Japan to return their children.
"Imagine that tomorrow your child is going to be abducted," Collins said. "What would you do today to prevent that from happening tomorrow?"
"I haven't seen or heard from my son in almost four years. I don't know what he's thinking. But I did everything my government told me I was supposed to do to protect my son. I did everything that the courts told me to do to protect my son. Nobody protected my son."
Zach Sparks is an aspiring journalist with interests in a multitude of different areas including news, human interest stories and sports. A student at Towson University, he currently holds an internship at a public relations and advertising firm in Owings Mills where he writes and distributes press releases for several local non-profit organizations among other duties. He hopes to graduate in the fall of 2012 and parlay his experiences and education as a student into a successful writing career.