P-40 Pilot Training Highlights 2019 MAAM WWII Weekend
Thom Richards is the owner/instructor of the dual controlled P-40N Warhawk American Dream. (Michael Jordan/BPE)
Reading, PA — On June 6, 1944, the greatest armada ever assembled landed some 133,000 Allied troops at Normandy. 20,000 more arrived that day by parachute or wooden gliders, helping to secure a tenuous foothold which would turn the tide of the war.
The sheer scope of the D-Day effort dwarfs the frantic response of the surprised Americans who were caught in the Japanese attack against Pearl Harbor. On that infamous morning, through the smoke and horror of sinking ships, falling bombs and raging infernos, a relatively small handful of American gunners were somehow able to return fire. And two Army Air Corps pilots, who it is said had been up all night playing poker, did everything they could to take on their sudden enemy.
I can't imagine what thoughts raced through the minds of the pilots who took to the air that December day. The few who were able to get aloft encountered some 200-300 Japanese planes. But I can tell you a bit about the rugged airplanes they commandeered, because I flew a P-40 earlier this week.
That is not a misprint. I didn't simply ride in a P-40 – I actually flew one.
The P-40 I flew – American Dream – is now correctly designated as a TP-40. That means it has been converted into a trainer configuration. Owned and operated by Thom Richard of Warbird Adventures in Kissimmee, Florida, American Dream is the world's only commercially owned dual controlled / dual cockpit Warhawk in service.
Florida is fine, but I didn't have to skirt gator-filled swamps for my flight. Rather, I made the easy two-hour drive from Baltimore to Reading, PA, where American Dream is perhaps the most unique attraction at this year's Mid-Atlantic Air Museum WWII Weekend.
MAAM has long offered reachable rides (as they will again this year) in a host of historic warbirds. This includes flights on multi-person platforms like the B-24, B-25, B-17, B-29, and two-person set-ups in SNJs, T-6s and Mustangs. All are true bucket-list experiences. But what separates the American Dream is the immersive nature of the flight.
As with my flight, you are NOT taking a ride. You are getting hands-on experience in flying an iconic airplane.
And no – this is not like taking a Sunday morning spin in your Pop's Piper Cub. You are taking the stick of a high-powered warbird which faced the likes of Messerschmitts and Zeros.
The ground crew makes sure you are strapped in tightly. Even so – your heart will soar.
Prepping the American Dream for its Wednesday flights was Aviation maintenance specialist Bryan Costa. Bryan told us he segued into aircraft maintenance from a bicycle repair background.
"I get a lot of ribbing about that, since the Wright Brothers did the same thing," he said.
Bryan has been with Warbird Adventures for about two years now – working on the P-40 at its home in Kissemmee and following on the ground as Thom flies the American Dream from one event to the next.
Giving the classic P-40 a careful once over, Bryan explained, "I'm checking the exhaust for possible cracks. They're particular to this design, so you've got to keep up on them. The exhaust ports are old – probably original to this plane – so even though it's not necessary, I try to check them between every flight. I also look at all of the surfaces and control bearings. I check for air pressure, oil and coolant levels, look for hydraulic leaks, anything new.
"Of course, I also check the fuel levels. The fuselage tank was removed when they did the conversion to the two-seat design. For ferrying her, we have a 102 gallon drop tank, so that gives us some distance in between stops. She only holds about 90 gallons otherwise, which at a gallon a minute means 90 minutes in the air. So here at the show we'll do hour-long flights with a half-hour in reserve."
Was Bryan satisfied with what he saw?
"When you've been working on a particular plane for a while, you know what to look for. We've had this P-40 for a little over a year but have had our "Texans" for about a decade, so there is a lot of experience behind the care of our planes."
A Tether To The Past
Robert Mastandrea – Director of Facilities Management and Operations for Vastgood Properties in Enola, PA. – spoke with us briefly before his flight about his interest in the P-40.
"This was the first available flight in a P-40 that came to my knowledge, so I immediately took advantage of that opportunity. I have a BA in History, and some of my relatives served in WWII. Both were in the Army Air Corps, then the Army Air Force as it transitioned. I'm also fond of manufacturing – the things that made America strong as an engineering and manufacturing prowess.
"This plane is very interesting to me. With fabric covering portions of the flight surface, it's sort of a tether to the past in aviation. This particular aircraft is based on the Curtiss-Wright P-36 Hawk. It was rushed into service because, at that point in history, it was America's front-line single-wing fighter.
"This plane is also significant because of the role it played when we entered the war at Pearl Harbor.
"Lieutenants Taylor and Welch were two guys at Pearl Harbor who had been up playing poker til 6:30 in the morning. When the attack happened, they jumped into their P-40s in pajamas and Hawaiian shirts and dutifully went up – sans 50 calibre ammunition. At that time, this airplane had two 50s in the cowl and only a single 30 calibre gun in each wing. So, they took off with what they had, landed again, and at the risk of a courts martial – because the commanding officer had ordered everyone to stand down – picked up 50 calibre ammo and took off again.
"Those are some of the little nuances of history of which I think most Americans are not aware.
"Of course, you see the sharks teeth and obviously you think of the American Volunteer Group known as the Flying Tigers. These were American mercenaries who were given the chance to go and defend China against the brutality of Japan. And they were quite successful in that regard.
"They were not the best planes, but in the hands of a good pilot, they could hold their own."
Robert was in the air for about thirty minutes. When he returned, we asked him about his experience.
"Unfortunately, I got a little motion sickness, so there weren't too many violent maneuvers I was able to do. But just to feel the touch of the aircraft – the sensitivity of the controls – was awesome. It was an outstanding thing.
"There are several groups out there that provide rides to enthusiasts and civilians, but this one is geared toward encouraging the public to obtain a private pilot's license. In that context, it was an extremely awesome experience. To be able to take control of the aircraft, as opposed to simply being flown around. So, it was satisfying from two aspects: to have the opportunity to fly the airplane AND to participate in its actual historical significance."
Would Robert do it again?
"It was predictably pricey, so it's not for the weak of wallet by any means. However, it's one of those experiences in life that, if you want to follow your passion, you should definitely take advantage of and do it, and I highly recommend it to anyone."
Found In A Field in New Guinea
Thom Richard – the owner and pilot of the American Dream – told us he began his career thirty years ago as a glider pilot.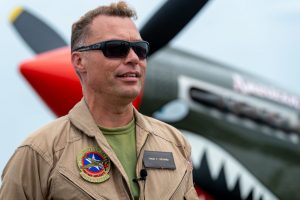 "I was born in Sweden but came to the United States, because I wanted to pursue aviation, warbirds, and air racing. I started in fixed wing and always did tail draggers and aerobatics, then transitioned to bigger, faster airplanes. Taught in T-6s when I was twenty-three; then ended up barnstorming around the country, flying fighters on the airshow circuit and having a lot of fun doing it.
"The aircraft behind me is a 1943 model Curtiss P-40N. In World War II, this was the backbone of the US Army Air Corps. It was designed to defend the coast from foreign invasion. However, that didn't happen, and when the war broke out, this was the best fighter we had.
"And it did a great job.
"Below 10,000 feet and below 250, this airplane was virtually unbeatable. It served in every theatre during the war.
"This particular aircraft has a very colorful history. You can see on the side of the fuselage that it has two Japanese flags on it. Those are real. This aircraft shot down a "Zero" and a "Betty" bomber over New Guinea in 1943. Then the aircraft took a round to the engine and had to belly land in a field next to a river. One of the pilot's buddies dropped him a raft, and he drifted downstream for five days, avoiding enemy capture. The Australians picked him up, and he survived the war. He stayed in the service and ended up being a brigadier general.
"The aircraft sat in that field until the 90s when it was recovered by an Australian crew. After a very lengthy restoration, it flew again in 2009, and it was re-imported to the states in 2014."
We asked Thom if the plane's current configuration as a TP-40 carried any historic significance?
"As it turned out, the P-40 was a little tricky to take off and land, so Curtiss came up with the conversion to the TP-40. The conversion plans came out as a service bulletin, and it can be done to any "M" or "N" model, either at the factory or in the field."
Thom said that people who fly with Warbird Adventures can avail themselves of several different services.
"We fly T-6s, as well as this duel seat P-40. With the P-40, we offer full checkouts, all the way up to what is called a type rating. So, you can get this aircraft on your license as a pilot. In addition, we perform at airshows around the country.
"The last thing we do is introductory flights, where someone such as yourself can hop in right off of the streets, and I will teach you how it is done – including all of the aerobatic maneuvers you'll see me do at an airshow. So that will be your first lesson, and hopefully, that will get you excited enough to go and get your pilot's license."
You Are Flying The Plane
Once my pre-flight interview with Thom was complete, it was time for me to empty my pockets and stow my camera.
Usually, I bring a camera along whenever I know I'll be in a unique situation, but Thom assured me I wouldn't have time to use it.
As for emptying my pockets, the reason for that move should become self-evident in a moment.
Climbing into the rear cockpit of the TP-40 was a simple ascent, thanks to the help of a carefully positioned six-foot ladder. Without the ladder, younger limbs or ballet lessons would definitely have come in handy.
Once inside the cockpit, Bryan gave me a hand with securing an assortment of harnesses and straps. I was familiar with this process, thanks to my previous flights with the GEICO Skytypers. But I'm no expert here, so the quick refresher and double-check was greatly appreciated.
After stashing my garrison cap (perhaps I should also mention that I was wearing my WWII War Correspondent's uniform), I donned a flight helmet with a built-in headset and listened intently for Thom's instructions.
Looking forward, I was able to follow Thom as he went through the mechanics of firing up the plane's 1,200 horsepower Allison engine. And when I say fire up – I mean fire up. Flames shot out a foot or more from the exhaust ports Bryan had carefully inspected an hour earlier. This is entirely normal but pretty dramatic just the same.
As we began to taxi toward the runway, Thom asked if I'd had any flight experience. I think he was glad to hear that I'd been up twice with the Skytypers and nodded approvingly when I mentioned the "Movie" Memphis Belle.
The fact that I was born on a military base once used by the Lafayette Escadrille did absolutely nothing though to positively pad my resume.
With the tower's go-ahead, we made our way to the runway. After a few curious maneuvers, Thom advanced the throttle, and we were airborne in an instant.
Enjoying the view, and the speed at which we were climbing, I asked Thom when we would level off. He replied, "You tell me – you are flying the plane."
Yikes!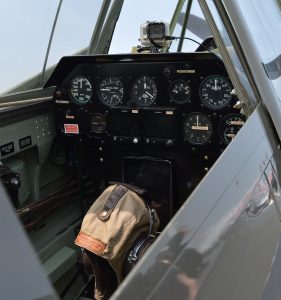 Firmly grabbing the stick while placing my feet on the rudder pedals, my eyes raced across the gauges. How high were we? 230? No, that's the airspeed indicator. 1,000? No, check that – 11,000 feet. Okay – but we're still climbing. Thom had me level off to get a feel for the controls and I gently pushed the plane into a wide left turn. We dropped a bit with the turn, so Thom instructed me to take us up higher.
A natural response to this unfolding experience might be to mutter, "Wow, this is really cool."
Or to choke – I'm sure that some overwhelmed student pilots do that.
I did neither, though I will admit I was totally awed by what was happening. What I did do was keep my hand on the stick and softly pilot the plane along.
Whoever came up with the moniker "American Dream" certainly nailed this pristine P-40.
Of course, there was no time for daydreaming. Flying an airplane is serious stuff. Especially when you add aerobatic maneuvers.
Here is where that "empty my pockets" part comes in.
I was feeling pretty good about climbs and gentle turns, when Thom took control of the plane again.
"OK. I'm going to show you how to do a roll."
Instinctively, my eyes darted around the cockpit looking for something to grab hold of. Anything I could have grabbed I knew I shouldn't touch. Which was just as well, because before I could consider plan B, the plan A safety harnesses were doing their job. Securely strapped to our seats, Thom pushed the stick hard to the right, and the P-40 followed with a graceful 360° roll.
"That was incredible," I somehow managed to utter, happy in knowing there was nothing to fall out of my pockets. Thom simply replied, "All right – your turn now."
What???
Okay.
With my hand firmly in place once more, Thom instructed me to push the stick hard to the left. I moved the stick somewhat deftly at first, so Thom barked, "Come on, Tony, I know you can push it harder than that." So I did, and in several seconds of what I can only describe as pure poetry, I took the plane through a belly-up 360° roll, then brought it back to the misty horizon over Reading some 12,000 feet below.
If I allowed myself one wayward thought, it was to bask in the momentary wonder of just how nimble an aging P-40 can be at 250 miles per hour!
I could have floated all the way back to Baltimore on that roll, but Thom had one more maneuver he wanted to demonstrate. For this one, he told me to hold my legs together and clench the muscles in my abdomen.
Uh-oh.
Having once seen the movie Dive Bomber, I had a pretty good idea of what was coming next.
Up we started to climb – almost vertically. Higher and higher at a dizzying rate, and now arching backward, flying upside down. We were doing a loop, and the force against our bodies was an incredible 4Gs.
I'm not a thrill ride connoisseur, so I cannot offer a comparison there. But my instinct to shut my eyes and pray for mercy was countermanded by the charge to hold the stick and co-pilot the plane. This was Thom's maneuver, yet when we finally leveled out, I knew that if he had asked me to follow suit, I was fully prepared to take the stick again.
Thom did a quick low-level pass over the airfield to offer sky watchers a photo op, then brought the plane in for a perfect landing.
"Do you have any questions?" he jovially asked.
"Yes – can we do that again?"
I wasn't joking, though it didn't hit me until later in the day just how much fun I had really had.
Once back on the ground, when the inevitable question of further training came up, Thom offered an interesting insight:
"Flight schools love what we do because it actually encourages student pilots. A lot of people take ground lessons, then climb into a Cessna and think, 'Ho-hum. This isn't very exciting.' But when you've had a hands-on lesson like we just did in a P-40, you know what kind of excitement awaits you once you've finished those important lessons in a Cessna."
I didn't sign up for lessons that day, but I am seriously thinking about it. If for no other reason than to earn my wings in the American Dream.
The average American pilot during WWII had some 700 hours of flight training before he ever encountered any real opposition. Perhaps that is why, with bombs falling at Pearl Harbor, our pilots were prepared to take the fight to the enemy. You can read all about their heroism or catch a war documentary on TV.
Or you can actually touch history by taking a flight that you will remember for the rest of your life.
* * * * *
Thom Richard's American Dream and other historic warbirds will be available for a range of exciting experiences at this weekend's Mid-Atlantic Air Museum WWII Weekend. Those interested in a flight are strongly urged to check the event schedule and plan ahead, as the warbird experiences tend to fill up quickly.
Maryland area readers should note that many of the warbirds will be heading this way in the days following the MAAM WWII Weekend. For information about visits and flights near Baltimore and in Ocean City, MD, check out the links to Warbird Adventures, Martin State Airport and the OC Airshow.

Anthony C. Hayes is an actor, author, raconteur, rapscallion and bon vivant. A one-time newsboy for the Evening Sun and professional presence at the Washington Herald, Tony's poetry, photography, humor, and prose have also been featured in Smile, Hon, You're in Baltimore!, Destination Maryland, Magic Octopus Magazine, Los Angeles Post-Examiner, Voice of Baltimore, SmartCEO, Alvarez Fiction, and Tales of Blood and Roses. If you notice that his work has been purloined, please let him know. As the Good Book says, "Thou shalt not steal."