Orioles' trading Manny Machado symbolizes what is wrong with baseball
BALTIMORE —  The diehard fans of the Baltimore Orioles will forever lament last week's loss of Manny Machado, and major league baseball ought to be mourning, too.
You want evidence? Let's consider just a few tiny slivers of history.
In the winter of 1958, the Orioles signed a young outfield prospect named Dave Nicholson. The price tag was considered outrageous, $80,000, but the Orioles convinced everyone the money was worth it, as young Nicholson was dubbed a once-in-a-lifetime Superman phenomenon.
Manager Paul Richards, as astute a judge of baseball talent as ever lived, said the signing of Nicholson "could mean the pennant."
And then reality kicked in.
Across his first summer, Nicholson dropped from one minor league team to another and hit .222. Across seven big league season during which he played for four different teams, each one increasingly frustrated with him, he batted .212 with a grand total of 61 home runs.
Now move forward half a century to the modern era, to the next prospect with as much ballyhoo preceding him – a fellow named Matt Wieters. He was billed as the next Johnny Bench. Wieters was no Dave Nicholson, but he sure wasn't Johnny Bench, either.
In 10 big league seasons, Wieters has averaged 13 homers a year. In 17 seasons, Bench averaged 29 homers a year. The Orioles were happy the Washington Nationals snatched Wieters away two years ago. Last year he hit .225 with 10 homers. This year, injured a lot, he's hitting .207 with three homers.
The point of all this is not to criticize Wieters or Nicholson, but to note that baseball scouting is not an exact science. The two most-trumpeted prospects in the 64-year history of the Orioles each failed to live up to all the hype.
And that's been the case for an untold number of prospects across the years. Far more players come up short than make the grade.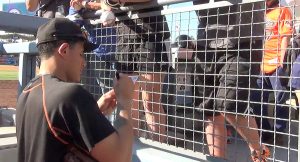 But not Manny Machado.
He was the real deal. Not only was he the real deal – he exceeded reasonable expectations. At the rate he's going, he's a future Hall of Famer. And how did baseball come to a point when any team has little choice but to part with a future Hall of Famer?
So let's look at a little more history, shall we?
In the entire history of the Baltimore Orioles, you know how many players have come through their farm system and made the Hall of Fame?
Four.
Four, in 64 years.
Their names are Brooks Robinson, Jim Palmer, Eddie Murray and Cal Ripken.
That's how rare it's been for the Orioles – or any big league team – to draft a player, develop him through the minors, nurture him to maturity, and then to baseball immortality.
Manny's that kind of player – a possible fifth Hall of Famer across the entire life history of the Baltimore Orioles. And the reason all of baseball should mourn his trade to the Los Angeles Dodgers last week is what it says to every town that doesn't have limitless money to spend.
The Orioles simply couldn't afford to keep him.
That much is obvious – not when Manny will be reaching for an anticipated $350 million over the next decade.
What's less obvious is what it says to every town faced with a similar situation: the game's rigged. The richest teams expect to win every year, and everybody else should just accept also-ran mediocrity, with occasional aberrant years when they hope to challenge for a playoff spot.
But, the likelihood of making the World Series? Hell, it's 35 years since the Orioles last played in one. And it's no coincidence that it was one of the last years before the really big free-agent money kicked in which separated the wealthiest teams from everybody else.
Machado was a player to build a team around. He was also a player to build a fan base around, someone a couple of generations could get to know as a player, and as an icon of the hometown.
Like Brooks and Cal and Palmer, who stayed here their whole careers, and whose names are still spoken with reverence around here.
Every team needs such players. They help give a team its identity. Now the Orioles will start all over. They'll bring in a bunch of kids, who will bring a new energy to the club. But it'll be a while before they feel like hometown guys.
And it'll be a lot longer before the Orioles look like a winner again.

Michael Olesker, columnist for the News American, Baltimore Sun, and Baltimore Examiner has spent a quarter of a century writing about the city he loves.He is the author of several books, including Michael Olesker's Baltimore: If You Live Here, You're Home, Journeys to the Heart of Baltimore, and The Colts' Baltimore: A City and Its Love Affair in the 1950s, all published by Johns Hopkins Press.