One Night Only: Guest Chef 5 Course Dinner at Sotto Sopra Restaurant
Editor's Note: UPDATE The five-course dinner's date originally scheduled March 16 has been changed to March 22.
Baltimore's award-winning Sotto Sopra Restaurant located in the heart of the Mt. Vernon cultural district has been very active with special events, especially their guest chef series. Mark your calendars for a most engaging five course Asian inspired dinner from Chef Tayfun Abuska on March 22.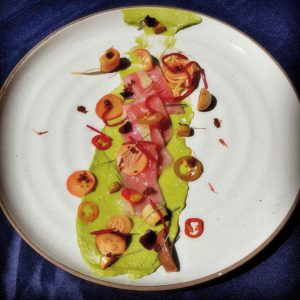 Chef Tayfun Abuska, a Turkish native who started working at an early age at the Izmir Palmiye Hotel, transitioned to the 5-Star Ankara Hilton Hotel and continued to work for the Swiss Hotels.
His culinary path has taken him through the French Embassy to the United States in 2008, where he worked for the Four Seasons Hotels in Wyoming, California and here in Baltimore. A stint at Michael Mina's Pabu Japanese Restaurant working with Chef Jonah Kim has inspired his penchant for Asian dishes which is apparent in his Guest Chef Dinner's menu.
Recently, Chef Abuska has been working in Washington, DC as the sous chef at MalMaison, Ottoman Taverna and currently with Chef Jonathan Dearden at Kimpton Hotel – Radiator Restaurant.
GUEST CHEF DINNER MENU
Amuse Bouche
Uni Kimchi, Red Beet Nest, Nori Chips, Trout Roe, Quail Egg
Calabrian Cauliflower
Cauliflower, Shishito Peppers, Crispy Brussels Sprouts, Piment d'Espelette
Hamachi Crudo
Hamachi Crudo, Avocado Mousse, Cara Cara Orange, White Soy, Yuzu, Jalapeno
Chawanmushi
Uni Butter Dashi, Scallops, Shrimp, Asian Pear, Egg, Oyster Mushrooms
Pan Seared Tilefish
Seared Tilefish, Sunchoke Puree, Baby Leeks, Veloute Espuma, Trumpet Mushrooms, Sunchoke Chips
Hibiscus Panna Cotta
Pomegranate Seeds, Hibiscus, Buddha's Hand
CHEF TAYFUN ABUSKA
5 Course Guest Chef Dinner
March 22
Reservations: Specify it is for the Guest Chef Dinner – (410) 625-0534
$65 Per Person
(excludes beverages, tax and gratuity)
SOTTO SOPRA RESTAURANT
405 N. CHARLES STREET – BALTIMORE, MD 21201
(410) 625-0534 – www.sottosoprainc.com
http://sottosoprainc.blogspot.com/2017/02/guest-chef-tayfun-abuska-dinner.html
Facebook & Instagram: @sottosoprarestaurant
Twitter: @sottosopra

For Dara Bunjon if it is food, Dara Does It, in fact, that is the name of her company which offers creative solutions for the food industry the likes of public relations, marketing, social media, cookbook compilations, food styling, culinary events, networking and freelance writing. You will now find Dara applying her broad range of culinary skills as a food stylist for television chefs/cookbook authors the likes of Steven Raichlen, Sara Moulton, Nick Malgieri, and Nathalie Dupree. Dara Bunjon lives, eats, dreams and writes about food and isn't hesitant to share her views and experiences about restaurants, culinary trends, recipes, cookbooks or even her childhood food memories. She has been on the food scene for too many years to mention. Known both in Baltimore and nationally, Dara Bunjon is a former member of Women Chefs and Restaurateurs' national public relations committee.
In the past, she has written for Style Magazine, Foodservice Monthly, Mid-Atlantic Restaurant Digest, Urbanite and other sundry publications. Since 2004 she has maintained an award-winning food-related blog called Dining Dish. She co-authored her first cookbook Yum! Tasty Recipes from Culinary Greats in association with Studio Spear. And has written Baltimore restaurant reviews for Gayot.com
Dara believes food is subjective; everyone's taste is different and she enjoys bringing you to her table to commiserate and enjoy lively discourse.
Considered one of Baltimore's food influencers, you can follow her on Twitter and Instagram @daracooks.