Olesker's 'Bawlmer' Dozen
We wanted to put together a top-20 list of people you couldn't tell the history of Baltimore about without them.
It didn't seem so tough to do.
You know, we'd have Johnny U up near that top. No arguments. Right?  And Brooks and Frank  have to be in there somewhere along with Artie for fun. We'd have to throw in  contemporaries such as David Simon's body of work – good or bad – he got people talking about Charm City. Besides the HBO-generation associates him with the city.
And, of course, we would have to dig back and talk about our real Raven – Edgar Allan Poe, and even perhaps back to the beginning to Lord Baltimore not to mention too many politicians and writers to name. That's what makes Bawlmer great – history, culture, and memories that can't be broken.
But hey everyone can put that list together. How about a list of Baltimore natives – meaning you had to have been born in this great city. Now who better to ask to name the most influential Baltimoreans who helped shape the history than Michael Olesker. He's penned so many columns in his life that you'd almost swear he's interviewed everyone on the list. But as he reminds me – he's not that old.
But where does this native list leave us with some our favorite heroes? So sorry Johnny U,  we had to cut you.  That hurts. Who could ever cut Johnny U – other than those Pittsburgh Steelers?  We just did. Shame on us. Can't someone switch his birth records?
So Olesker gave us his top 20 but we didn't know if this website would be around long enough to get to that entire 20 so we did what every editor does – cut out the best parts. We cut Olesker's bottom eight and we didn't tell him. So goodbye to  Kweisi Mfume, Joe Gans, Jerry Leiber, Lillie Carroll Jackson, Cab Calloway,  Reuben Kramer, John Waters and Leon Uris.  Sorry about that – maybe you make the next list.
And that leaves us with Olesker's  Bawlmer dozen.
So for the next few weeks we will unveil the list. Olesker  names them and we tell you about them. Think you got a better list – drop us a comment. We might publish it or we might let others ridicule it. It's all for fun, anyway.
So here it is.
Who does Olesker have  at No. 12? Drum roll please:
Jazz drummer Chick Webb  (1905-1939).
William Henry Webb was born in Baltimore.  Give it up to the man  who fought off  congenital tuberculosis and couldn't read a lick of music but the drummer can be credited for opening the door for Buddy Rich and company.
Short in stature, he started out as a paper boy – got to love that – who was advised to take up drums because of his sore joints. He used his savings from his paper boy job to buy his first drum set.  Later on his set was made of custom-made pedals, a 28-inch bass drum, and goose neck cymbal holsters. He formed the the Chick Webb Orchestra in 1931.  The swing band performed such favorites as Stompin At The Savoy, If Dreams Come True, and Blue Lou. A showman at heart, he demonstrated such a tremendous rhythmic style that he was born for the swing era.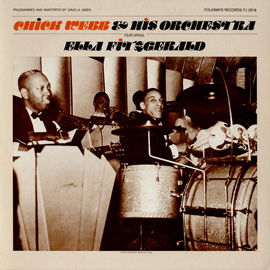 Known famously for his battle of the bands – especially with  Benny Goodman Orchestra where Gene Krupa kept the beat.  Webb challenged Goodman and Krupa at the Harlem's Savoy Ballroom where witnesses said he simply out drummed the great Krupa. And Goodman's drummer left the ballroom dejected.
In 1935, Webb took a liking to a young Ella Fitzgerald and hired the young singer to belt out some classic jazz numbers. Webb's band's flourished as a bring-down-the-house orchestra with its relentless Savoy Ballroom battles.
Drummerworld noted they produced a  "string of Decca 78s that featured such irresistible numbers" as "T'aint What You Do (It's the Way That You Do It" and the B-side of "Tasket," "Liza."  (Those 78s were prior to the LPs and 45s and CDs and digital recordings. Ask your great-grandparents to fill you in.)
But Webb's health gave way, and he died at Johns Hopkins Hospital  of an unknown ailment, although it was known he was often fatigued after performances. His last words reportedly were, "I'm sorry, I've got to go." He was buried in Arbutus Memorial Park.
His music lived on as Fitzgerald took over Webb's orchestra until 1942 when the band called it quits. Duke Ellington and so many others later would credit Webb for being a major influence in their music.
He was 34.

Timothy W. Maier is the founder of Baltimore Post-Examiner LLC, which runs the Baltimore and Los Angeles Post-Examiner websites. He started out writing music, fiction and poetry and then turned to news writing, where he spent the past three decades at news organizations in Wisconsin, Maryland and Washington, D.C. He was the managing editor at the Baltimore Examiner newspaper. He now spends time with his family, dog, guitar and riding his motorcycle across the country.