Olesker's 'Bawlmer' Eleven
John Waters is not going to be happy. He didn't make Michael Olesker's 'Bawlmer' dozen – the  list of the most influential Baltimoreans who helped shape the history of Crabtown.
Granted, Waters made Olesker's top 20, but nothing more. We cut Olesker's list to a dozen because as we said last week, it's our job as editors to cut the best parts out of stories.  And in case you forgot the eight who were cut besides Waters  from last week, here they are again: Kweisi Mfume, Joe Gans, Jerry Leiber, Lillie Carroll Jackson, Cab Calloway,  Reuben Kramer and Leon Uris. To be fair, Olesker didn't know we trimmed his list to a dozen, and we didn't tell him because, well, we didn't. Swing drummer Chick Webb survived. He's ranked on Olesker's list at No. 12.
But those eight all got the shaft and frankly we suspect are a little upset they didn't make Olesker's Bawlamar dozen. So they may take to the pen to express some frustration. But as you know,  Olesker, some are dead, which makes it difficult for them to write.
Lucky for you.
C'mon. Think about it. How can the pencil-thin moustache filmmaker not be in that dozen?
When you meet a person who didn't go to high school in this great city and he or she wants to know something about why it's called the greatest city in the world, how many minutes does it take before Waters's name comes up in conversation. We venture to say within a minute – maybe less.
What about his classic unconventional films: Hairspray, Cry-Baby, Serial Mom, Pecker, and Cecil B. Demented. Hairspray earned a 2003 Tony Award when it became a Broadway musical.  A film adaptation was released in 2007. Hey, we know our facts.
Ok, so Waters films and life are not so mainstream, but we like different. Waters gives us something to talk, and write about. Who else  casts criminals into films such as Patty Hearst, or takes a chance on former porn stars such as Traci Lords, or tries to get Manson family member Leslie Van Houten paroled while idolizing Little Richard so much that he would like to be in his body.
We're expecting emails on this, Olesker. Hopefully you have a good explanation.
Come to think about it, Olesker does. He put a former furniture appliance employee ahead of Waters  – with good reason.
That's because he wasn't always a furniture guy. Truth be told, the Baltimorean who is sitting at No. 11 is in the same business as Waters. And just as Olesker last week ranked Chick Webb, one of the greatest swing drummers at No. 12,  Olesker placed one of the greatest filmmakers of all time at No. 11.
Greatness seems to be a common theme, here.
So check out Olesker's No. 11: Barry Levinson.
Levinson of Russian, Jewish heritage, was born in 1942 and attended Forest Park Senior High School before attending American University and graduating with a communications degree. An actor who became a successful screenwriter and eventually a director has had a long-distinguished career.
In the 1970s, he wrote for the Tim Conway Show, The Carol Burnett Show and found success working with Mel Brooks on  Silent Movie (1976) and High Anxiety (1977). He also received an Oscar for the script  And Justice for All (1979). He began his career as a director with the Baltimore-based film Diner (1982),  which earned him a Oscar nomination for best screenplay. Baltimore became his playground for other films to follow such as  Tin Men (1987) and Liberty Heights (1999).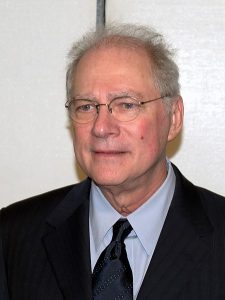 Perhaps the best film he did in terms of grossing money was Rain Man (1988), with Dustin Hoffman and Tom Cruise. Rain Man won four Academy Awards, including Best Picture and Best Director along with other prestigious awards. He also directed Dustin Hoffman again in Wag the Dog (1997) and Hoffman's 1982 hit comedy Tootsie.
He also did the 1984 baseball classic The Natural starring Robert Redford. Levinson also directed Good Morning, Vietnam (1987) and Toys (1992), both with Robin Williams, and Bugsy (1991) with Warren Beatty.
In 2003 he published his first novel, Sixty-Six, a semi-autobiographical story set in Baltimore.
Ok, so give it up to Levinson – an impressive resume with films that are forever embedded in our memories.  But shouldn't Levinson lose just a few points – after all he now lives in Redding, Conn. What? You think the crabs are better in Redding? This is about Baltimoreans.  Okay, we know, Waters, on the other hand, has apartments in New York and San Francisco, but his main residence is Baltimore.
Just saying.

Timothy W. Maier is the founder of Baltimore Post-Examiner LLC, which runs the Baltimore and Los Angeles Post-Examiner websites. He started out writing music, fiction and poetry and then turned to news writing, where he spent the past three decades at news organizations in Wisconsin, Maryland and Washington, D.C. He was the managing editor at the Baltimore Examiner newspaper. He now spends time with his family, dog, guitar and riding his motorcycle across the country.