Yup, Natty Boh earrings!
Another way to enjoy and celebrate Baltimore's finest beer.
Hi, my name is Gwynne. I have been making jewelry all my life. My mom took me to my first jewelry class when I was at a very young age.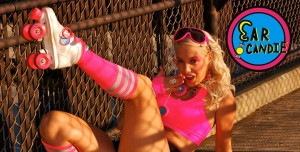 I was home-schooled for several years and was always encouraged to be creative. I decided to focus on earrings because of my own desire for more exciting accessories. I found myself making earrings for specific outfits or creating outfits based around my newest creations.
I love having the perfect pair of earrings for every occasion.  My taste and style is ever changing because I am constantly inspired by my surroundings. The majority of my jewelry is made out of objects and  recycled from clothes I don't like or can't be repaired or sold.
So back to Natty Boh.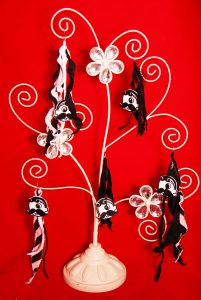 I was given a bag of Natty Boh promotion key chains and told to make earrings out of them. That is exactly what I did, and it was a lot of fun.
I make earrings out of all sorts of unusual things so things so this was not out of my comfort zone. I kept with the black and white theme.
The Natty Boh heads are lightweight and made out of rubber. The key chains were meant for caping your key, to distinguish it or give it flare. I like the look that the floating one-eyed iconic Natty guy hanging from such a delicate feminine object such as a long dangly earring.
It gives a great look to my original one of kind fabric earrings, it changes the dynamic and appearance of them, especially how they hang. The way I attached most of them was by pulling a piece of fabric threw the eye hole in the back and tying a knot, or pulling the entire fabric part of the earring threw slot meant for the key to go into
I hope you enjoy these I just had to share them with other Natty Boh fans.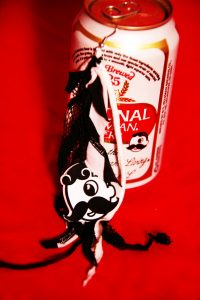 For a little history on National Bohemian, Baltimore's signature beer click here!

Gwynne Davis is a blogger for her Earring/Jewelry business called Ear Candie. She is a recently certified Zumba teacher. She makes earrings out of just about anything. So keep an eye out for her fun blog posts & funky earrings.