Nashville Orioles? Baltimore needs a local buyer to step up to the plate
BALTIMORE — These summer nights are bleak at Oriole Park, as witness Saturday night's 23-to-2 loss to Houston. But the future's a deeper concern. Reliable sources say we might be headed toward the end of the Angelos era.
These sources say principle owner Peter Angelos' family has held extensive discussions about selling the team they've controlled for the past quarter-century. The same sources say Angelos' sons, John and Lou, lean toward a sale.
There are complications. At 90, Peter Angelos' health is fragile, and he's no longer active in Orioles' matters or his law office. His sons have assumed their father's old responsibilities.
In Peter Angelos' absence, though, principle ownership of the club would go to his wife, Georgia, who is reported these days to be consumed with caring for her husband.
If the family were to sell, that means another complication: Would they sell to local investors, or to out-of-town owners who might move the team? The lease on Oriole Park, which helps tie the team to Baltimore, ends in 2021.
One rumor has the family retaining ownership but the club moving to Nashville, where John Angelos and his wife have one of their homes. That rumor takes on legitimacy mainly because of sinking attendance at Oriole Park.
But knowledgeable sources say the family would much rather sell – and keep the club in Baltimore, if a local buyer can be found.
Among potential Baltimore buyers whose names have surfaced: David Smith, executive chairman of Sinclair Broadcast Group; Raymond "Chip" Mason, founder and former chairman and CEO of the Legg Mason investment group; Jim Davis, founder of the Allegis Group staffing company, whose cousin is Ravens owner Steve Biscotti.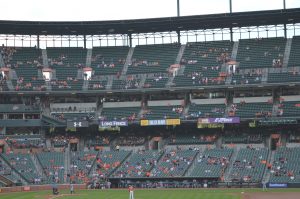 Also mentioned are Ted Venetoulis, the former Baltimore County executive, and Bob Embry, president of the Abell Foundation, who joined hands several years ago, bringing together several large foundations in an attempt to buy the Baltimore Sun.
In 1993, Peter Angelos bought the Orioles for $173 million. Minority partners included the late novelist Tom Clancy, movie director Barry Levinson, former tennis star Pam Shriver, and businessman Steve Geppi.
Sources estimate the sale price on today's team might exceed $1 billion.
Peter Angelos purchased the ballclub at a time when Baltimoreans were still feeling vulnerable over the loss of the Baltimore Colts to Indianapolis. When attorney Edward Bennett Williams bought the Orioles from Jerry Hoffberger, owner of National Bohemian Beer, there were fears Williams would move the club to Washington.
When Williams died, the Orioles were bought by venture capitalist Eli Jacobs. Angelos, with deep Baltimore roots, was seen as a local savior with his purchase. Under his ownership, the team has suffered through mostly losing summers, but some playoff years, as well.
In their best attendance years, the Orioles drew nearly 4 million people a year – even when they were losing. Attendance began serious fall-off when major league baseball brought a team back to Washington. This drained off patrons from the D.C. suburbs who had made the Orioles their "home" team in the years when Washington had no team.
Since the Nationals started playing, in 2005, Orioles' attendance has steadily slipped. Of 15 American League teams, the Orioles rank 14th in attendance.
Peter Angelos has always insisted that he's never taken any money out of the team's profits. One insider said this week, "Owners don't make their money until they sell the team."
Even in the dreariest of seasons, this team could fetch a fortune.

Michael Olesker, columnist for the News American, Baltimore Sun, and Baltimore Examiner has spent a quarter of a century writing about the city he loves.He is the author of five previous books, including Michael Olesker's Baltimore: If You Live Here, You're Home, Journeys to the Heart of Baltimore, and The Colts' Baltimore: A City and Its Love Affair in the 1950s, all published by Johns Hopkins Press.