Monster Jam rolls into CFG Arena
Bernard Lyght, a native of Prince George's County, can't wait to step inside of CFG Bank Arena, which had been closed for more than a year to undergo a $200 million renovation.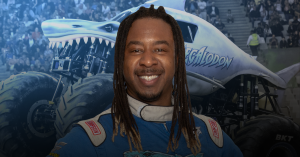 While the storied venue already has achieved one of its goals of attracting big-name entertainers who for years had bypassed downtown Baltimore to perform in newer arenas in Washington, D.C., and Philadelphia, the renovation also has made Monster Truck drivers like Lyght excited.
"Before, they had that permanent stage there and it was a smaller arena and we as drivers were confined by how much space we had," Lyght, 37, said. "But now we have a much bigger track and more space to put on an ever better show. The bigger the better."
Lyght will be among eight drivers getting behind the wheel of their behemoth Monster trucks when Monster Jam has four competitions from April 28 – 30. The first competition is April 28 at 7 p.m., with two shows set for 1 p.m. and 7 p.m. on April 29. The finale is April 20 at 1 p.m.
The drivers will turn the arena into their personal playground as their behemoth beasts soar through the air, race around the dirt track and pull off amazing tricks.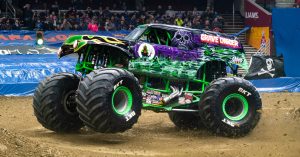 Lyght will look to win over the crowd – and points toward a berth in the Monster Jam XXII World Finals in Nashville on July 1 – when he climbs in his truck at CFG Arena. Lyght drives a 1,500 horsepower monster named Megalodon, which looks like something straight out of the movie "Sharknado."
"Everybody wants to make it worlds," Lyght, who now resides in Georgia, said. "But only the winner of our tour gets to make it."
Lyght hopes his Megalodon devours the competition, which would allow him to make a major move in the standings. The scoring for the four events at a competition is simple. The first event is a series of head-to-head races, where two drivers start side-by-side. The first one who navigates a lap around the arena wins and advances to the next round until there's only one driver left.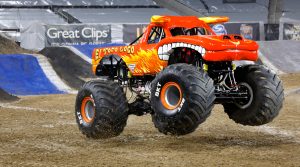 In "Two-Wheel Challenge," the next event, drivers show off their skills by performing skills using just two wheels, such as wheelies, moonwalks and other tricks while looking to impress the spectators, who use an app on their phone to score each competitor.
"One of the things that makes this sport so great is that fans decides who win," Lyght said. "They are the ones you have to impress and fans. Our fans have been great judges. When you do a big trick, they will reward you."
The third event is "Donuts," where drivers try to spin their trucks in a circle as fast as the can for as an many times as they can to impress fans, who score in real-time on their mobile devices.
The competition concludes with "Freestyle," where drivers get a few minutes to do any many amazing tricks as they can, with the drivers pulling off the best tricks generally getting the most points by the crowd.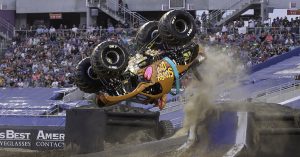 Drivers accumulate points in all four events, which are added to their season totals, with the driver who ends the season with the most points advancing to World Finals XXII.
The Arena Championship Series East Division will have just two tour stops left after it leaves Baltimore.
Lyght has a lot of ground to make up if he's going to earn a chance to drive for a world title.
Weston Anderson, who drives the iconic "Grave Digger," entered the month atop the leaderboard with 1,302 points, 233 ahead of Armando Castro's "El Toro Loco," a truck known for its big horns and smoke that spews from its nostrils.  Dalton Widner has 963 points driving "Jurassic Attack," a giant dinosaur that would fit in nicely with the movie franchise. Linsey Read is in fourth with 903 points driving the lovable "Scooby-Doo" truck, while Lyght is fifth with 844 points.
Chad Tingler is in sixth with 642 points driving "Zombie," with Hunter Souza's "Earth Shaker" in seventh with 617 points and Frank Krmel's "Stone Crusher" is in last with 470.
Unlike other sports, Monster Jam throws pit parties, which take place on the track before the event starts. While tickets for pit parties require an additional ticket, they allow fans to take pictures next to the trucks and mingle with drivers, who are more than happy to sign autographs and pose for pictures with fans, who will be judging their on-track performance.
"Pit parties are the best part of Monster Jam and I know all of the drivers are happy they area back after we didn't do them during COVID," Wright said. "We love talking to fans, showing them our trucks and spending time getting to know them."

Jon Gallo is an award-winning journalist and editor with 19 years of experience, including stints as a staff writer at The Washington Post and sports editor at The Baltimore Examiner. He also believes the government should declare federal holidays in honor of the following: the Round of 64 of the NCAA men's basketball tournament; the Friday of the Sweet 16; the Monday after the Super Bowl; and of course, the day after the release of the latest Madden NFL video game.