Modified '66 Sting Ray is Post-Examiner Pick at 2019 Corvettes at Carlisle
A stuffed Sting Ray rests on the air intake of Brian Micciche's 1966 Corvette. (Anthony C. Hayes)
CARLISLE, PA — Playing Celebrity Judge at Corvettes at Carlisle is admittedly a subjective affair. Once you leave the Concours class and shift over to the bountiful field of pleasure rides, you find everything from finely-tuned factory originals to wildly customized cars.
Everybody agrees that the museum pieces are a wonder for the eyes, but for most collectors, the real thrill of owning America's Sports Car is popping open the garage door, pulling off the canvas cover, slipping behind the wheel, and taking off for a Sunday drive.
A very fast Sunday drive.
Brian Micciche wasn't looking for a factory-correct Corvette when he purchased his 1966 Sting Ray Coupe. But the now-mildly customized Vette serves his purposes perfectly.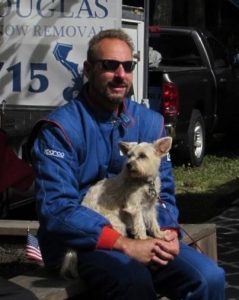 "I retired about 2 years ago, from owning and running an engineering company that developed and produced automation for the solar industry," said Brian, a Fun Field participant at last weekend's Corvettes at Carlisle. "My background is mechanical engineering, so I am quite adept at troubleshooting, designing, and fabricating all kinds of stuff. Cars have always been a passion of mine, so it was only natural to focus on that hobby now with more time on my hands.
"I had a 914 Porsche that I owned since I was in college and over the years it morphed from a simple 85hp 4 cylinder 'grocery getter' into a fire breathing – street legal – 8 cylinder 500hp+ race car.
"About four years ago, I started racing the car in a hill climb series in the class 'street mod extreme' (SMX). I did all the work on the car from the beginning, including building the engine, reinforcing the chassis and suspension, etc.
"With hill climb racing, you and your car are always at risk. You race against the clock up a closed mountain road, pushing the envelope while surrounded by trees, sewer grates, occasional potholes, etc. Unfortunately 2 years ago, my 'buddy' of over 30 years (with many many hours together both in fabrication and racing) came to a flying end. The car went into a spin, hit a bank, was launched into the air, and totaled. Fortunately, the cage and safety equipment protected me, but the car was toast."
Brian told us he was able to save the engine and some other bits and pieces from the car. Once the salvaged goods were tucked safely away, he began looking for another car to put the engine in so that in a way the 914 could live on.
"I have always LOVED the mid-year Corvettes and since the engine from the 911 was a Chevy small block in its roots, I figured that would be a good match. I began my search for a car with a nice body and paint (I do not like messing with bodywork) and a non-numbers matching engine. I found the car out in Reno Nevada, and after a few months of haggling and shipping, the 'perfect' car was in my hands.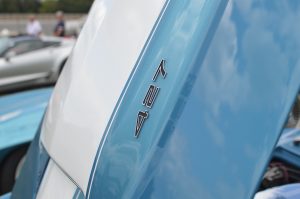 "The previous owner did a great job on the body and paint. The color is Nassau Blue with a white striped 427 stinger hood. Corvette guys will know that the 1966 cars did not come with a stinger hood, so this car needs to be thought of as a 'Mild Custom.'
"Since I did not want a numbers matching car, I was allowed to tinker around and as such am not limited in what I can do. My goal is to modify the car the way a gear head back in the 60's would have done it, if he had today's materials at his disposal. I wanted to preserve the classic nature of the car though, and since racing is not in this car's future, I want to keep the body stock, along with the original frame and interior."
Brian recalled that, when he received the car, it looked beautiful. Credit a complete frame-on restoration done to it about 2 years ago.
"I was surprised, though, to find some nagging issues – especially considering how much time and money the previous owner apparently spent on the body and paint. Since the car arrived to me in an enclosed tractor-trailer, and the truck would have a difficult time negotiating my driveway, we decided to meet about a mile or so from my house. After pulling the car from the trailer, I got to drive it for the first time to its new home. I had an inspector look at the car in Reno and bought it sight unseen, so aside from photographs, I never had a chance to see or drive the car.
"As I drove up the steep hill leading to my home, the engine died and there I sat on the shoulder of the road. Not a great way to start a relationship, but it turned out to be an empty gas tank. First issue…. the gas gauge doesn't work! I guess when you buy a 53-year-old car sight unseen, you have to expect this type of thing.
"Once I had the car in my hands I began to make a list of all the 'little things' that needed to be fixed."
We asked Brian what he discovered in the first few weeks of owning the Sting Ray:
Gas tank full of rust and sending unit didn't work
Drivers power window worked when it felt like it
Passenger headlight motor would not roll up
Headliner was sagging
Shocks were not properly valved for the springs
Horn didn't work
Engine leaked oil and would not run right after it was warmed up
Backup Lights were never hooked up
Steering column and turn signal assembly were put together wrong
"Over the course of a few months, I set out to correct that list, along with a bunch of other small nuisance issues. All the engine issues were ultimately resolved by swapping in the engine from the 914 racecar. Part of that project also involved converting to a hydraulic clutch, because the aftermarket Brodix aluminum block did not have a provision for the mechanical clutch linkage. A remote oil filter was added for the same reason (no oil filter provision on the block).
"I replaced the gas tank with a new one, along with a new sending unit, which solved the rust and fuel gauge issues. Most other items were relatively easy fixes, which simply required buying new parts and installing them.
"The power window, though, proved to be quite a challenge.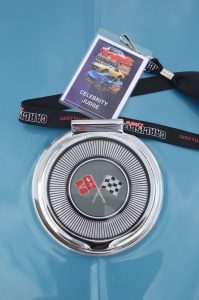 "After locating and eliminating some poorly done 'butt splices' and replacing the console switches, I was sure I fixed the problem. As it turns out, I fixed one of the problems. Now instead of working when it felt like it, it only worked when the door was open. Once the door was closed, the power window no longer worked. This turned out to be broken strands of copper wire inside the outer insulation.
"When the door was open, the strands touched and the window functioned; when the door was closed the wire jacket flexed, pulling the strands apart. Some solder and heat-shrink tubing resolved the issue, and now finally my windows work perfectly! The headlight motor shared a similar story, but I'll leave that one for another day.
So, what exactly does Brian's Sting Ray consist of today?
The Engine:
406 cubic inches "old school" Chevy small block
Brodix aluminum block and heads
Forged Lunati crank and rods
Crain mechanical roller cam
Double valve springs and stud girdles
Victor Jr. Intake
Race Demon carburetor (road race calibration)
The Car:
Vintage Air Conditioning
Borgeson Power Steering Box
Dewitts Twin Fan Aluminum Radiator
67 stinger hood
Power windows
New leather interior – leather seats & door panels
New carpet with Dynamat & Heatshield and Jute underlayment for noise
New glass front windshield and tinted rear glass
All-new chassis bearings, bushings, brakes and tires
Stiffer springs and Bilstein Sport shocks
5 speed tremec transmission
Needless to say, the total effect is head-turning. And it goes a long way in providing those very fast Sunday drives.
Congratulations to Brian Micciche and his customized Sting Ray – the Baltimore Post-Examiner's Celebrity Award Winner at the 2019 Corvettes at Carlisle.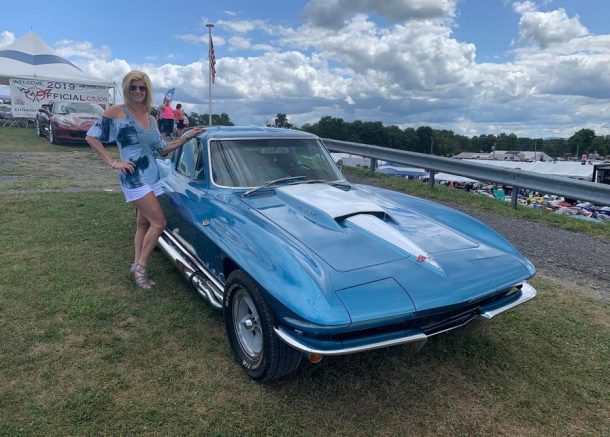 Anthony C. Hayes is an actor, author, raconteur, rapscallion and bon vivant. A one-time newsboy for the Evening Sun and professional presence at the Washington Herald, Tony's poetry, photography, humor, and prose have also been featured in Smile, Hon, You're in Baltimore!, Destination Maryland, Magic Octopus Magazine, Los Angeles Post-Examiner, Voice of Baltimore, SmartCEO, Alvarez Fiction, and Tales of Blood and Roses. If you notice that his work has been purloined, please let him know. As the Good Book says, "Thou shalt not steal."