Military Vehicle Preservation Association: Keeping History Rolling Along
A Packard truck on display at the 2019 Military Vehicle Preservation Association Convention in York, PA. (Anthony C. Hayes)
When the United States Army finally got around to selecting an official service song in 1956, they combined lyrics by Harold W. Arberg with a familiar Great War tune arranged by John Phillip Sousa. Arberg's verses for this new song – titled The Army Goes Rolling Along – recount "Valley Forge, Custer's ranks, San Juan Hill and Patton's tanks" but omit any mention of the catchy phrase from original author Edmund Louis Gruber's iconic song:
Over hill, over dale
As we hit the dusty trail,
And those caissons go rolling along.
In and out, hear them shout,
Counter march and right about,
And those caissons go rolling along.
Wheeled vehicles, such as caissons, have been an intricate part of warfare ever since Pharaoh's chariots chased the Israelites across the Red Sea. And while the Chrysler Corporation is happy to sell you a brand new Wrangler in Bikini Pearlcoat, there's really nothing that says "Government Issue" quite the same as a JEEP in drab olive green.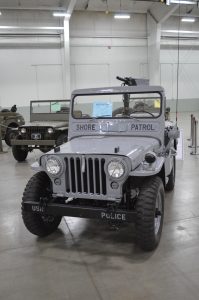 Celebrating service members, their modes of conveyance, and the enthusiasts keeping that storied history alive is the 2019 Military Vehicle Preservation Association Convention.
The Military Vehicle Preservation Association (MVPA) is an international organization devoted to the preservation, responsible operation, and private ownership of historic military vehicles of all eras and flags. Many, but not all, of its members, have prior military service.
The annual convention (which is now open to the public) is being held through Saturday at the York Expo Center in nearby York, Pa.
Kevin Lockwood – Vice President of the MVPA – told the Baltimore Post-Examiner he got involved in the hobby because of his interest in military history and his knack for fixing machines.
"Here for this convention, we expect an attendance of between 2000-3000 members. Most of those people will be collectors – hobbyists who own at least one vehicle — or helpers who are looking at purchasing their own vehicle. But we're also expecting individuals who own upwards of thirty, forty, or even more vehicles. Some of these are teams who work together on the larger vehicles you'll see here at the show."
Lockwood said, because of the worldwide interest in the hobby, the association moves the annual convention as much as possible.
"We're seeing a lot of interest from collectors in Europe, so holding the convention here in York this year – with easy access from the airport in Baltimore – just makes it much simpler for those individuals to attend. We're Missouri based, but our last few shows have been in Louisville and Cleveland. We're looking at South Bend, Indiana and again in Ohio for upcoming shows.
"One of the things about this show is we have a great representation of equipment used by some of our Allies in World War II. This show is heavily represented by WWII and Vietnam – not only because of the interest of the collectors but also the relative ease in obtaining equipment from those eras. That began to change in the 1970s – perhaps understandably so, given the emerging technology of the modern battlefield. But we try to represent America's military engagements moving forward from WWII and Vietnam and encourage veterans from Desert Storm, Iraq and Afghanistan – as well as their families – to look at military vehicle preservation as a viable hobby.
"That said, when you walk through the exhibit hall, you will also see vehicles from World War I. Of course, there were wagons and such in use during the Civil War and the Revolution, but World War I really ushered in the era of mechanized warfare."
"We're here to support the troops of all nations as much as possible. We try our best to compliment all eras however we can."
Our open-air conversation with Lockwood was punctuated by the rising sound of a Sherman tank circling the observation arena.
"That's another thing we are doing here in York – we are making this show more animated," shouted Lockwood.
The animation continued for twenty minutes more with the addition of several historic vehicles, including an armored personnel carrier, a half-track and – a bulldozer?
Bulldozers, we would later learn, saw use in every theatre of WWII – not only for clearing debris and leveling ground for airfields and roads – but also for towing artillery through the most difficult terrain.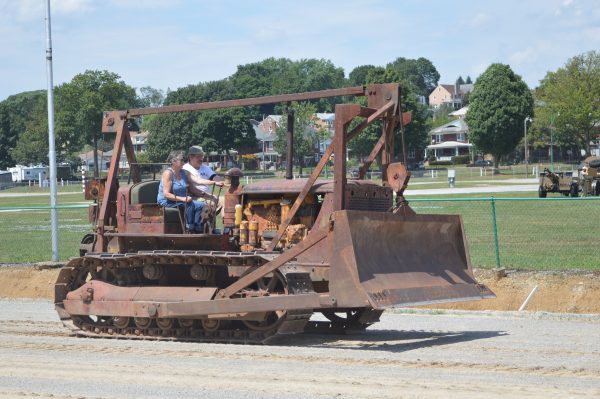 David Z. – a military history buff from central Maryland – made the easy trip up I-83 to York specifically to join the association. Once there, he was gratified to see a solid representation of regimental insignia from his ancestral home of Poland.
"What the Poles did during WWII is something of a lost history to most Americans," said David, "but Poles participated on every front of the European Theatre. Poles, for example, were able to take Monte Cassino after every other attempt had failed. And as members of the 303 Squadron, they scored incredibly well during the Battle of Britain."
David said he was particularly pleased to see tanks and other equipment emblazoned with the emblem of the Polish 1st Armored Corps.
"The emblem is unique because it recalls the Winged Tesaria – the Hussar cavalry of the 16th to 18th century, who wore wings on their armor for added height and shock value."
Honoring G.I.s, Grunts and Doughboys
As we made our way to the exhibition hall, we passed a number of WWII reenactors. Lockwood said the MVPA welcomes the way the reenactment army, "brings the vehicles to life."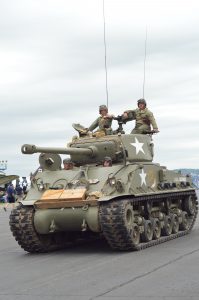 "That's what they aspire to do. They portray living history. Seeing a vehicle in an air-conditioned garage may be a little mundane to some people. But when they set the vehicles in motion and share stories from the past – you're adding a higher history level which really makes the vehicles come alive."
Inside the exhibition hall, we stopped to speak with Dee Pierini – the owner of a JEEP she calls the Jersey Bounce.
Correction – make that three JEEPs called the Jersey Bounce.
"My dad served in three wars – WWII, Korea, and Vietnam. He loved to fly his P-51s, and he loved his JEEPs, so I've named my vehicles in honor of him."
Gleaning Dee's displays, we noticed that a good portion pay homage to the Vietnam era. We asked if that attracts or dissuades Vietnam veterans.
"Many will stop by and look over the tables," said Dee. "It's a healing process for a lot of them. Some won't talk until they see other veterans talking with us; then they will engage and tell stories to each other about what they did and saw in Vietnam. We have a map on display, and they will point out when and where they served.
"I spoke with a tunnel rat, and those guys almost never talk about what they did. You can read about them, but I never dreamed I'd ever meet someone who was actually there. What an honor. I also spoke with a guy who was a POW for three years. We befriend Vietnam vets and let them know we are here for them. They went through some bad stuff, and it's amazing they survived, only to come back to so many people who were mean to them. To me, that is something that is unforgivable."
At the far end of the hall, we spoke briefly with "Packard" Dave Lockard from Gettysburg. Lockard shared an amusing anecdote about a recent parade in Washington, D.C.
"I was driving the parade route in my Packard truck, with a reenactor who portrays Gen. Pershing. At the end of the parade, we were approached by a couple of curious Chinese tourists. They were very excited to see the old Packard, so I gave them a small American flag I had mounted on the grill. When they left, Gen. Pershing laughed and said, 'You do realize that flag was probably made in China?'"
Preserving History for Future Generations
A number of the people we spoke with mentioned the familial bonds created by the preservation hobby and how restoring military vehicles is a way to teach children lessons not readily found in modern textbooks.
Gettysburg collectors Frank and Adam Buck are a prime example of this phenomenon.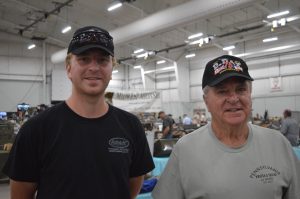 "I've been collecting for over fifty years now," said Frank. "The second JEEP I purchased was bought in 1963, and I still have it. My collection today numbers at around 50 assorted vehicles and includes WWII-era JEEPs, tanks, and three tank recovery vehicles."
Adam told us he has been involved in the military vehicle hobby, for as long as he can remember.
"I grew up with this, so in a sense, I didn't have a choice. All of my life, I've been around antique cars, military vehicles, and U.S. history. But I really enjoy it – the history behind all of those vehicles. And the people you meet in the hobby are very knowledgeable and a lot of fun. I've worked with my dad in all facets of this hobby, and that's also been a lot of fun."
Frank interjected that Adam has accompanied him to Normandy on numerous occasions.
"For the 50th Anniversary of D-Day, we took a Stuart tank to Europe. It's a little smaller than a Sherman tank, so it fits nicely inside a shipping container. But once we picked it up in Portsmouth, England, we drove it everywhere we went. Even took it with us on a ferry to France."
What kind of reception does one get while driving around Britain and France in a tank?
"Unbelievable," said Frank. "I don't care if it's a Ferrari or a Duesenberg. When you're driving a tank, that says it all."
New Oxford business owner Miroslaw "Mike" Hrycak jumped into the military vehicle hobby about 15 months ago – time enough to acquire 33 assorted wheeled and tracked vehicles, and 12 major pieces of artillery.
"I'm a Polish citizen, but a legal U.S. resident. I'm also a life-long WWII buff. That was spurred on by the fact that I spent the first sixteen years of my life in Poland. Poland is the battleground of Europe, so you cannot escape the evidence of past conflicts. Poland had a very proud history, especially during WWII, and that is what we are trying to preserve: The memory of the Polish war effort and the sacrifices experienced by my ancestors."
Mike said he was living in Poland while it was still under Communist rule.
"That's actually the reason I came to this country.
"In Poland, they have a mandatory military service requirement. At sixteen, I was on the verge of enrolling in that when Poland started going through political turmoil. Poland was staunchly anti-communist and the facade of the old system was crumbling. There were anti-government protests going on in the streets. Unfortunately, there was a chance the army would be called in to suppress those protests, and as a recruit, I might have been forced to fire on my fellow citizens.
"I had family here in the U.S., so I came for a visit and stayed. I had no interest in serving in the military of a Soviet Block country. Today, Poland is free. It is economically vibrant – just a totally different situation. With those changes has come a renewed interest and pride in Polish history. Much of what I have here on display is a representation of that long-suppressed history.
"Poland was overrun by the Germans in 1939, but that did not mean the end of their fighting."
Most of Mike's military vehicles and artillery recalls the exiled Polish efforts in France, Belgium, Italy, Norway, England and even at The Siege of Tobruk.
Then there were the Polish troops who fought Germany on the Eastern Front.
"I have a T-34 tank, which seems to surprise some people. But after the fall of Poland, about 200,000 Poles fought on as involuntary conscripts in the Russian Army."
What would Mike say to anyone who is interested in the military vehicle hobby?
"I would say, go where your interest leads you. Whatever you are passionate about, this is where you should direct your hobby. It does not have to involve major pieces of armor. Some people collect WWII weapons. You might collect a JEEP, a trailer or a small piece of artillery. Or a uniform or sets of uniforms. It really depends on the level of involvement you can afford.
"But I strongly suggest that you think about where your interests are.
"Don't get yourself into something that you're not passionate about."
*   *   *   *   *
For more information about the York show and how to get into the hobby, visit the Military Vehicle Preservation Association.
Please enjoy the following photo roundup of this year's Military Vehicle Preservation Association Convention by staff reporter Anthony C. Hayes: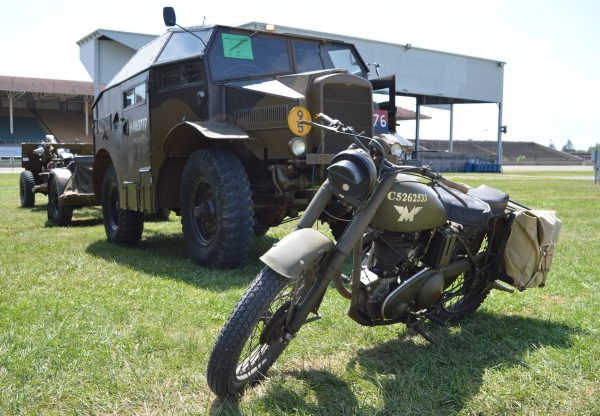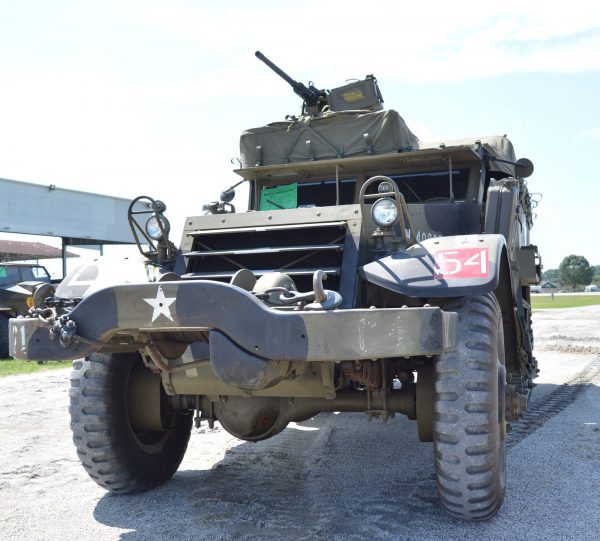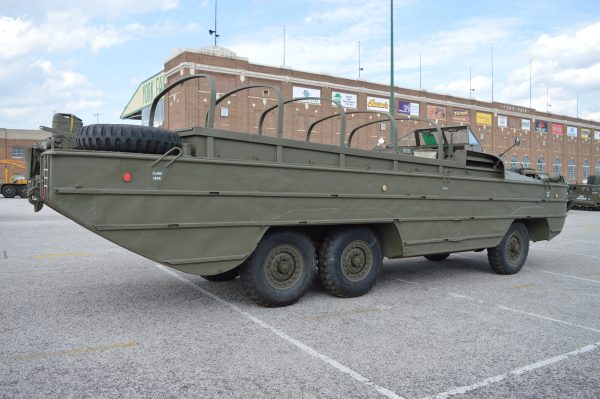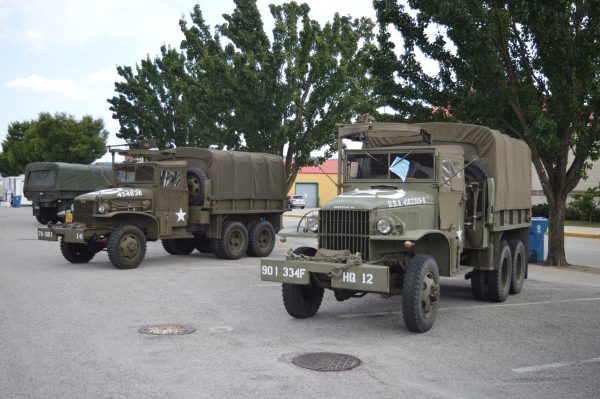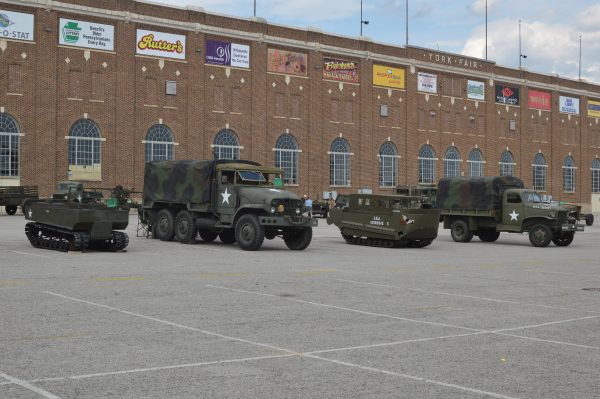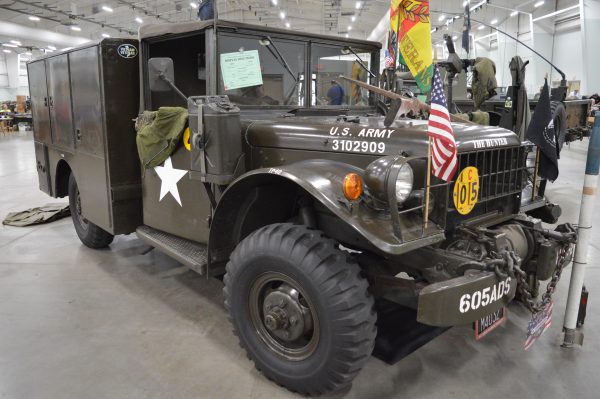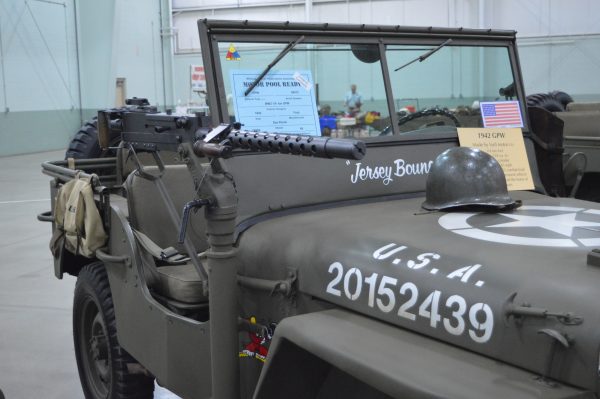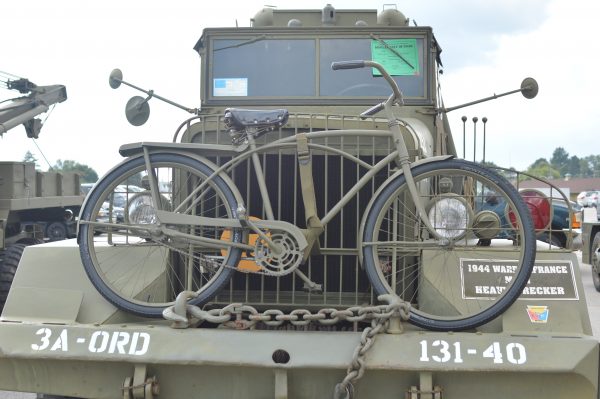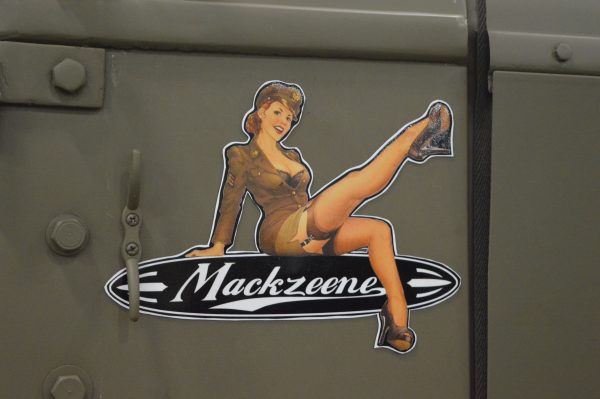 Anthony C. Hayes is an actor, author, raconteur, rapscallion and bon vivant. A one-time newsboy for the Evening Sun and professional presence at the Washington Herald, Tony's poetry, photography, humor, and prose have also been featured in Smile, Hon, You're in Baltimore!, Destination Maryland, Magic Octopus Magazine, Los Angeles Post-Examiner, Voice of Baltimore, SmartCEO, Alvarez Fiction, and Tales of Blood and Roses. If you notice that his work has been purloined, please let him know. As the Good Book says, "Thou shalt not steal."