Mi & Yu Noodle Shop expansion: Baltimore and Virginia
Mi & Yu Noodle Shop reminds me of Tampopo, a 1985 Japanese comedy of many subplots, but at its core, making that perfect bowl of slurpable ramen noodle soups and we aren't talking those packaged dried noodles with the flavor packets.
One might call Mi & Yu Noodle Shop a Ramen—ya, where ramen is a specialty and the soups are a reflection of the chef's culinary prowess.  Chef Edward Kim worked months perfecting and creating his own broths, his own culinary spin on the ideal bowl of ramen.  Like other Ramen-ya, this French technique trained Korean-American raised chef has melded his culture and life in each bowl of ramen. One can taste the flavors of Japan, Vietnam and Korea throughout his menu.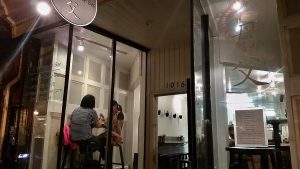 The first Mi & Yu Noodle Shop opened in the early fall 2015 in Baltimore's Federal Hill neighborhood to great success with his selection of artisanal noodle bowls offering choices of ramen, pho and udon noodles.
The broth choices are rich in depth of flavor, umami and spices; spicy kimchi, spicy sambal duck, savory miso broth or savory Filipino adobo duck. The second Mi & Yu opened about a year later in the Mt. Vernon Marketplace. Along with the expansion, Kim permanently added his baos, steamed buns, with enticing fillings; fried curry shrimp, braised short ribs with miso glaze, adobo duck with duck jus and more.
So where next, where will the next Mi & Yu open? Hopefully, with no construction or licensing delays, by October 2017 the next noodle house will be located in Baltimore's Rotunda complex. A new look with the roll up garage door front and offering al fresco dining. Kim is not stopping there, 2018 he will be opening in Ballston quarters in Arlington, Virginia, the contract is signed.
Mi & Yu Noodle Shop
Federal Hill:  1016 South Charles Street
Mount Vernon Marketplace:  520 Park Avenue Baltimore, MD 21201

For Dara Bunjon if it is food, Dara Does It, in fact, that is the name of her company which offers creative solutions for the food industry the likes of public relations, marketing, social media, cookbook compilations, food styling, culinary events, networking and freelance writing. You will now find Dara applying her broad range of culinary skills as a food stylist for television chefs/cookbook authors the likes of Steven Raichlen, Sara Moulton, Nick Malgieri, and Nathalie Dupree. Dara Bunjon lives, eats, dreams and writes about food and isn't hesitant to share her views and experiences about restaurants, culinary trends, recipes, cookbooks or even her childhood food memories. She has been on the food scene for too many years to mention. Known both in Baltimore and nationally, Dara Bunjon is a former member of Women Chefs and Restaurateurs' national public relations committee.
In the past, she has written for Style Magazine, Foodservice Monthly, Mid-Atlantic Restaurant Digest, Urbanite and other sundry publications. Since 2004 she has maintained an award-winning food-related blog called Dining Dish. She co-authored her first cookbook Yum! Tasty Recipes from Culinary Greats in association with Studio Spear. And has written Baltimore restaurant reviews for Gayot.com
Dara believes food is subjective; everyone's taste is different and she enjoys bringing you to her table to commiserate and enjoy lively discourse.
Considered one of Baltimore's food influencers, you can follow her on Twitter and Instagram @daracooks.