Mercy High School in Baltimore Commemorates the 57th Anniversary of Beatles Lead Guitarist George Harrison's Visit to the School in a Special Ceremony on Tuesday, September 14
Courtesy photo of George Harrison from Mercy High School
Event Marks the Only Known Visit to an American High School
by a Member of the Beatles at the Height of Beatlemania
BALTIMORE – To mark the anniversary of Beatles lead guitarist George Harrison's visit to Mercy High School on Tuesday, September 14, 1964, the school today unveiled historical items and a commemorative plaque that was placed above the same water fountain from which Harrison drank while at the school 57 years ago.
Harrison visited the school the day after performing at the Civic Center in Baltimore as part of the band's first North American tour. Sister Michelle Carroll, founding principal of Mercy High School, took Harrison on the 30-minute tour, which marked the only known visit to an American high school by a member of the Beatles at the height of Beatlemania.
"We believe that George Harrison visited Mercy because it was a brand-new school with a reputation for an outstanding academic program that reflected the best methods in education of the day. The school's modern architecture was also quite distinctive," said Mary Beth Lennon, president of Mercy High School. "We are proud to continue a tradition of excellence and innovation at Mercy today."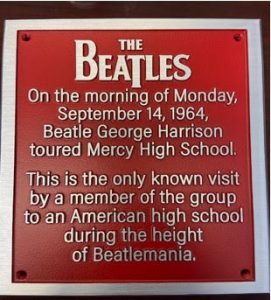 Harrison, who had a strong interest in architecture, first heard about Mercy High School from architect Arthur George Wildberger, Jr., who met Harrison at a Beatles after-party in downtown Baltimore. Wildberger lived near Mercy High School and arranged for Harrison to visit.
"My family and I have told the story many times of how my father met George Harrison, gave him a ride in our Chevy Covair, and brought him to Mercy High School," said Daniel Wildberger, who is also an architect and a principal at Edge Architecture LLC. "Everyone loved the Beatles. So, George's visit to our Baltimore community meant everything to us."
The unveiling of the plaque and other commemorative items marks the completion of Mercy High School's 60th anniversary year. The school first opened its doors in September 1960.
About Mercy High School
Sponsored by the Sisters of Mercy, Mercy High School is a private, Catholic, college preparatory school for girls in grades 9-12. This year, 446 students living in 63 zip codes make up the Mercy community. An International Baccalaureate World School, Mercy provides its students with rigorous academics, enabling them to form habits of lifelong inquiry, critical thinking and courageous action in a global society. More than 8,000 Mercy alumnae are leaders in Maryland and beyond. For more information about Mercy High School, visit mercyhighschool.com.