Maryland Sutler: Gettysburg Store Serves Civil War Reenacting Community
GETTYSBURG — One of the enduring "myths" about the Battle of Gettysburg is that Confederate forces under Brig. Gen. J. Johnston Pettigrew were initially directed to the small Pennsylvania town in a vain quest for shoes. That foray led instead to a near-confrontation with Union cavalry under Brig. Gen. John Buford. What followed Pettigrew's purported quest was the turning point of the Civil War.
"There weren't any shoes here," explained John Buchheister – proprietor of Gettysburg's Maryland Sutler – as he reached across a display in his store to show us a pair of period-correct civil war shoes. "These are probably the most comfortable shoes of this style on the market."
It wasn't a quest for shoes which brought us up to the Maryland Sutler this week, but rather a hunt for a pleated white shirt to wear for this year's SVR Civil War Ball. The ball (there are actually several of them in Gettysburg this weekend) is a highlight of the annual Remembrance Day activities.
Remembrance Day (also known as Dedication Day) honors President Lincoln's November 19, 1863 dedication of the national cemetery in Gettysburg.
"This is really the busiest time of the year for me," said Buchheister. "I'm expecting a lot of foot traffic over the next few days. Luckily, stocking my store hasn't been a huge problem because most of what I sell is made here in America. I try to buy my own material and out-sorce the manufacturing to U.S. companies as much as I can. The beeswax candles are made here in Pennsylvania, and the suspenders are made in Florida."
Beside suspenders and shoes, Buchheister stocks pretty much everything a Civil War soldier or civilian reenactor could want – save for the billowing gowns a woman might wear to a Civil War ball.
"I do carry some day dresses, and of course women's shoes, but the ball gowns can run anywhere from $300-700 dollars. There's another shop down the street that specializes in those things."
Civil War-era sutlers were not in the business of dressing women for elegant affairs. Rather, these independent merchants sold basic wares – either from a tent near a military encampment, or from the back of a well-stocked wagon. The mule-drawn wagons (Buchheister said he has his own wagon in the making) often followed the armies as they moved from one area to another.
Buchheister told us he started the Maryland Sutler as a weekend hobby back in 1998 before retiring from the medical field and going full-time with his shop in 2016. His medical career as a CT specialist helped him hone a fine eye for detail – a huge bonus for someone who now studies old photographs to be sure his merchandise is as historically accurate as possible.
But why is the Maryland Sutler based in Gettysburg, Pennsylvania?
"My family members are all Marylanders. Two relatives fought with Maryland units during the Civil War. My grandparents lived in Parkville and Perry Hall, and before my Dad moved us to Gettysburg, I lived in Reisterstown. I like it here and this is a perfect place for my shop."
Given the divisive times, we wondered how long Buchheister thought that Civil War reenctments might continue?
"I think there will always be an interest there," opined Buchheister, "though it's really tough in some places. In New Jersey, for example, you can't bring a musket into the state without a permit. As far as possible venues, you can't stage a reenactment in either a state or a national park, so "battles" have to happen on privately owned property.
"As for the interest by age, most people you'll see reenacting these days are Baby-Boomers. Not a lot of Millennials are getting into it. But it does seem those who are, are really getting into it."
We asked Buchheister what constitutes "really getting into" reenacting?
"You basically have three groups of people who get into reenacting. You have campers with a twist. That's camping – plus you also do reenacting – and it's very family oriented.
"You have mainstream, which is pretty much people who just want to reenact a period. They tend to know a lot about history.
"And then you have hardcore campaigners. They live the time period now in the elements the way the Civil War soldier actually did back then. These are people who wear the wool uniforms, sleep in tents, eat hard tack dipped in coffee or broth, and will leave their phone locked in their car the whole weekend. I'll sometimes kid with them and ask, 'So, are you marching from here back down to Fredericksburg?'
"That doesn't always go over so well."
Aside from the Remembrance Day parade, and the occasional battle reenactments, we're not sure how much marching Civil War reenactors actually do. But for the hardcore campaigners; the mainstream history types; and even the campers on a family outing, footwear is as important today as it was in 1863. And the Maryland Sutler has plenty of comfortable footwear on hand.
The myths surrounding the Battle of Gettysburg notwithstanding, perhaps General Pettigrew was onto something with his alleged shoe foray after all.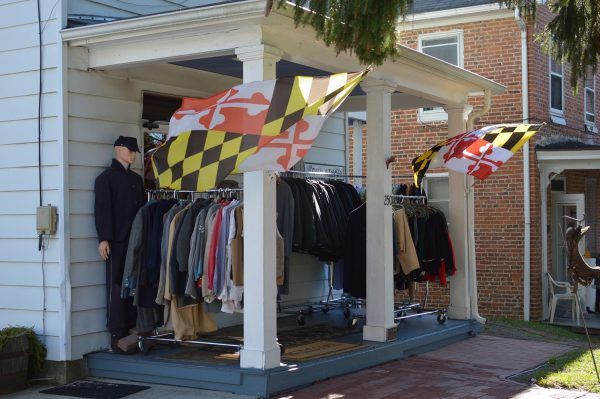 * * * * *
The Maryland Sutler is located at 250 Baltimore St, Gettysburg, PA 17325. More information (including hours and inventory) may be found online.
For information about this weekends Remembrance Day activities (including current Covid-19 rules), please see Destination Gettysburg and The National Parks Service sites.
© Copyright 2021 Baltimore Post-Examiner. All Rights Reserved

Anthony C. Hayes is an actor, author, raconteur, rapscallion and bon vivant. A one-time newsboy for the Evening Sun and professional presence at the Washington Herald, Tony's poetry, photography, humor, and prose have also been featured in Smile, Hon, You're in Baltimore!, Destination Maryland, Magic Octopus Magazine, Los Angeles Post-Examiner, Voice of Baltimore, SmartCEO, Alvarez Fiction, and Tales of Blood and Roses. If you notice that his work has been purloined, please let him know. As the Good Book says, "Thou shalt not steal."