I am dividing this article into three parts. I'll be talking about two attractions that don't get a lot of attention, the coldest hotel lobby in the city and a Gaithersburg restaurant. So let's begin.
Attraction number one is the Maryland Historical Society, 201 West Monument Street. Established in 1844 it currently has over 7 million items in their collection. It is a rather large museum encompassing an entire block in historic Mt. Vernon.
As their brochure states, the 'exhibits breathe life into history and provide a better perspective on current events.' The museum's exhibits are displayed in various rooms. A few of their titles are Activism and Art, Divided Voices and Four Centuries of Maryland History.
But here's what attracted me to visit many years ago. A document where you can't put a price on its value. It's the original manuscript of Francis Scott Key's National Anthem. That alone is worth a visit.
The hours are Wednesday through Saturday 10 to 5, Sunday 12 to 5 p.m.. Adult admission is $9.00. There's free parking and group tours are available. (mdhs.org, 410-685-3750)
Attraction number two is the Baltimore Basilica, Cathedral, and Mulberry Streets. This is billed as America's first cathedral and it also is a National Shrine and National Historic Landmark.
In 1995 Pope John Paul ll made a pastoral visit. A restoration began in April 2004 that closed the basilica. It re-opened in November 2006.
During the last 200 years, many national and international dignitaries have visited. Among them are President Andrew Johnson, Ralph Waldo Emerson and the Marquis de Lafayette.
There are 24 skylights which illuminate the cathedral. On a sunny day, the inside lighting is, as a past guest said, 'heavenly.' The new interior which includes the flooring, finishes, and furnishings have been replicated to early 19th century forms.
George Weigel, biographer of Pope John Paul ll and NBC news analyst said, 'no other Catholic edifice in America can claim to have seen so much history made inside its walls.'
This is a destination you should add to your must-see list. Tours, confessions and mass are offered. Information is found on the website, baltimorebasilica.org (410-727-3565)
In my opinion, the coldest hotel lobby in the city is the Baltimore Marriott. I was there recently for an event and discovered if you have to spend time in the lobby you need a coat. Of course, this is true during winter. Even the inside employees, who work anywhere near the door, have to don coats.
The problem is the doors. One is a revolving door, which does keep the cold out, but the other two are regular opening doors. When open the cold air streams in. This was definitely a design flaw. But I did hear a renovation is being planned and hopefully, that will be rectified. Other than that, it's a very nice hotel and hosts many social events.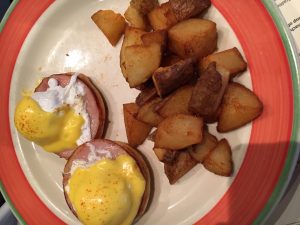 The restaurant is Copper Canyon in Gaithersburg in a development called the Rio Center. This was my first visit to both the restaurant and the area. The Center has movies, other restaurants, hotel, lake, retail, and a boardwalk.
Copper Canyon is open seven days for lunch and dinner with a Sunday Brunch (ala carte) from 11 to 2. I describe it as upscale casual. Valet parking available every day after 5 p.m.
There's seating for about 300 including a heated enclosed patio overlooking the lake, happy hour weekdays from 3 to 7, a bar area and a terrific chef, chef Paul Arrayo.
Some of the dinner entrees include hickory grilled tenderloin filet, short smoked Atlantic salmon, prime rib and big meatloaf stack. Some of the brunch items include chicken & waffles, banana nut pancakes, eggs, and crab benedict and steak & eggs.
The entire food service is certified green. Reservations are a good idea almost any day. Reach them at 240-631-0003 or ccgrill.com.