Mandalay Bay Hotel Security Operations Manager told police after shooting that Paddock exited his room and then fired on Campos
LAS VEGAS — Anthony Sottile, the Security Operations Manager for the Mandalay Bay Hotel who was on duty the night of the October 1, 2017 Las Vegas Massacre told a group of Las Vegas Metropolitan Police Department officers after the shooting, that gunman Stephen Paddock had exited his room and then fired on Security Officer Jesus Campos.
The statement was captured on police body worn camera footage that was released two weeks ago.
"Because when I was up there when we first got up there…the guy came out of the room and went down the hallway and hit one of our officers," Sottile told the police officers, as he made hand gestures simulating firing a weapon.
The video footage was part of the ongoing court-ordered October 1 records release by the LVMPD.
At the 17:30 minute mark into the police body worn camera video from Batch 26 #453, Sottile, accompanied by Mandalay Bay Assistant Security Managers Michael Oelke and George Umstott approaches the group of police officers on the casino level of the Mandalay Bay after the breach of Paddock's suite had occurred.
The Baltimore Post-Examiner in several articles, including our July 2 story, 'Mandalay Bay security manager's statement to FBI and police not true' pointed out that contrary to Sottile's remarks in his recorded interview, he was not on the 32nd floor with LVMPD Officer Cordell Hendrex as Paddock's gunfire was ongoing.
Hendrex never went to the 32nd floor. He was retreating on the 31st floor with his partner Eliff Varsin and Sottile's two armed assistants, Oelke and Umstott. That armed contingent remained on the 31st floor and made no attempt to reach Paddock as people were being killed at the Route 91 Harvest music festival.
Sottile, who was also armed, along with two armed Mandalay Bay Security Bike Patrol Officers had responded to the 32nd floor after the unarmed Campos had been shot and were all on the floor for several minutes during the time Paddock was firing from his suite and they also took no action to stop and or disrupt Paddock's gunfire.
According to transcripts of their recorded interviews with the police and the FBI, neither Sottile, Campos or any other security personnel mentioned anything about Paddock exiting his room to fire on Campos.
So where did the information come from when Sottile told the group of police officers that Paddock had exited his room and then fired on Campos?
Did Campos or someone else tell him that, and if so who, or was it a figment of Sottile's imagination?
Is this another case of Sottile making false statements to the police?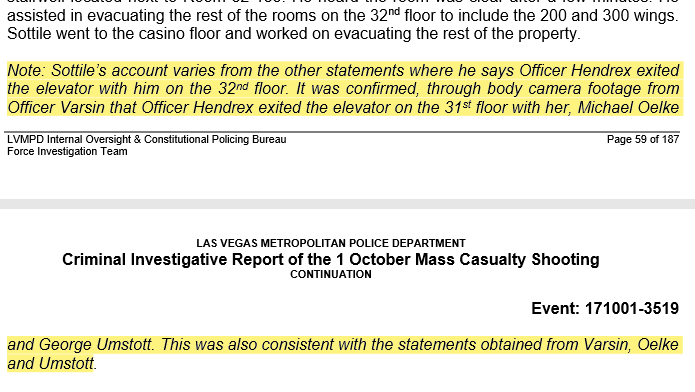 In the LVMPD's final criminal investigative report on the Las Vegas Massacre the police make note that, "Sottile's account varies from the other statements where he says Officer Hendrex exited the elevator with him on the 32nd floor. It was confirmed, through body camera footage from Officer Varsin that Officer Hendrex exited the elevator on the 31st floor with her, Michael Oelke and George Umstott. This was also consistent with the statements obtained from Varsin, Oelke and Umstott."
That statement was a politically correct way for the LVMPD to say that Sottile lied to them and was most likely worded as to not embarrass MGM Resorts International, the owners of the Mandalay Bay Hotel, who employ many retired LVMPD officers on their various properties.
The lock interrogation reports for Rooms 32-134 and 32-135 that were released along with the LVMPD's final report indicate that the dead bolts on both rooms never disengaged during or after Paddock's gunfire.
Both room doors were still dead bolted when SWAT Officer Levi Hancock breached the suite with his ad-hoc team of patrol and K9 officers at 11:20 p.m. on October 1, 2017.
With that being said, Paddock could not have exited either room to fire on Campos.
The lock interrogation reports would have recorded either room door opening.
The deadbolt to Room 32-135 was engaged at 9:36 p.m. on October 1, 2017. The dead bolt to Room 32-134 was engaged at 9:47 p.m.
Paddock opened fire at 10:05 p.m. and the gunfire ceased a few seconds into 10:15 p.m.
The dead bolts never disengaged once they were thrown.

Doug authored over 135 articles on the October 1, 2017 Las Vegas Massacre, more than any other single journalist in the country. He investigates stories on corruption, law enforcement and crime. Doug is a US Army Military Police Veteran, former police officer, deputy sheriff and criminal investigator. Doug spent 20 years in the hotel/casino industry as an investigator and then as Director of Security and Surveillance. He also spent a short time with the US Dept. of Homeland Security, Transportation Security Administration. In 1986 Doug was awarded Criminal Investigator of the Year by the Loudoun County Sheriff's Office in Virginia for his undercover work in narcotics enforcement. In 1992 and 1993 Doug testified in court that a sheriff's office official and the county prosecutor withheld exculpatory evidence during the 1988 trial of a man accused of the attempted murder of his wife. Doug's testimony led to a judge's decision to order the release of the man from prison in 1992 and awarded him a new trial, in which he was later acquitted. As a result of Doug breaking the police "blue wall of silence," he was fired by the county sheriff. His story was featured on Inside Edition, Current Affair and CBS News' "Street Stories with Ed Bradley". In 1992 after losing his job, at the request of the Federal Bureau of Investigation, Doug infiltrated a group of men who were plotting the kidnapping of a Dupont fortune heir and his wife. Doug has been a guest on national television and radio programs speaking on the stories he now writes as an investigative journalist.