Have you ever locked your house and/or car keys in your house and/or car, with no extra key available anywhere? Situations like these require a coat hanger, a brick or a locksmith.
On early model cars, it is not too hard to regain entry using a coat hanger. Newer cars are not so easy.
If you left a window on your home unlocked, you may be able to get in through that, but you likely have screens on the windows, complicating matters. In hopeless cases, a locksmith is the more desirable, and cost-effective, route, but not always.
Only 15 states in the U.S. require licensing for locksmiths. Washington, D.C., does not.  In most trade professions, licensing requires professionals provide proof they are bonded and insured. But in any state, you can get taken to the cleaners while under duress – a favorite frame of locked-out mind of which scammers take their best advantage. And because not all states require locksmiths to be licensed, this also means not all locksmiths are necessarily bonded and insured. Some may even have criminal backgrounds, as one disgruntled customer-comment on Yelp! claimed to have discovered.
The Associated Locksmiths of America lists these 15 states requiring locksmith licensing, which does not necessarily prohibit those with criminal backgrounds from getting licensed:
Alabama
California
Connecticut
Illinois
Louisiana
Maryland
Nebraska
Nevada
New Jersey
North Carolina
Oklahoma
Oregon
Tennessee
Texas
Virginia
Regardless of the locksmith-license requirements of your state, you easily can be taken for a ride, financially, if you lock your keys in your car (or otherwise out of reach). Case in point: April 10, 2011, the lock broke inside of the passenger's side  door on Maryland resident Tim Maier's Toyota Camry. Maryland is one of those locksmith licensing states.
Maier, who also writes for Baltimore Post-Examiner,  called Affordable Locksmith, LLC, and was told it would be at least $45 depending how long it takes to get the broken key out of the passenger door from his car sitting in his driveway in Jessup.  They took credit cards, checks or cash, and the company promised Maier a discount as well. Just ask for it, he was told. Seemed like a fair deal.
The driver arrived in an unmarked car and took the key out in 30 seconds. He then requested Maier pay $200 for his services.
Maier said, "But what about the ad?"
The man said – that is with the discount.
Maier refused to pay the $200. And then the man with no identifying clothing or a company uniform said, "How about $100?" Figuring he could charge it on his credit card and dispute the charge later, Maier offered to pay on the credit card. The locksmith then said, if it's a credit card, the price is way more than $100.
After much hassling, Maier cut a check for $80. He received a receipt written from the locksmith from a company called  24/7 Locksmith Services – which apparently is a subcontractor with Affordable Locksmith.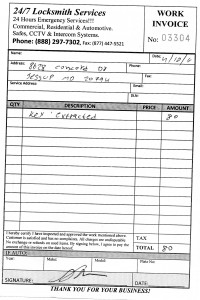 He then called Affordable Locksmith and asked to speak to the manager. Before Maier could even complain about the service, the manager asked,
"Did he get the key out?
Yes.
"Did you pay him?"
Yes.
"Then Goodbye."
And he hung up.
Maier called back again and said someone will write a story about them. The manager replied with the same three questions and then hung up again.
He called the Maryland Office of Attorney General and filed a formal complaint with the consumer protection division. State mediator Robert Fleishman said the company has had other complaints about locksmith companies and is quite common. Fleishman said he called the company, but they failed to "cooperate" and the only choice was for Maier to go to court.
For $80, Maier said it wasn't worth it. He just makes sure to tell everyone to stay away from Affordable Locksmith.
Now granted, locking your keys in your car is fairly rare, given keyless-ignition technologies in the higher-end vehicles, which leaves 92 percent of America, who drive older-model and lesser-model cars, paying through the nose. You could also lock yourself out of your home, where your car keys also may be locked in the house.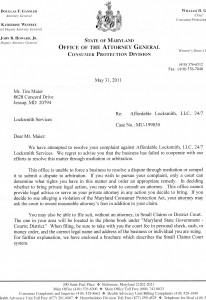 A quick Google search produces top results for curious locksmith business masquerading as "local," the top listing of which is likely an answering service that gets a cut of the independent locksmith's work in your approximate ZIP-code area.
These Internet storefronts are affiliated with a larger operation the websites of which list no contact information for redress. What you will find are ever-changing toll-free and "local" phone numbers and website designs and business names. The best course of action most consumers have when they feel grossly overcharged or misled is to send a copy of their locksmith receipt to their state attorney general's office as Maier did, with a note requesting that the AG consider regulating this industry and outlawing false advertising.
The Associated Locksmiths of America's website includes AG contact information for all 50 states. Additionally, the ALOA has established a task force to "help combat the growing scams that have been plaguing the locksmith industry for about eight years." To get an idea of the seriousness of this scam, the ALOA states, on its legislative-action page:
"The Illinois Attorney General filed criminal charges against a New York locksmith operation for setting up phony [Internet] storefronts with unlicensed individuals practicing locksmithing that led consumers to believe they were dealing with local companies. The action was successful, and the company was ordered to pay thousands [of dollars] in restitution, to cease operations and to no longer do business in the state under a new name or any of the 25 different names the company had been using in local telephone directories!"
To complicate communication matters, these operations change names and websites often, rotating a series of website designs and "company" names to confound potential customers who may seek to avoid the names of operations about which they've heard bad things, or who wish to reclaim unreasonable service charges.
The following images are the same URL and appear several weeks apart, the first image appearing at the top of an earlier search, and the second, not appearing in a Google search, but from entering the original searches into a browser address bar a few weeks later.  Note that, in the URL copy-pasted site's display, the phone numbers are non-functional "555" numbers – a deviation from the functional numbers on the website when this site could be found in a Google search.
Baltimore Post-Examiner paid $251 for a simple lift-the-lock-knob vehicle entry. The company has no identifying brick-and-mortar name other than the hand-scribed "24/7 Locksmith" at the top:
Oddly enough, this receipt's locksmith's services were attained through a self-proclaimed "local" locksmith service found online, Paul Locksmith Service. Why the business-name discrepancy between the website and the receipt? Most likely because the same operation continually changes its Web presence and even the independent operators can't keep up with the central operation's nom du jour.     
Jesse Black is the president of the Northwest Locksmith Association in Seattle, Wash., a state, you'll notice, missing from the licensed-locksmith list.
"We call these people 'ghost locksmiths' because they have no identifying information on their vehicles, they wear no identifying uniform or shirt with a logo. They aren't employed with or by a local shop. They're fly-by-night freelancers who are contracted to do locksmith services, and they charge whatever they want."
Black's locksmith association helps draft legislation for the state's locksmiths. He says that licensing locksmiths can be "prohibitively expensive when the average locksmith earns maybe eight or 10 dollars an hour. So a $1,500 annual license fee can be difficult for a locksmith to afford."
Black doesn't elaborate on why a licensing fee would be so high in the state of Washington, or on the licensing fees of the states that do require licensing. The state of California's locksmith license initial fee is $126 (includes fingerprinting and background check), or about one-tenth the cost Black claims Washington state would charge. New York's license is $75, renewable every two years for $25 to $125, earlier renewals being least expensive.
On the upside, if licensing is a deterrent to ghost locksmiths, that translates to more business for legitimate, licensed, insured and bonded locksmiths. Black admits that the bill shown here is excessive, suggesting that "about a hundred or so" dollars would be typical and reasonable for a locally owned brick-and-mortar shop to enter a locked-out vehicle in a major metropolitan area.
Unfortunately, most local shops don't provide 24/7 locksmith services, which begs the question: Are local shops, in non-licensed states, complicit in the problem of "ghost locksmiths" operating independently after normal business hours? Or are these ghosts part of a larger, separate system that exploits states that don't require licensing? And where do locksmith associations really stand on the issue of "ghost locksmiths?" How many of these associations' constituents are independent locksmiths who charge exorbitant, made-up-on-the-spot charges? The webpage designers for the Seattle ghost operation shown above boast a California locale, per credits at the bottom of the page.
Small print on these websites usually state something to the effect, "We reserve the right to perform our services through a network of independently owned affiliates," aka, ghost locksmiths. The victim of the bill shown here says his locksmith carried on about having been a "property manager, previously." Anyone, it seems, can get into the game. And a locksmith's criminal past isn't an issue in non-licensed states. The site shown here, customized to appear "local" in a non-licensed state, claims, "licensed, insured and bonded." That an "independently owned affiliate" is actually licensed in a non-license state is doubtful.
One top Google-search for locksmiths in a multitude of US cities. They list, in a "States We Serve" link, all 50 U.S. states. Isn't that convenient … and local? As for their pricing: "$15 Service call fee + labor & hardware costs." Hardware costs? Imagine your bill if your auto mechanic or plumber charged for simply using the tools of their trade. Similar sites with equally questionable "local" status include Pauls Locksmith  and Local Locksmiths,  and one or more operations with "24/7 locksmith" in their URL.
Another curious phenomenon with these ghost-locksmith websites centers on the way in which negative comments about some of these "services" vanish from business-review sites with regularity. What comments you find are recent and invariably as negative (one of five stars on Yelp!) as one can possibly indicate while being able to leave a written comment. The time-stamp of comments, if you can find any, are usually all within a week or so of each other. Search a week later for the same comments, and they're gone.
The victim of the receipt shown here says that, after the fact, his research revealed 10 comments on Yelp! For Paul Locksmith Service, all within a week's time frame of each other (back in early February 2012), all rock-bottom negative, all complained of longer-than-claimed response time, and all complained of being grossly overcharged. A week or two later, all these comments had vanished from the Yelp! listing for that "business." A recent search revealed two comments in mid-March, all ranking 1 of 5 stars (the worst ranking possible).
From a comment about Paul Locksmith Service on Yelp! March 25, 2012:
"Truly horrible. If I could rate it zero, I would. My sister-in-law locked her keys in her car and didn't have a way to find a locksmith, so she called me. I called this place and asked them how much it would cost to do a vehicle lockout. The woman said there was a $15 service fee and then services were $35 and up. I misheard this as $35 per hour. Since I asked for a vehicle lockout quote, I assumed what they were giving was an actual quote. WRONG! I arranged to have the locksmith meet my sister-in-law at a specific time. He was 45 minutes late and the actual cost to do a simple lockout was more than $160. Unbelievable. Never, ever use them."
Run Local Locksmith has an even worse record on Yelp!, but they don't seem to have figured out how to purge old, negative customer comments. Comments from Texas, Nevada, Michigan, Connecticut, Georgia and more all rank Run Local as a cyber-storefront, not local (allegedly illegal in Georgia, according to one comment post), that uses independent locksmiths who grossly overcharge. As one Austin, Texas, commenter on Yelp! states, after shelling out $165 to a ghost locksmith, "You can find a local place that only charges $70," something that person likely learned a bit belatedly. Compared to the $251 charge shown on the receipt above, these customers got nice discounts.
Commenting on the "spider" listed in the receipt shown here, Black says, "I don't know what that could be." He's never heard of such a locksmith tool. But it looks good when you're a  padding a bill for higher charges, as these "independently owned affiliates" do.
The "airbag entry" between the car body and  the top of the door frame to separate that space enough to get a coat-hanger-like device (the "pick") into the car to lift or shift the passenger door-lock button into the unlocked position and thereby open the door. The recipient of this bill says several acquaintances commented, after the fact, that it would have been cheaper to simply break the car's passenger window to gain entry, which may not be too far from the truth. But who thinks of vandalizing their own car to save money, especially when they suppose the locksmith service will cost, at most, $100?
Filling out the bill info – customer address, driver's license number, license-plate number, etc. – took longer than the time to enter the car, according to the bill recipient, the latter taking perhaps five minutes. Even at 10 minutes of labor, a $45 labor charge translates to $270 per hour, on par with some attorneys' fees.
And somehow, the re-useable tools (presumably "hardware costs" listed on these sites) demand a charge of $159. If, like medical equipment, the tools were disposable, used for gaining entry only once, this cost category would make sense. As for the "service call," well, anyone can name a price on that, too – for a customer under duress.
The bill recipient (preferring anonymity, because he doesn't "need a disgruntled ghost-locksmith breaking into my home out of retribution" for anything revealed in this article) remembers the ghost locksmith asking two questions as the locksmith wrote out the receipt: "Do you have any coupons from the website?" (The "Online Coupon" link did nothing, so …  no.) "Did they tell you on the phone how much this would cost?" (No.)
When the victim saw the bill, he barked an unprintable expletive starting with "holy," realizing he was stuck between a rock and a hard place – and had to pay up, regardless. One angry commenter on Yelp! wrote that they told the locksmith to "get lost, go away" upon learning what he was about to be charged for services soon to be rendered. The locksmith left, but not before telling the customer that he'd be sending a bill for $75 for the service call, and time and travel.
The solutions to this problem are several. First and foremost, especially if you live alone, keep extra keys available where you can get at them, with a neighbor or trusted friend, for example. This assumes that you haven't just moved to a new area with no long-term friends or acquaintances in the area.
And if you must, hire only an actual local locksmith, someone whose address is posted on the website and with a known office location. Shop around online if you have time, and check the business's customer ratings and comments, although some or all comments may be fake, particularly if they're overly complimentary. And don't forget to ask, over the phone, exactly what the service will cost you. Take names, write stuff down and pay no more than you were quoted.