When a restaurant has seven locations how do you decide which one to go to?  For me the decision was easy. Uncle Danny invited me to the Liberatore's in Bel Air so that's where I went. It was probably at least two years since I was last there so it was good to revisit. It opened in October 2007.
The exact address is 562 Baltimore Pike in the Bel Air Town Center. The Liberatore brand started in 1988 when the Liberatore family decided to open their restaurants. Today all are run by three brothers with a major assist from the aforementioned Uncle Danny. So to be clear all are owned and operated by that family. I love Italian food so I'm thinking about asking to be adopted.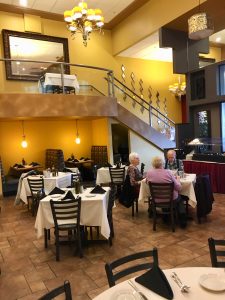 The restaurant is open seven days for lunch and dinner. It can seat about 265 and that includes the outside dining which I don't recommend right now. There are seven TV's in the bar plus one really big TV in the main dining room. That one shows mainly cd's of Italy. I assume that's to get you in the mood for Italian food. But if you're in Liberatore's you don't need any further inspiration for Italian food. There are two rooms for private functions.
Without question, the ambiance is quite casual. They don't care what you're wearing (within limits of course) they just want you to enjoy the food. And to enjoy the entertainment which is offered the third Friday of the month (dancing allowed) and soft rock and jazz Saturday nights. Plenty of parking, carry-out is offered and they do off and on-premise catering.
Weekdays you can enjoy a very reasonably priced buffet ($8.95). That is indeed a great price. The day I was there the buffet consisted of soup, salad, two entrees, and dessert. It also appeared that bread is included. While dining you'll no doubt be visited by Uncle Danny checking on the food and service.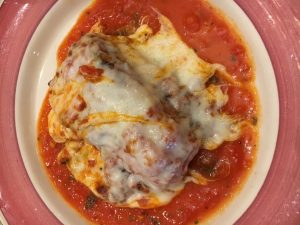 The lunch menu goes from appetizers (crab dip, clams casino, etc), to salad (caesar, spinach, Liberatore, etc), to entrees (cajun chicken, New York strip, etc), to seafood/meat (crab ravioli, chicken marsala, salmon nicola, veal parm, etc), to pasta (lasagna al forno, eggplant parm, penne black & bleu, etc) to pizza (classic, new cristina, shrimp, etc) to panini/sandwiches/subs (chicken saltimbocca, meatball sub, monster burger, prosciutto & mozzarella sub, etc).  Gluten-free options are available.  By the way, the etc means there are more selections under all those categories.
In a  conversation with Italo Liberatore, he said something that stuck, 'we serve simple Italian food done right'. The restaurant was voted 'Best Italian Restaurant in Harford County. Reach them at 410-838-9100 or at liberatores.com. And if you were to ask me to name the other locations, I can do it – Westminster, Perry Hall, Eldersburg, Timonium, Maple Lawn and a Liquid Lib's adjacent to their Timonium location.  Incidentally, the Maple Lawn location is also a Liquid Lib's.