Let's meet up 'By the Docks' for brunch
I have been to By the Docks before and after dining there a second time, I wondered why it took me so long to get back. My meal was a delight. For example, and I am not generally a lamb chop eater, the baby lamb chops I had were outstanding.
It was a big night for me because I also had the jumbo lump crab cake. Another big hit. And believe me I have tasted crab cakes all over town. As a matter of fact, restaurant owners almost require me to order one.
By the Docks is located at 3321 Eastern Blvd in Middle River, just a very short distance from Bengies Drive-in if you need a landmark. Open seven days for lunch and dinner with a weekend brunch from 9 to 2 ($17.99 adults).
The Brunch consists of items like shrimp, mussels, omelets, steamship carved beef station, pasta and a variety of breakfast foods.  Weekdays from 3 p.m. to 6 p.m. you can try the Happy Hour. They offer $6  plates. The plates are  mussels, nachos, mini burgers and fish tacos.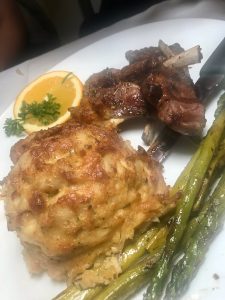 The local owners have included daily dinner specials. For example, Monday is Lobster Night ($15.99), Tuesday is Shrimp and Pasta Night ($10.99 to $18.99), Wednesday is Fish Night ($15.99) and Thursday is Steak or Rib Night ($19.99).
The dining room is casual, plenty of free parking, a bar, carry out, upstairs for overflow dining or private events, a kid's menu and daily lunch specials. Reservations are generally recommended, especially weekends and brunch.
All the servers are very good but I like Kimberly. I also like that the owners, or at least one of them, is always there. And if you have friends or relatives out of town, they will ship crab cakes anywhere.
By the way, they also own Yia Yia's Bakery, 9415 Philadelphia Rd. That's a long standing bakeshop with a huge variety of desserts and deli sandwiches.
Reach By the Docks at 410-686-1188 or go to bythedocks.com.
Let me know when you're going. I'll meet you there.

Eddie Applefeld is a Baltimore native and a graduate of Towson University. He has been in the broadcasting profession for over 30 years. Currently he is the Promotions Director of WCBM radio. Before that, he was part of the Rouse & Company show on WQSR, host of a cable TV show called Dining Out and adjunct instructor at Towson.
His past accomplishments include being named a finalist in Baltimore Tourism's Employee of the Year Program and winner of Toastmaster's Speaker of the Year contest. He was also twice a heartthrob for the American Heart Association's gala fund raiser.