Yellow Sign Theatre's Kroger Babb Writing Contest offers writers a chance to win $500
Lila Leeds in a "high-lite" from the 1949 exploitation film, She Shoulda Said 'No'!
The name Kroger Babb doesn't exactly roll liltingly off the tongue, but for fans of those cheesy, low-budget exploitation films of the 1940's and 50's – Kroger Babb is nothing short of a Hollywood legend.
A Lees Creek, Ohio sportswriter turned theatrical publicity pitchman, Babb's approach to "selling" his films – regardless of their dubious merit – was much the same as the way a traveling huckster would hawk a snake oil remedy: Come up with a snappy title, slap on an eye-catching label and cover the product with impossible claims. In the process, Babb would go on to produce or distribute over twenty salacious films while being sued by Small Town, America more than 400 times.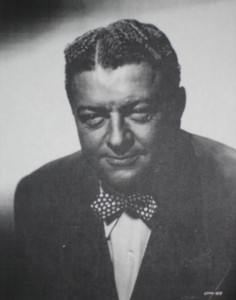 Paying tribute to such a nefarious character, the Yellow Sign Theatre is about to launch a contest which would surely make the old scandal monger chuckle.
Aptly called the Kroger Babb Play Writing Competition, area writers may compete for a chance to win a prize of $500 for an original stage play. The caveat – every submission must take its cue from a brand new promotional poster the Yellow Sign team is currently keeping under wraps.
Yellow Sign managing director Craig Coletta told the Baltimore Post-Examiner that the artwork for the new poster is from an original painting by Doug Johnson. Company members Shelly Burke and Dave Marcoot fleshed it out with some digital alteration. The title, "Ashes for a Setting Sun" was selected shortly after the team huddled over highballs at the Club Charles and kicked around ideas based on Doug Johnson's art.
"We're keeping our poster under wraps until after the February 25th deadline for writers to post a letter of intent to submit," said Coletta, "but I can tell you that the poster the writers will be working with is visually intriguing. It's very in line with our mission of reviving low art and our love of exploitation films."
Coletta then offered this anecdote ~
"Although the producer of Glen or Glenda was George Weiss rather than Kroger Babb, the film, Ed Wood, references Babb's method in the scene where Ed goes in to see if he can write the Christine Jorgenson Story."
ED: I hear you're making a movie about Christine Jorgenson.
WEISS: Yeah, it's called "I Changed My Sex". We open in six weeks in the southern territories. Here's the poster.
ED: (dejected) Oh, so you've already got the movie.
WEISS: Fuck, no! I just got a poster!
*   *   *   *   *
Babb may have had nothing to do with Glen or Glenda, but it's fun to look at some of the titles he ultimately did release. Consider this list from Wikipedia, complete with working titles: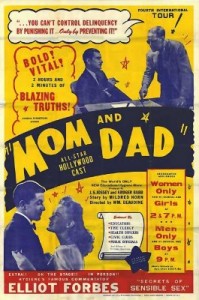 As a producer ~
> Dust to Dust (previously Child Bride) (1938)
> Mom and Dad (previously A Family Story) (1945)
> One Too Many (previously Mixed-Up Women, Killer With a Label, The Important Story of Alcoholism) (1950)
> Why Men Leave Home (previously Secrets of Beauty) (1951)
> Halfway to Hell (1954)
As film distributor ~
> "She Shoulda Said 'No'!" (previously Marijuana, the Devil's Weed; The Devil's Weed; Wild Weed; The Story of Lila Leeds and Her Exposé of the Marijuana Racket) (1949)
> Monika, the Story of a Bad Girl (original title Sommaren med Monika, later re-issued by others in full as Summer with Monika) (1949)
> Delinquent Angels (1951)
> Five Minutes to Love (previously The Rotten Apple, It Only Takes Five Minutes) (1963)
What's not to love about a film entitled, "Mom and Dad"?
Coletta urges aspiring playwrights to fire up their IBM Selectrics. The official press release reads as follows:
CALLING WRITERS! The time has finally come to unleash The Yellow Sign Theatre's first Kroger Babb festival! A poster and title have been selected for 3 writers to win a spot to be produced at YST during Artscape 2015. The sign up for your intentions to submit may be found online. The form is due to us no later than Feb. 25th and final completed script submissions are to be in to our secret panel of judges by April 18th. If you are a writer interested in submitting, please fill out the form linked here. Final scripts will be 15 – 20 minutes in length, involve little to no scene changes and no more than five actors. The top play winner will receive the grand prize of $500. There will also be prizes for the second and third place winners. Once the form below is filled out, you will receive the play poster and the title via the email provided.
Sounds easy enough. Let's just hope some gifted wordsmith comes up with something half as intriguing as the plot of "She Shoulda Said 'No'!"

Anthony C. Hayes is an actor, author, raconteur, rapscallion and bon vivant. A one-time newsboy for the Evening Sun and professional presence at the Washington Herald, Tony's poetry, photography, humor, and prose have also been featured in Smile, Hon, You're in Baltimore!, Destination Maryland, Magic Octopus Magazine, Los Angeles Post-Examiner, Voice of Baltimore, SmartCEO, Alvarez Fiction, and Tales of Blood and Roses. If you notice that his work has been purloined, please let him know. As the Good Book says, "Thou shalt not steal."