John Prine shines at Washington Theatre
The last I saw John Prine perform on stage, he had a full flowing head of hair. That was 35 years ago.
He performed many of his classic standards Friday and Saturday at the National Theatre in Washington, DC – 23 songs in all as well as from his latest album – The Singing Mailman Delivers. His hair was thinner, but his smile, despite the effects of oral cancer, was infectious. And the music was fresh.
He and his accompanists were dressed well, all suited up with ties, as though to say that they are accompanying a legendary song writer. And they were. Bob Dylan counts John Prine as one of his favorite songwriters.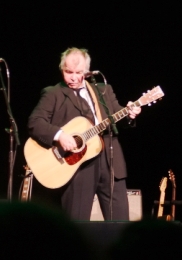 Prine started with a old favorite, Glory of True Love. As with all of his music, this song displays its unapologetic romanticism: Oh, the glory of true love is a wild and precious thing…
The National Theatre was packed. One audience member I spoke with, wearing some of his Vietnam Veteran patches, recounted numerous Prine performances he had gone to throughout the years. He reminisced how, as John Prine survived two bouts of cancer, and how after each battle, his voice changed, getting gruff, getting richer perhaps, like a fine wine.
At one point, Prine recollected how he had viewed unnamed old people, how they had so many stories to tell, and how he wanted to learn of their multiple experiences.  "That's what I wanted to be, an old person!" "Yeah baby!" an audience member responded. Then Prine rolled into Hello in There.
Very moving indeed.
While Prine's performance Angel from Montgomery, as well as Souvenirs, Iron Ore Betty, and Mexican Home, were passionate, his rich thoughts as a songwriter, transmuted into others' music is equally powerful.
Bonnie Raitt version of Angel from Montgomery is ageless. Combining angelic dreaminess, with the down to Earth and practical, this song resonates the essence of a mournful soul.  "How the hell can a person go to work in the morning, and come home in the evening and have nothing to say?"
And Prine's Angel from Montgomery is so natural, as he is truly a singer's songwriter. He gives the lugubrious ballad an undeniable authenticity, richness and emotive depth that makes the song timeless.
In that spirit, he invited Amanda Shires to join him in duets for two songs; In Spite Of Ourselves and Unwed Fathers. Shires' distinctive Nashville twang and talent made her a great pairing to Prine's undeniably classic performance.
He then sang Sam Stone – a song about veteran addicted to the needle,  to the great appreciation of the audience – one of his many songs about veterans.
He bowed, and after an encore, he exited gracefully, leaving us wanting more.

Douglas Christian is a multimedia Capitol Hill reporter. He has covered the 2016 Democratic and Republican conventions as a photographer and has produced numerous audio and video reports for Talk Media News. He has written scores of articles and op-ed pieces for the Baltimore Post Examiner, touching on politics to the arts and to hi-tech.
Douglas has worked as a photographer for decades. He has produced a few books on Oriental rugs; one was on Armenian Oriental rugs and the other was published by Rizzoli and co-authored by his uncle entitled, 'Oriental Rugs of the Silk Route'. Douglas attended the Putney School in Vermont, a tiny progressive school in Vermont, where he became enthralled with photography and rebuilt a 4×5 camera. Later during college, he attended the Ansel Adams Workshop at Yosemite, where he determined to pursue photography. He transferred to the School of the Museum of Fine Arts and received a BFA from Tufts. He has photographed an array of people including politicos such as William F. Buckley, Jr., George McGovern, Edward Teller and Cesar Chavez. His photography URL is www.photographystudio.com. His twitter feed is @xiwix. He currently resides in Washington, D.C.