You wouldn't know it, from the quiet nature of his career, but singer/songwriter John Prine has released 21 albums in his nearly 50-year career. Twenty-one full length LPs and it was for his 15th recording, Fair and Square, that Prine received a Grammy for best Folk performance.
John Prine has always been a singer's songwriter. His soulful lyrics are not only timeless, they bend genres, getting covered by many artists in folk, rock and country. Like many songwriters, we know his music, but not necessarily that it was Prine who wrote the music.
That seems fine to the artist, who has, over the course of his career, taken the stage and studio with many luminaries in American music, Like Steve Goodman, Emmylou Harris and even Bob Dylan, early in his career. Dylan just surprised everyone and got on stage to play harmonica for Prine at a venue in New York City.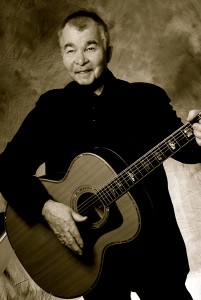 To be recognized by one's peers is probably the greatest reward a singer/songwriter can receive.
The Singing Mailman wasn't always a musician and composer — he did a stint in the Army and then delivered the mail, before hitting the big time, sort of, about 45 years ago. While he was still a gainfully employed mailman Prine would play the café's and folk rock clubs at night, sharing his music with the local audiences in Chicago who loved his music.
But then Kris Kristofferson walked through the door one night and Prine's life changed.
All these years later Prine, who now resides in Nashville, is still playing his guitar and making music. He has just released his latest album, The Singing Mailman Delivers and except for some technical and subtle style differences, this is the songwriter we came to enjoy back in the 70s. In March he put out September 78, available as a limited edition for vinyl lovers. The collection of  songs was from a live 1978 performance at Chicago's famed Park West club. The show features Prine backed by his rock n' roll band — led by longtime friend Johnny Burns.
Over the years he has written songs for and about his fellow veterans and this latest features "Great Society Conflict Veteran's Blues," a story about sacrifice and loss that speaks to the epidemic of veteran suicides in this country. Whether that was Prine's intention or not, we can't help but think of the 22 veterans that take their own lives each day.
You will find 19 other great songs on this recording, including the medley of two Hank Williams songs, "Hey Good Lookin' " and "Jambalaya (On The Bayou)."
At the age of 69 and after two bouts with cancer, John Prine still knows how to have fun.
••• •••• ••••• •••• ••••
The Singing Mailman will be performing at the National Theatre in Washington, D.C., Friday, May 8 and 9 at 8 p.m.