Johann de Kalb – A Soldier of Fortune & Gallant Revolutionary War Hero (Book Review)
Painting above: The Battle of Camden" by Alonzo Chappel
On the southwest corner of the lawn of the State House in Annapolis, Maryland, stands a statue to the Baron Johann de Kalb. He was a German-born soldier of fortune, who also fought for three years (1777-1780) in the service of our country's struggle for independence.
De Kalb's nine-foot-tall statue stands on a granite base and has a bronze plaque mounted on it. It was authorized by the US Congress to honor his significant contributions to the cause of our liberty.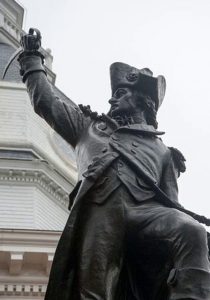 A military officer, Major General de Kalb, ended his days fearlessly leading a division of troops from Maryland and Delaware Lines, on August 16, 1780, in the "Battle of Camden, South Carolina." He died at age 59, three days later from the multiple wounds that he had that fateful day suffered from the British troops on the battlefield.
Even some of the British officers attended de Kalb's funeral in order to pay tribute to his courage. It wouldn't be too long after the Camden clash, however, that the British would also feel the sting of defeat on October 19, 1781, at the battle of Yorktown, VA. It would be at the hands of the Continental Army led by General George Washington, himself, and aided by our faithful allies from France.
The U.S. Congress had authorized de Kalb's Annapolis monument on October 14, 1780, but it took until August 16, 1886, for it to be completed. Well, that's an example of the U.S. Congress in action for you. They picked Annapolis because as author John Beakes pointed out, de Kalb had not only "commanded Maryland's sons at the battle and for two years prior, (but his) disciplined military habits had helped to make these fine troops even better."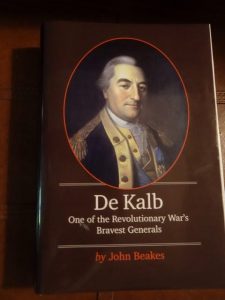 Beakes' book, which is very well-written, titled: "De Kalb: One of the Revolutionary War's Bravest Generals." (Heritage Books, www.heritagebooks.com)
The author knows in detail the history of that turbulent period in the life of our America. He is also an extremely talented researcher with tons of footnotes to prove it.
This is Beakes' fourth book that has focused on our heroes in the Revolutionary War. The other three are on: John Eager Howard, "Light Horse Harry" Lee (father of General Robert E. Lee), and Otto Holland Williams. Both Williams and Howard were patriots from Maryland.
Howard, and other members of the "Maryland Line," would go on to distinguish themselves, on January 17, 1781, at the "Battle of Cowpens" in the Carolinas. The Americans, under the leadership of the Patriot Daniel Morgan, ran the British off the field that day. The author emphasizes how de Kalb had played a significant role in training the troops of the Maryland Line to prepare for such conflicts.
The author also recounts de Kalb's early life in the south of Germany. He was born on June 29, 1721, of peasant stock in the village of Huttendorf. It now sits in the "modern German state of Bavaria." In those days, Europe was in a state of "constant warfare."
Even as a young man, de Kalb could speak three languages fluently; German, French and English. He was also a big fan of the popular French philosopher, Jean-Jacques Rousseau. Along the way, he developed "writing skills of a very high order," Beakes wrote.
Beakes traces de Kalb's military service from his salad days in the French Army's elite "Fisher Corps of Partisans," beginning at age 19. That conflict was all part of the "War of Austrian Succession" (1740-1748.) De Kalb quickly rose, in 1743, to the "rank of lieutenant" in that regiment. The author tells us he was "only twenty-two" at the time.
In that conflict, the author's research shows de Kalb was engaged in at least "sixteen significant combat actions." This included the "Battles of Fontenoy and the "Siege of Bergen-Op Zoom." At the age of 26, de Kalb was again promoted. This time to rank of Captain. Mercifully, the War of Austrian Succession ended in October 1748.
In between his next major conflict, "The Seven Years Wars" (1756-1763), de Kalb was promoted to Major on June 10, 1756. The most important battle he saw action in during that conflict is known as the "Battle of Rossback."
Either in peace or war, the ambitious de Kalb continued to learn his craft, Beakes underscored. His family life, with a happy marriage, and children, is also covered in the book.
Along his military path to glory, de Kalb also met a Frenchman, the Duke de Broglie, who would greatly influence his future career. It was the Duke who eventually opened up for him an opportunity to support the American Revolution, along with another famous Frenchman, the then-youthful and ambitious – Marquis de Lafayette.
Beakes covers plenty of intrigue in his book, too, including de Kalb's "undercover mission to America in 1767-68." As a faithful member of the Masonic Order, he was seen as an ally by many of the important governing officials in pre-revolutionary America. Many, like General Washington, were also fervent Masons.
It's the historic "Battle of Camden, South Carolina," however, which is the centerpiece of Beakes' first-rate book. He covers it to such an extent that the reader will feel like he or she is on the bloody battlefield on that fateful day alongside the gallant de Kalb.
I'm giving Beakes' literary efforts four out of five stars, with a strong suggestion that American history buffs add his latest impressive tome to their growing libraries.

Bill Hughes is an attorney, author, actor and photographer. His latest book is "Byline Baltimore." It can be found at: https://www.amazon.com/William-Hughes/e/B00N7MGPXO/ref=dp_byline_cont_book_1