Is it worth moving to the Bay Area in 2019?
San Francisco, a magnificent filmmaking destination and the land with the fastest rising tech jobs is everyone's favorite place. But did you know the city also has the costliest rent approximating $3,500/month? Also, it's important to understand that San Francisco is comparatively smaller than its neighboring counterparts. If you're thinking about making a move to this wonderful city, you should consider these two factors before making the final decision.
Why Should You Consider Moving to the Bay Area?
Job Opportunities
When it comes to the economy, San Francisco is certainly one of the most productive cities in the entire U.S. With skyrocketing ssix-figure average personal income and unemployment rate dropped below 2.3%, San Francisco is a great option if you're looking for some highly-paid job opportunities.
It's the Coolest City in the U.S.
With hundreds of amazing cafes and restaurants, San Francisco is believed to be the foodie's heaven. The scenic beauty is another major attraction that inspires nature lovers to make a move to this beautiful place. If you're shifting from a small town, the life here in San Francisco will be quite overwhelming for you. However, if you're making a move from New York or Philadelphia, San Francisco will appear small to you.
Amazing Weather
According to Forbes, San Francisco's weather is generally foggy and mild throughout the year. You'll have super cool and rainy climate in winters while the summer is pleasant too. If you love chilly, frosty weather or are just fed up of your current city's hot and sweltering climate, you should consider making a move to the Bay Area.
The Scenic Beauty is Spectacular
From the luscious Golden Gate parks to the beautiful Cliff House, the city has amazing landmarksand open-air places. Whenever you're exhausted by the fast and bustling city life, there are many calm and serene places to your rescue.
Why Should You Reconsider Moving to the Bay Area?
There is no denying the fact that moving to the Bay Area is anyone's dream. However, there are many factors you should pay attention to before making a move to this city.
The Rent is Extremely High
According to CaliforniaMoversUSA, rent is one of the most exorbitant things in SF. Besides rent, the parking cost and the cost of activities is also high as compared to the other U.S. states. The recent statistics suggest that the average rent for furnished accommodation can range anywhere between $3,500 -$4,500.
SF is Densely Populated
With more than 860,000 population, San Francisco is the 4thmost densely populated Californian city. If you're making a move in hope of getting some peace of mind, it's time you should rethink your decision.
Traffic is Miserable
With more than 860,000 residents, the city streets are mostly congested with influx of both city residents and tourists. Due to this reason, the cost of parking or parking tickets is also very high. Be ready to pay $70-$150 in the name of parking tickets/fines/penalties if you have violated any parking law.
San Francisco is Expensive
After New York, San Francisco is said to be the most expensive U.S. city. Yes, the housing or rental costs are shockingly high as compared to the other cities. But it's not limited to the housing only as you'll have to pay hefty $16 for a single cup of coffee. Although the culinary scene is so divergent and thrilling, you have to break your bank several times to enjoy the food of your choice.
There is no Nightlife
If you're making a move from New York or Philadelphia, you'll find San Francisco quite boring and lifeless. There is no concept of nightlife here in the Bay Area. In fact, the most famous eateries and restaurants shut around 10:30.
Affordable Neighborhoods in San Francisco for 2019
Economical housing is tough to procure in the Bay Area. If you have already decided to make a move to the Bay Area, try to look for the affordable and safe neighborhoods.
Presidio Heights
Presidio Heights is a stunning neighborhood situated in the Northwestern corner of the San Francisco. The old construction bundled in trees and shrubs add to the beauty of this place. The average rent is $2,957 for this place.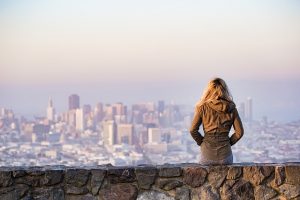 Outer Sunset
With eye-catching water views and amazing scenic beauty, Outer Sunset is another neighborhood which is popular worldwide because of its beautiful duplexes and small townhouses. With a median rent of $2,989, this family-friendly place is great if you're looking for a safe and economical neighborhood to SF.
North Beach
The Bay-facing Outer Sunset is famous for its Italian Heritage and great nightlife. The inclusion of Victorian-style homes make this neighborhood a must-visit place for tourists. The average rent for this place is $3,001.
Sure, it's pricey, but the benefits of living in the Bay Area are endless. If you think you can conveniently bear the cost of living, you would love the rich cultural diversity, amazing food and peaceful living in the Bay Area.