Exploring B&O Railroad Museum and lunch at Moby Dick House of Kabob
If you didn't already know, let me tell you. There are many very fine museums in and around the Baltimore area. I am trying to incorporate at least one of them in each of my features here. This time let's explore the B&O Railroad Museum.
The full name is the B&O Railroad Museum and Mt. Clare Station. The exact address is 901 West Pratt Street. It is a member of the U.S. National Register of Historic Places and is a U.S. National Historic Landmark. Its original name was the Baltimore & Ohio Transportation Museum when it opened in 1953.
I have enjoyed many visits. Some have been just to look at the railroad cars and enjoy the short ride offered on occasion and other trips have been for events. Many events are held here throughout the year. Hard to find a better location for a party.
It has been called one of the most significant collections of railroad treasures in the world and it also has the largest collection of 19th-century locomotives to be found anywhere.
Actually, Mt. Clare is said to be the birthplace of American railroading. It is also said to be the site of the first regular railroad passenger service in the country began in 1830. In addition, I also read it was the site of the first telegraph message in 1844.
The informative brochure states the museum houses collections of 19th and 20th-century artefacts. It includes 250 pieces of railroad rolling stock, 15,000 artefacts, 5,000 cubic feet of archival material, four 19th century buildings and a mile of track.
That impressive roundhouse you see was built in 1884 to service the B&O's passenger cars. By the way, do you recall the blizzard of February 2003 that collapsed that structure's roof? It was re-opened in November 2004 but not totally finished.
Train rides are offered Wednesdays through Sundays from April to December. The museum is open seven days with tickets ranging from $12 to $20. They get about 160,000 annual visitors.
One of their most popular events is Day Out with Thomas. If you don't know what that is, then ask a 12-year-old. That event is scheduled April 26-28 and May 3-5. Timed tickets are required.
Reach the museum at 410-752-2490 or at borail.org.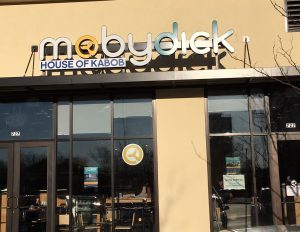 OK, as I always say after a day of museum visits, it's time to eat. This time we're heading to the city and directly to the Rotunda, 727 West 40th.
We'll be stopping in Moby Dick House of Kabob, specializing in Persian cuisine. That basically means middle Eastern classics.
You head to the counter, look over the menu on the wall, place your order and when ready, return to the counter to get it. The restaurant is open seven days for lunch and dinner. No alcohol. You can bring your own.
Parking is in any of the lots or in the close by the garage (free for 4 hours).
They offer daily lunch specials and a soup of the day. For example, on Mondays, they have the Lubia Polo. that's steamed basmati, rice, mixed with green beans, beef, onions, tomato sauce and spices. Sounds good right. I had it and it was.
Of course with the name Kabob, you'd expect many kabobs on the menu. To list a few – kubideh, joojeh, barreh, salmon and chicken. The menu also offers family platters, sandwiches, appetizers, main entrees, salads, sides, vegetarian and dessert. Try the baklava.
If you like Middle Eastern cuisine, and there are not many restaurants offering that, try Moby Dick. If you're looking for a job, they're hiring, at least as of this writing.
Reach them at 443-438-3692 or at mobyskabob.com.

Eddie Applefeld is a Baltimore native and a graduate of Towson University. He has been in the broadcasting profession for over 30 years. Currently he is the Promotions Director of WCBM radio. Before that, he was part of the Rouse & Company show on WQSR, host of a cable TV show called Dining Out and adjunct instructor at Towson.
His past accomplishments include being named a finalist in Baltimore Tourism's Employee of the Year Program and winner of Toastmaster's Speaker of the Year contest. He was also twice a heartthrob for the American Heart Association's gala fund raiser.