How To Use Cocospy To Track Your Employees' iPhone
In this age of advanced technology and smart devices, it is nearly impossible to spot one single person that does not own at least one of those. Unfortunately, more often than not, these devices are causing more harm than good.  They interfere with employees' productivity and provide an avenue for them to use company resources like Wi-Fi to be on Facebook, Whatsapp, and other social networking sites during work hours.
Fortunately, there are many excellent mobile tracking apps that you can use to enforce your social media policy and find your employees' location in real time. The best among this is Cocospy Mobile Tracker, which is a software developed for employee monitoring. Once you sign up for an account, you can get all the fine details about the usage of the target phone or tablet.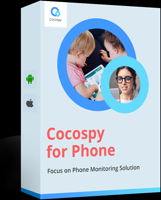 Why use Cocospy?
It actually works
Many people who are interested in using mobile tracking apps are overwhelmed by the vast majority of options in the market. Most of them either offer poor services, corrupt the target device, or simply do not work at all.
Others charge exorbitant monthly and annual fees. However, you do not have to worry about any of these issues with Cocospy. Unlike other tracking apps, Cocospy has positive reviews from its millions of users, in addition to prestigious groups like the New York Times, life Hacker, Forbes, and Tech Radar.
It works great with iOS mobile devices
You can readily install Cocospy onto any iOS device, and obtain all the relevant information. The best thing about using Cocospy is that you neither need to jailbreak the iOS device for it to work. Without jailbreak, you can use Cocospy to track your employees' iPhone.
However, you are advised to jailbreak the phone if you would like access to more detailed, technical information and high-end monitoring features.
It works in stealth mode
This essentially means that the app works in the target device's background, without the phone owner knowing or continually being bothered by its activities. The app is designed to clear all possible codes, icons and other trails that can raise any suspicion.
How to install Cocospy on a target device
For you to start experiencing the services that this superb app has to offer, you need to start by visiting their website and sign up by creating a free account. As soon as your account is verified, you will receive a download link which will give you access to the app.
You need to have physical access to the device you are installing it to and expressed permission to install it. Use the link to download the app, then confirm with the device that you are willing to install a third party app (an app that is not from the App Store or Google Play Store).
To be able to configure the app, ensure the device has a reliable internet connection. Just follow the prompts, and in less than thirty minutes, you will be receiving all the information you want about the device on your control panel. To access your control panel, just sign into your account on another device or computer.
Payment methods
Cocospy has a variety of packages to suit your needs and budget requirements and has a variety of popular payment options that you can use at your convenience. You can make your payments via Visa, MasterCard, Giropay, PayPal, American Express, and Diners Club. You do not have to worry about Cocospy appearing on your bank statements and other financial records, as Cocospy lists the software designer company as the recipient of the funds.
As soon as your payment is received, you will get a confirmation e-mail that will include your login details and other instructions to guide you from there.
How does Cocospy work?
Provided that the target device has a reliable Wi-Fi, 3G or 4G cellular connection, Cocospy will obtain all the relevant information and update you via your control panel. You can change the default settings to get updates as often as 10 minutes instead of every 24 hours.
However, this change might cause significant power drain on the target device or make it warmer than usual, which can make the owner suspicious. You can monitor as many devices as you need, but this varies with the payment plan you choose.
Cocospy's features:
Cocospy has been designed with the employers' needs in mind.
Browsing and social media tracking
This is the most valuable feature, as with Cocospy, you can easily find out of the company issued device is being used on social media sites like Facebook, Twitter, and Snapchat, or to browse the net or visit prohibited sites.
Geofencing
This app has a remarkable Geofencing feature that you can use to limit the target phone owner's movements using a 'fence,' which if breached, you get an alert. It also uses GPS to locate the phone in real time, if it is on the owner's person. This feature can come in handy for personnel security, and if you cannot use vehicle GPS because they are using their personal vehicle.
SMS and call log monitoring.
With this app, you can readily access your employees' text threads, call duration, and caller ID.
In case you need a refund
If you are not satisfied with the services Cocospy offers, you can readily ask for your money back. This is only possible within the first ten days of purchase. To request a refund, simply contact the reliable customer service team via e-mail.
Legal issues
With Cocospy, you need not worry about any legal liabilities, so long as you are using in within the bounds of state and federal law, as well as the local regulations in your area. The software was designed to help employers keep track of company-issued devices and for parental control.
Conclusion:
This app is the best option for companies that need to enforce strict smartphone use and social media policy.
Aqib Raja is a Digital Marketer, Link builder and an IT Professional. He loves to write on different topics. In free time, he likes to travel and explore the different parts of the world.