Hit the lights: Metallica opens world tour in Baltimore
Metallica frontman James Hetfield had two questions for the tens of thousands at M&T Bank Stadium on Wednesday night shortly after taking the stage.
"How many of you been to a Metallica before," he asked before the crowd screamed.
"How many of you are seeing Metallica for the first time," he said before the crowd roared slightly louder.
"That's crazy," he said. "That means we may have to keep doing this for another 36 years."
And with that, one of heavy metal's most iconic quartet – guitarist Kirk Hammett, 54, drummer Lars Ulrich, 53, bassist Robert Trujillo, 52, and Hetfield, 53 – proceeded to crank out many of their timeless hits that have spanned nearly four decades.
Metallica, making its first appearance in Baltimore since it played in the same stadium on July 4, 2000, ripped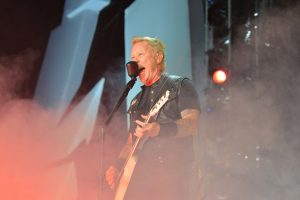 through an 18-song set that blended old and new – all of which had the crowd singing along to a band that has provided the soundtrack for most of their lives.
After opening with The Ecstasy of Gold, the same type of video Metallica started its first concert in Baltimore in August 1983 when it played the Seagull Inn, Metallica launched into two songs – Hardwired, and Atlas, Rise! – from its newest album, Hardwired … to Self-Destruct.
Metallica, which was placed by five humungous video boards, followed with three staples – For Whom the Bell Tolls, Fuel and The Unforgiven – before keeping the momentum going with Now That We're Dead, Moth Into Flame, Wherever I May Roam, Halo on Fire, Hit the Lights and Sad but True. Metallica hadn't played The Unforgiven in Maryland since it rocked the Capital Centre on April 2, 1992.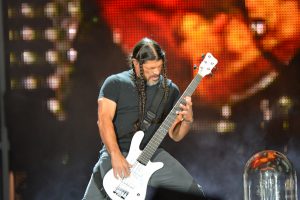 Metallica has remained relevant since Ronald Reagan was in the White House because the rockers have withstood the test of time. Hetfield's booming voice hasn't wavered, while Trujillo and Hammett still play like their in their 20s, not their 50s. And of course, Ulrich still pounds the drums with fury but with the timing of a metronome.
For more  than two hours – after Volbeat and Avenged Sevenfold had warmed the crowd up with good, but not great performances – Metallica made a crowd comprised mainly of Generation Xers feel young again. The performance turned what serves as the Ravens' playing field into a playground of mosh pits, while other fans saluted their heroes with metal horns while nearly everyone in the crowd head banged to the songs they've heard dozens of times.
Metallica has built its reputation for its ability to provide a show, not just a concert. Its pyrotechnics were so massive that the flames that shot into the sky provided a moment's warmth to the crowd on a chilly night.
Many of Metallica's songs are issue-driven, including One, which opened with shooting fireworks and lights that looked like bullets to set the tone for the war-inspired song. The California-bred band then broke into perhaps its most-well known song from the 1980s, Master of Puppets, which had the crowd chanting in unison "Obey your master!"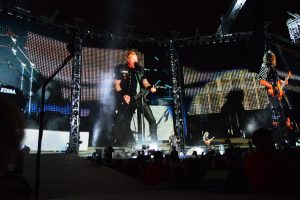 After Fade to Black, Hetfield told the crowd the Metallica family was so tight it could finish each other's sentences, so when he said "Seek," the crowd responded with "and destroy."
Without Seek & Destroy, the biggest song of Metallica's debut 1983 album Kill 'Em All, Metallica probably wouldn't be nearly as big as it is today. After all, Metallica has recorded 10 albums, sold more than 110 million records and won eight Grammy awards en route to being inducted into the Rock 'n' Roll Hall of Fame in 2009. In their 50s, the foursome used Baltimore as the launching pad for a worldwide tour throughout the U.S., Canada and Europe before it concludes in Finland next May.
But it all started with Kill 'Em All and subsequent tour, which stopped in Baltimore – a fact that Metallica emphasized by showing a tour poster from that year that highlighted the first of 14 concerts in the Free State.
Metallica's firework-fueled encore featured Battery, Nothing Else Matters and of course, Enter Sandman.
"Metallica and Baltimore," Hetfield said as fans turned to leave, not knowing when – or if – they'd seen the band for the final time in Maryland. "Back together at last!"
The crowd roared its gratitude, hoping it wouldn't be another 14 years before Metallica visits again.
Set: Hardwired, Atlas, Rise!, For Whom the Bell Tolls, Fuel, The Unforgiven, Now That We're Dead, Moth Into Flame, Wherever I May Roam, Halo on Fire, Hit the Lights, Sad but True, One, Master of Puppets, Fade to Black, Seek & Destroy.
Encore: Battery, Nothing Else Matters, Enter Sandman

Jon Gallo is an award-winning journalist and editor with 19 years of experience, including stints as a staff writer at The Washington Post and sports editor at The Baltimore Examiner. He also believes the government should declare federal holidays in honor of the following: the Round of 64 of the NCAA men's basketball tournament; the Friday of the Sweet 16; the Monday after the Super Bowl; and of course, the day after the release of the latest Madden NFL video game.