Hack someone's cell phone without touching it
Cell phones have now made communication easier. Since their invention, they have evolved to incorporate more features than before. That is why they can store valuable personal data.
Their continued use has brought the bad and good from all kinds of people. Talking of the bad, it's now easier to send fake news or threaten people since they cannot see you physically.
That brings in the need to spy someone's cell phone without touching it to determine such truths. You may have a kid who is acting strange, and he or she doesn't want you to touch their phone.
Other times, you want to find out if a specific employee is up to something. Those are some of the things that prompt you to improvise a way to spy their phones without getting them. If you are reading this with such dilemmas, then we have a solution for you.
The app we are going to introduce here can spy someone's cell phone without touching it and without their knowledge. It will also deliver the spying results remotely without the target's knowledge. Let's see how it works and why you should go for it.
Part 1: Spy Someone's Cell Phone without Touching It with Spyic Solution
You can use reliable applications to spy that phone that seems unreachable. One of the best on the market is the Spyic monitoring solution. This is an app that millions of people in more than 190 countries have already downloaded.
With Spyic, you can fetch all the data you need from the targeted phone remotely. It works in stealth/hidden mode, which means the targeted user is never aware of its presence. Next, it works on both Android and iOS devices without any rooting or jailbreaking.
That implies nothing will alert the target about being spied. In Apple devices, Spyic can spy the phone without touching it. If you already have the iPhone's/iPad's iCloud credentials, that's all you need.
Spyic uses the iCloud to fetch the phone's data and deliver it to you remotely via your established account. That means you don't need any download or installation to make it work.
In Android, however, Spyic requires one-time installation on the targeted phone. After that, you can spy it remotely without touching it. The reason why Spyic demands installing it once on Android devices is that there is no central cloud for Android devices.
Now, when it comes to seeing the results, you get them via your online account. The account will have the web-based dashboard with all the features you need to spy. It's user-friendly, easy to use, and is compatible with all browsers.
Here is a highlight of the spying features that Spyic possesses:
Part 2: Spyic Spying Features
With Spyic, you get to spy the following remotely:
Calls made, received or missed on the phone
Saved contacts
Messages which include the actual texts, contact details, and the timestamps
Browsing history
Real-time location using GPS, or connected Wi-Fi
Media files which contain the saved photos, videos and audio files
Social media activities from apps like FB, Twitter, Instagram, Kik, Tinder, WhatsApp, etc.
Installed applications. This is where you can visit social media activities in Apple devices
Calendar information and saved notes
SIM Card information and location
The keylogger: It records everything typed on the targeted device. Use this feature to capture usernames and passwords.
As you can see, Spyic offers a how to spy someone's phone without having it solution. It's packed with all the tools you need to fetch the related information. With that, let's see how you can use it to spy a cell phone without accessing it.
Part 3: How to Spy Someone's Cell Phone without It Using Spyic
Requirements
For iOS devices, you need the phone's iCloud credentials. The iPhone should have iOS version 7.0 and above
For Android, you need to access the targeted phone once to install Spyic. It needs to have OS version 4.0 and above.
Reliable internet connection
A working email address
Steps to Start Spying
Step 1: Visit the Spyic website and register an account with your email address and password. Next, choose the targeted phone's OS (Android or Apple) to continue.
Step 2: You will land on a page with pricing plans. Pick the best one for you and make a purchase. You will then get a confirmation email with the login details, set up instructions, and the receipt. In Android, you will also get a download link.
Step 3: In Android, use the sent link to download and install Spyic on the targeted phone. Make sure you select the 'Hide Application' option to activate stealth/hidden mode. After that, finish up the installation and go-ahead to access your account remotely.
Step 4: For iOS, after the confirmation email, login to your Spyic account and verify the iCloud credentials.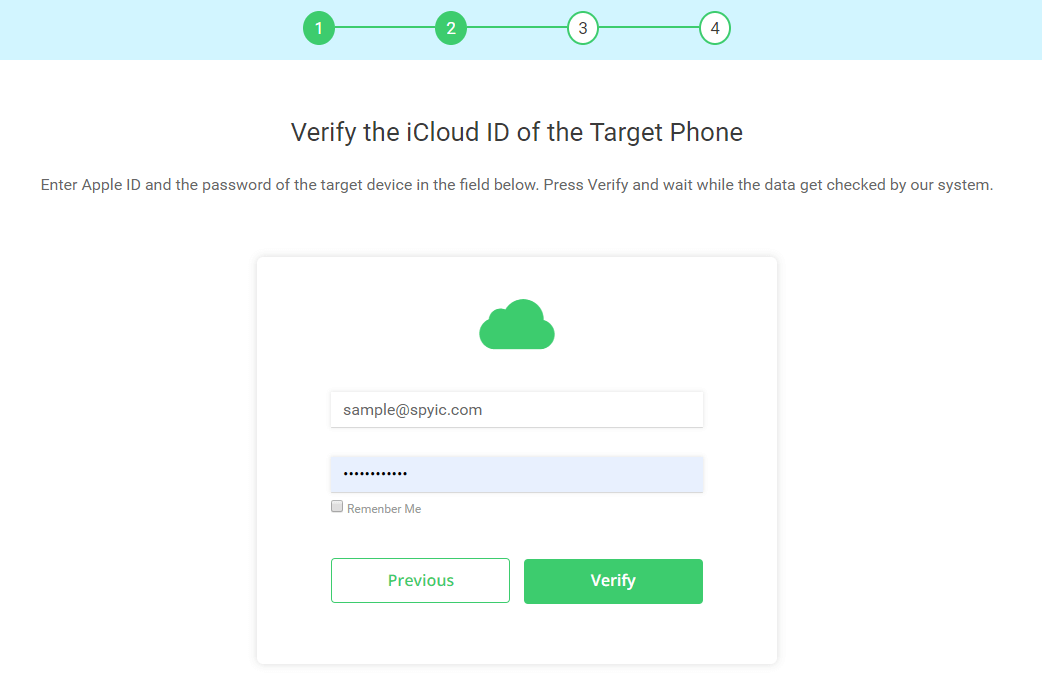 Next, select the device you want to spy and wait for the Spyic/iCloud synchronization.
Step 5: Once you re-access your account, and wait for the Spyic and Android/iCloud syncing, you will get the dashboard. It will have all the features we have talked about in the previous section.
Click on each of the elements on the left part to see what Spyic has remotely fetched.
Part 3: Why Should You Use Spyic to Spy Cell Phones without Touching Them?
Here are some of the benefits realized after choosing Spyic spying application:
It takes less than 5 minutes to set it up and start spying
It works on both Android and iOS without any rooting or jailbreaking
It works in stealth/hidden mode. The target will never know about it
Spyic fetches all kinds of data from the phone. Check the features section for reference
It reveals the information in real-time. That means you get results as soon as they happen
You can access the data at any time since the dashboard is online and it works with all browsers
Spyic does not drain the battery while fetching the information. In Android, it occupies less than 2MB memory space. For iOS, no download or installation is required
You can uninstall Spyic any time remotely via the online control panel
Conclusion
You are now aware of an app that can spy cell phones remotely without touching them. The best part about Spyic is that it does not involve any rooting or jailbreaking. Another thing, it works while hidden during the spying process.
That way, there is no clue left for the target to know or follow up. You should avoid apps that require you to root/jailbreak since the phone's owner will know something is wrong.
So, go ahead and visit the Spyic website and check the demo page to see how it works. After that, sign up, get it and see what it can do for you.
About The Author:
Aqib Raja is a Digital Marketer, Link builder, Guest Post and an IT Professional. He loves to write on different topics. In free time, he likes to travel and explore the different parts of the world. You can follow him on eyesonsolution.