Grilled Lemon & Rosemary Chicken Skewers
It is definitely that time of year. Spring is in full swing and that means it is time to light up the grill and make some delicious meaty meals. For me, I get to prepare the meat and Greg gets to do the grilling. I love teamwork.
The other weekend I decided to try out a recipe for chicken kabobs that I had on my Pinterest page. A friend of mine commented that she had tried the recipe last summer and that it was really good. So I knew I had to try it out. The recipe I found actually calls for fresh parsley in the marinade, but since I didn't have any fresh parsley on hand I substituted it with rosemary. All the other ingredients are ones that I usually always have in stock in my kitchen, which is nice. I think the lemon, garlic, and rosemary made for an amazing marinade. I will definitely be making these skewers again soon, and I hope you will also be making them soon!
Grilled Lemon & Rosemary Chicken Skewers
INGREDIENTS
4 TBSP. Extra Virgin Olive Oil
Zest of 1 lemon (use a microplane)
3 cloves of garlic, minced
1 TBSP fresh rosemary, minced
1 tsp. of dried parsley flakes
1 tsp. kosher salt
½ tsp. freshly ground black pepper
1 lb. of boneless/skinless chicken breasts, cut into 1-inch pieces
Ingredient Pricing – $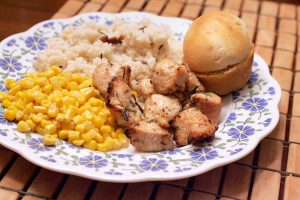 DIRECTIONS
Mix together the olive oil, lemon zest, garlic, rosemary, parsley, salt, and black pepper. Add in the 1-inch chicken pieces to the bowl and stir until the chicken pieces are well covered in the marinade. Cover the bowl and refrigerate for at least 3 hours, but no longer than 8 hours. Marinating for a longer time will allow the flavor to soak in to the chicken, but after a certain point it is not safe for the chicken to continue to sit in the fridge.
Prepare the grill. Thread the marinated chicken pieces on to metal skewers, dividing the pieces evenly between the skewers. If grilling directly on the grill, very lightly oil the grill grates so the chicken will not stick to the grill. If using a kabob rack, you do not need to oil the rack. Place the chicken skewers on the grill or kabob rack, cover the grill and cook until the chicken is fully cooked (about 10 minutes or so). Make sure to flip the chicken skewers one time during the grilling process. When chicken is done, transfer to serving plates and eat immediately. Serve with your favorite sides. I used the leftover rosemary to cook with rice with Parmesan and toasted pine nuts.
Adapted from: Annie's Eats
COOKING TIP OF THE WEEK
Working with raw chicken breasts (and raw meat in general) can be a little bit overwhelming. It took me a long time to come to terms with working with raw chicken in my kitchen. I am still extra cautious and maybe a little OCD when it comes to preparing chicken. The other day I came across this post on Our Best Bites, which has great how to tips on safely handling and cooking raw chicken. If you get a chance to, I suggest you check it out.

Looking for more recipes from Beth? Find recipes at bakeitmakeitwithbeth.com.
Beth loves to cook foods of all types and is not afraid to try new things in the kitchen. She has learned a lot through cooking blogs and is happy to share what she has learned in the past few years with you.